Bare-Ass Bogey
A mini-tour player stripped down and risked life and limb to play his wayward tee shot
Editor's Note: This article first appeared in Fire Pit Collective, a Golf Digest content partner.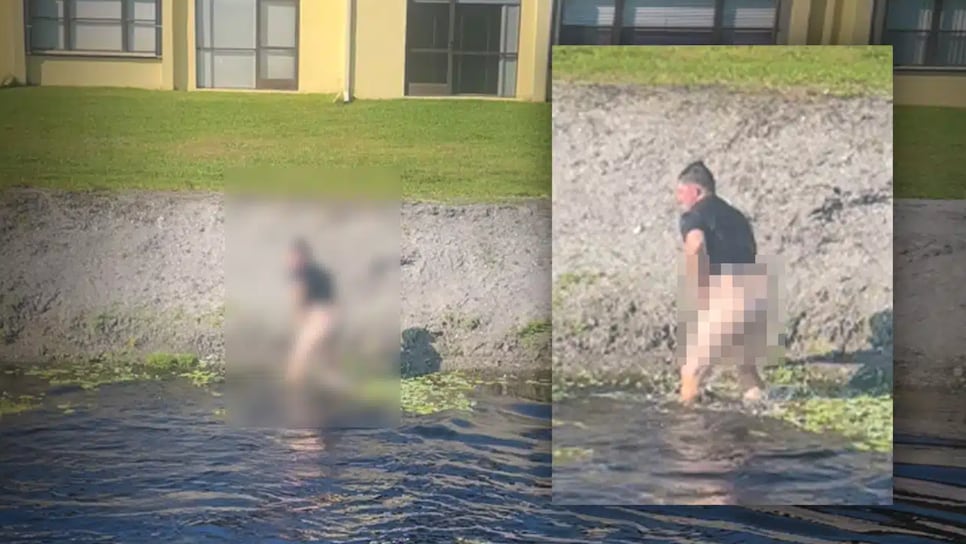 A swim across an alligator-infested canal, a lost pair of boxer shorts and a foot gushing blood … last Monday at the Fountains December Classic, an event on the Minor League Golf Tour, was just another day in the life of mini-tour player Mason Carmel.
The fourth hole at West Course at Fountains Country Club in Lake Worth, Fla., is a 387-yard straight-away par 4. An irrigation canal runs all the way up the right side. Out-of-bounds looms on the other side of the canal, although there is a ribbon of land between the water and the stakes.
After a triple bogey at the par-3 second hole, Carmel came to the fourth tee at three over. Because the event was only 18 holes, he needed to make something happen. Fast! But his 3-wood shot started right and faded from there. The good news was that Carmel believed his ball might have landed on the dry land between the canal and the OB. There was one problem. The canal runs the length of the course boundary; there is no way across.
Despite signs warning about lurking alligators, Carmel decided to try to find his ball. He said his father, who died last year, always told him, "If you can find the ball, you play it, no matter what." His father was his best friend, so Carmel wasn't about to let a couple of gators stop him. The plan was for his playing partner and friend Shoji Fujita to toss him a club after he got to the other side. Carmel removed his shoes, socks and pants and traversed the muddy water in his boxers and golf shirt. Things didn't go as planned.
He jumped in and began his swim. Carmel was a competitive swimmer until he was a teenager, so he quickly made it to the other side with his limbs intact. However, he was missing an essential item: His boxers had fallen off as he made the plunge and were now at the bottom of the gator-infested waters. From there, things only got worse. With his shirt pulled down to serve as a mini-skirt, Carmel looked high and low for his ball, without success.
Then as he swam back across the canal, Carmel felt a bite or a scrape on his foot. "It was like a snake or a baby alligator or something," he said later. When he climbed out of the water, his foot was gushing blood. There would be time to deal with that later; he had a shot to play. Carmel toweled off, got dressed, took a drop and hit a wedge to 10 feet. He missed the putt and tapped in for bogey. Most people would have WD'd at that point, but Carmel refused, finishing the round with a bleeding foot and going commando.
Carmel shot 79 and finished well outside of the money. After the round he went home and wrapped his foot. Despite his ordeal, he was thrilled he got the opportunity to play. He teaches full-time now and hadn't played 18 holes in more than three months. Carmel was on the waiting list for the event and got a last-minute call after a spot became available. Eight of his students were in the field, so he decided to play despite the lack of preparation.
His 79 will quickly be forgotten, but the bogey he made on the fourth hole surely won't.