Apparel
LPGA's Mina Harigae gets some funny looks and comments, but she fully embraces wearing her Jordans on the course
*All products featured on Golf Digest are independently selected by our editors. However, when you buy something through our retail links, we may earn an affiliate commission.*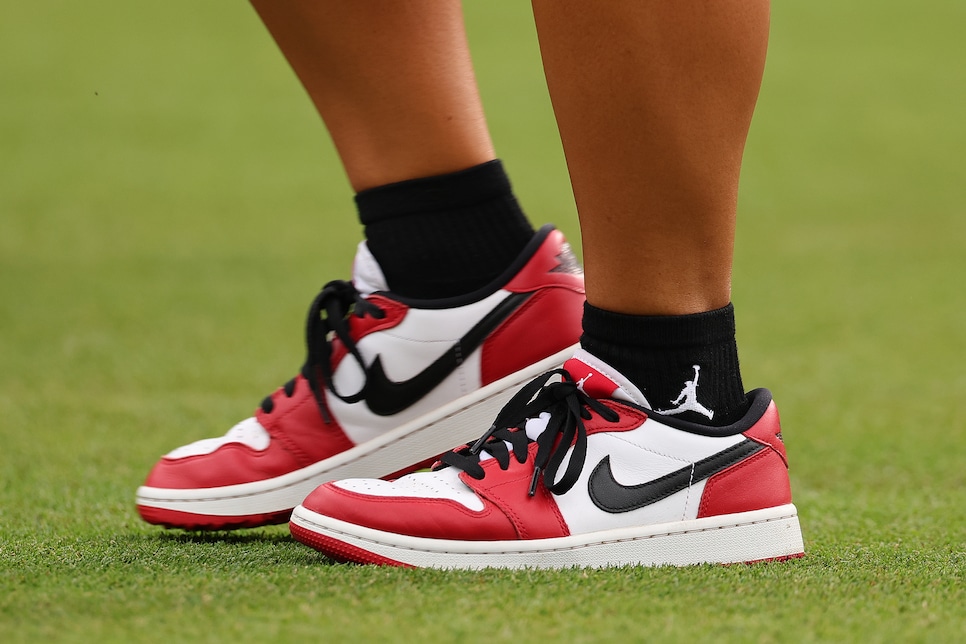 Mina Harigae says she gets funny comments about her Jordans, with many fans asking why she's wearing basketball shoes on the course.
Michael Reaves
It's a question about her shoes that 14-year LPGA Tour veteran Mina Harigae gets every round she plays. Why are there Nike Jordans on Harigae's feet during a golf tournament?
"I have to explain to them," Harigae, 33, says. "No, they're golf shoes. They have the ridges on the bottom that are a little bit deeper and they're actually softer and more pliable than the regular shoes, so that you can swing."
Hargiae's journey to becoming a sneakerhead with more than 60 pairs of shoes, furnished partly by a Jordan-brand deal, began during the COVID-19 pandemic. After her favorite on-course shoe got discontinued, Harigae's fiancé Travis Kreiter suggested she try on the Jordan Golf ADGs. Harigae hasn't turned back since.
The couple now owns around 140 pairs carefully stored around their Arizona home. Each of their shoes has its own case.
"It doesn't look that much to me," Harigae said, laughing.
Once she partnered with the Jordan brand in 2021, Harigae met the world of more exclusive Jordans. Her favorite pairs include Jordan's collaboration with A Ma Maniere, the Travis Scott Jordan 1 Low, and the Billie Eilish X Jordan 1 KO.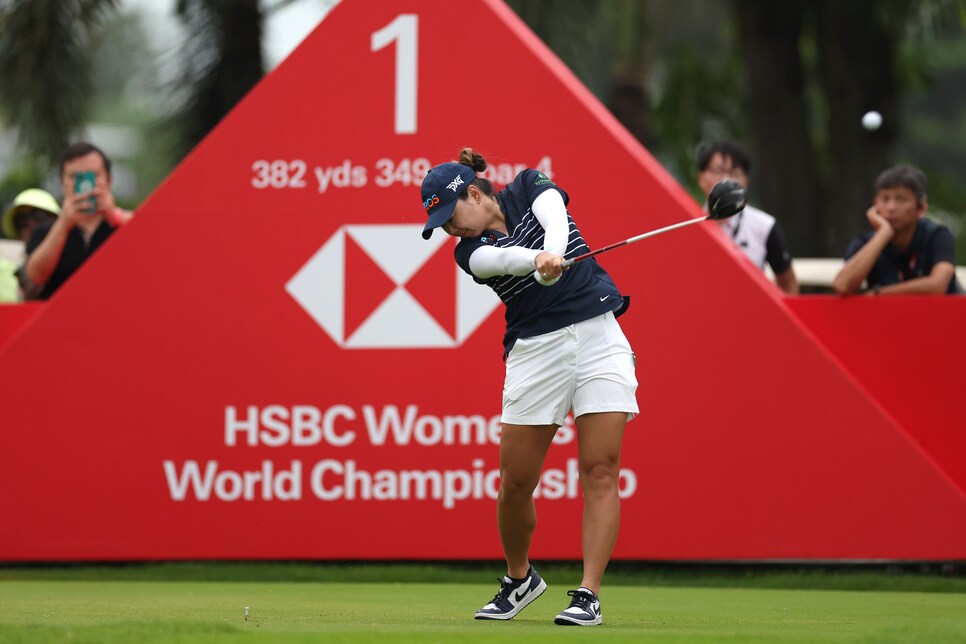 When the California native hits the road, she brings up to six pairs of golf shoes and three pairs for off the course. Similar to a professional basketball player, she'll mix up what shoes she's wearing during a tournament if her play isn't up to her standards. But if things are going smoothly? It's gotta be the shoes.
"If I keep playing well," Harigae said, "like at U.S. Women's Open (where Harigae finished runner-up in 2022), I wore the same shoe every day because just keep the mojo going."
Slowly, Harigae noticed more players wearing Jordans and more stylish shoes on the course. She talks with fellow past Team USA Solheim players Annie Park and Meghan Khang about their Jordans.
For those who want to expand their shoe game, Harigae's starting advice is to focus on how they feel.
"Comfort is probably the number one thing that people and the other golfers should look for because you're on your feet five plus hours a day," Harigae said.
Then she recommends evaluating how they look. While golf shoe fashion rapidly expanded in recent years, Harigae ran into those who question why she brings a basketball shoe style to the course. Instead of accepting that perspective, Harigae passionately believes in the pleasure that wearing sharp kicks can add to playing golf.
"I've heard the whole 'leave the basketball shoes on the court,'" Harigae said, "and I'm, like, shut up. Jordan loves golf. That's why he made golf shoes, you know? I just think it's a really fun way to express yourself, like make golf cool."