Drink! Drink! Drink!
Players 2023: How social media almost got Players contender Min Woo Lee to start slugging pickle juice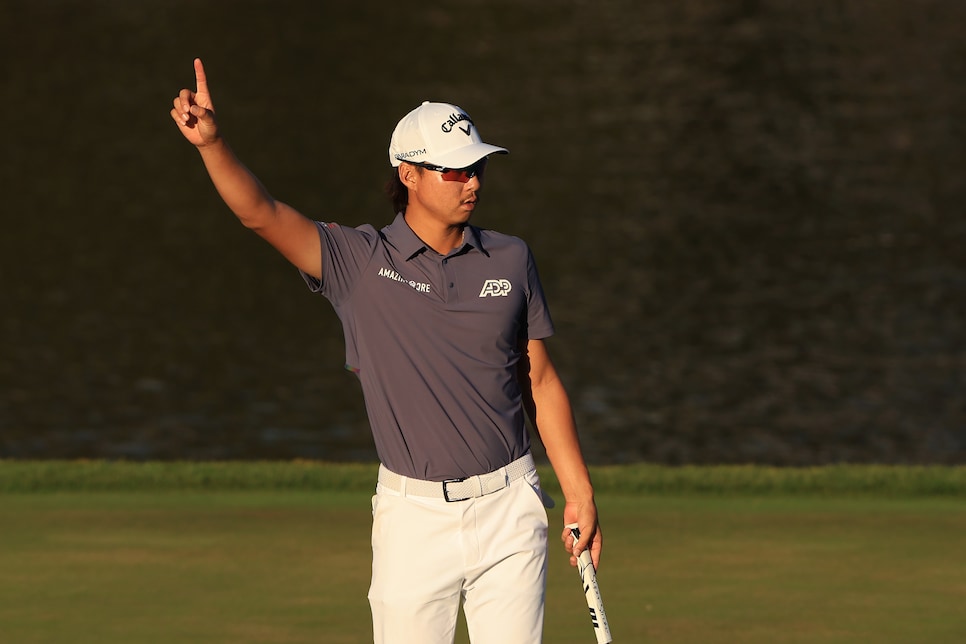 PONTE VEDRA BEACH — As a professional athlete, wading into your social media replies is a zero-sum game. Just ask Kevin Durant or Max Homa. Giving into the know-it-all trolls is exactly what the know-it-all trolls want. A sliver of attention is what they seek, and giving them that sliver validates the trolling.
That said, some people are genuinely trying to help. That's what Players Championship contender Min Woo Lee found out on Thursday when, in the middle of a scorching hot opening round at TPC Sawgrass, his right leg began cramping up.
Golf Twitter predictably pounced, Lee's injury serving as the latest proof that despite everything you've been told, golfers are not real athletes. The image of Lee getting a rub down on his leg behind the 16th tee certainly did the 24-year-old Australian no favors:
Lee, brilliantly, leaned all the way into it and got out ahead of the joke. On Saturday, he changed his profile picture on Twitter and Instagram to the photo of his leg cramp on the 15th tee Thursday:
Good stuff, though a few of the hashtags - pickle juice and mustard - didn't make too much sense. Lee explained them on Saturday night at TPC Sawgrass, where he had just shot a third-round 66 to get into Sunday's final group with Scottie Scheffler.
"Yeah, so it was a funny story. I've come a long way since last Sunday," Lee said. "I had allergic reaction on my face, and I had my eyes half swollen, and I got to the course on Sunday from Bay Hill and I hit about four balls on the range, and I said, no, I can't do this. I was going to play nine holes, and I said I couldn't do this. Went back, and yeah, it's -- so I wanted to stop what I was taking and what I was eating and electrolytes was one of those things. Didn't have many electrolytes; didn't have any electrolytes from Monday to Thursday, and therefore had a cramp on 15. That's where the pickle juice came from."
Apparently, after posting the video of his cramp to Instagram with the caption "drink your electrolytes people," Lee was hit with a swarm of replies from fans telling him to drink pickle juice. Studies have shown that pickle juice is great for beating muscle cramps, which is why you'll often see college and NFL football players chugging some PJ on the sidelines in sweltering hot weather. Lee had no idea this was a thing.
"I didn't really know what pickle juice did, but everyone on [social] media just said have pickle juice," he said. "I didn't have it, pickle juice, but I had a lot of coconut water and a lot of electrolytes after that. I learned my lesson."
Ipso, facto, not only does Lee wade into his social media replies, he considered using the information in them as a way to cure his leg cramp. Fortunately, he found other, much more palatable liquids that got the job done anyway. But if it happens again, don't be surprised if he starts slurping up mustard packets and chasing it with pickle juice. Sometimes, the trolls know what they are talking about.