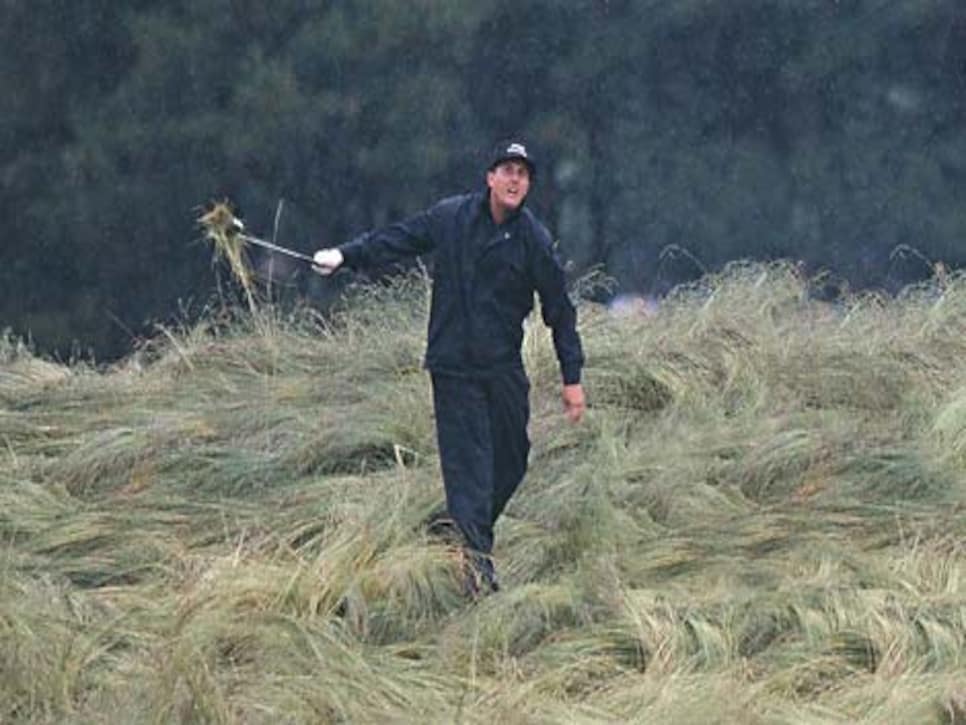 Spend a few minutes talking with tour players about the challenges of a U.S. Open course -- specifically, Bethpage Black -- and you half wonder if they're worried about breaking 100 themselves. Forget about Michael Jordan and the rest of the foursome who'll be playing in the Golf Digest U.S. Open Challenge. Consensus is, they have no shot. "Triple digits," says Chris DiMarco. "If Michael plays great, maybe he'll keep it in the 90s, but I'm thinking triple digits."
Jordan, a low single-digit-handicapper, will play the U.S. Open setup at Bethpage Black with Justin Timberlake and two-time Super Bowl-winning quarterback Ben Roethlisberger of the Pittsburgh Steelers. Our contest winner will join them for the round a few days before the U.S. Open. NBC will televise the Challenge at noon on Sunday, June 21, immediately preceding the final round.
Says Kenny Perry: "I like Michael Jordan, but I've seen his golf game, and I've played Bethpage Black. Hardest course I've ever played. He won't break 100."
All that anyone seems to remember after playing Bethpage in that 2002 U.S. Open is the torturous conditions of the second round. That was the day temperatures didn't get out of the 50s, winds gusted to 20 miles per hour and rain soaked the knee-length rough into an unplayable mess, especially in the afternoon. Eventual champion Tiger Woods avoided the worst of the weather and shot 68, just one shot off the day's low round. But Woods' score was one of only four in the 60s that day, when there were 28 rounds in the 80s -- and one 92.
"It was survival," says Rocco Mediate, who hit five 2-irons and a 4-wood for some approach shots to par 4s that day.
"That Friday at Bethpage," says Billy Andrade, who shot 82, "I've never played a harder course in my life."
OK, it was hard. Perhaps even over-the-top. The USGA's Mike Davis had very little say about that setup, but after taking over as director of rules and competitions, he has become almost immune to these predictable tour-player assessments of U.S. Opens past. Most important to Jordan, Timberlake, Roethlisberger and their fourth is Davis' assurance that this year's Bethpage setup will be different.
"If the weather is OK, I don't think Bethpage will be any harder for them than Torrey Pines was," says Davis. "First, it's a par 70 versus a par 71 at Torrey, so in theory they'll have one more shot, one more bogey [to break 100]. The rough, I can promise you, will not be as brutal in 2009 as it was in 2002. There should not be as much wind as there was at Torrey, and the greens will be easier to putt."
I don't think Bethpage will be any harder for them than Torrey Pines was.'
Putting was the biggest difficulty for players at the inaugural Challenge, where if we learned one thing, it's that Tiger was right. Not only is it next to impossible for a 10-handicapper to break 100 on a U.S. Open course, the century mark proved to be a perfect over/under number for 6-handicappers like Timberlake and Matt Lauer. Lauer holed the longest putt anyone made all day, a 20-footer on the 18th, to shoot exactly 100. Timberlake had to execute a nerve-racking approach shot over the pond at 18 to make his third par of the round and shoot 98.
"And those guys are entertainers," says Jim Furyk. "You sort of expect them to be able to handle that kind of pressure better than an average guy."
Vincent Conte is a pretty average guy. A pharmacist in Farmingdale, N.Y., Vinny lives less than a mile from Bethpage State Park and has been playing its five courses for the past two decades. Like many Bethpage regulars we spoke with, Vinny heeds the warning sign on the first tee ("Only for highly skilled golfers") and doesn't play the Black Course more than a handful of times a year.
"It's too much golf course for me now," says Conte, a 10-handicapper who gets a lot more joy from playing well and shooting 78 on the Yellow Course than from playing great and shooting 90 on the Black. "Years ago when we were young and foolish, we'd go up there at 5:30 in the morning and wait in line for the Black. Not anymore."
Darrell Kestner is the head pro at Deepdale, an exclusive Long Island golf club near Bethpage. Kestner has been a top player among club pros for almost 30 years and has played the Black at least 75 times. He once shared the course record (65) in 1987 after winning the Metropolitan PGA Section Assistants' Championship there. So when Kestner qualified for the '02 U.S. Open, his eighth, he hoped his Bethpage knowledge would help him finally make a cut. It didn't help at all.
"Of the eight U.S. Opens I've played, Bethpage was by far the toughest," Kestner says about his rounds of 77-86, "and that's because of all the forced carries -- on Nos. 5, 10, 12 -- where if you didn't carry it far enough you were in this deep hay (see the Phil Mickelson photo on previous page) or these deep, deep bunkers where you're just chopping out. In Open conditions, it wasn't even the same golf course."
Davis says Bethpage '09 is nothing to fear, citing the now reachable fairways on Nos. 10 and 12, and graduated rough that gives players a chance when they hit it a little off line. "The things that guys really didn't like in '02, I think for the most part have been changed," Davis says.
Jordan isn't without supporters among his tour-player friends. Tiger Woods says he thinks Michael will break 100. "He's got 29 shots to play with," says Woods. Mark O'Meara, Tommy Armour III and many others think so, too. Dozens of tour pros say they'll be watching the NBC telecast just like they did last year.
"We need to remember that 99 percent of golfers never get to experience what it's like to play a U.S. Open course," says Jeff Maggert, who finished third at Bethpage. "Anything like this that promotes golf is a great thing for our sport."