GLENEAGLES, Scotland — A mildly disappointing five-over 75 wasn't quite what Mike McCoy had in mind for the opening round of the Senior Open Championship at Gleneagles. Which is fair enough. The 59-year-old former U.S. Mid-Amateur champion has had more than a few better days out on the links. One or two of those quite recently actually. Earlier this month, McCoy won of the Senior British Amateur at Royal Dornoch. And last week he spent time in St. Andrews as an interested spectator, gathering some early intelligence for next year's Walker Cup, which will be contested over the Old Course. As captain of American team, McCoy will lead the visitors against the Great Britain & Ireland squad.
So it's been a fun three weeks in Scotland so far, a trip highlighted by McCoy's victory at Royal Dornoch. During what was a windy week in the picturesque Highland village, the Iowa-native shot 69 on Day 3—"the round of my life"—to pull away from the field. With 18 holes to play, he was nine-shots clear, a lead that closed by only two shots after a closing 78.
All of which was achieved—for the first 36 holes at least—by a man whose clubs were lost in transit.
"I did play well," says McCoy, a two-time champion at the Trans-Mississippi Am and a member of the losing 2015 U.S. Walker Cup side at Royal Lytham. "I was in a good frame of mind. I had a big goal to do well, so I really practiced hard and prepared thoroughly. Then my clubs didn't arrive until the third round. Anyway, I found some stuff that worked. I had a few rental clubs. The Dornoch pro gave me some of his clubs. I bought a driver and a hybrid. And I borrowed a putter. It was a hodgepodge set.
"The third day was the round that won me the tournament," he continues. "I stayed very calm and didn't let the wind bother me." McCoy said he's got a fair amount of experience in those conditions. "I went to school at Wichita State. And I play a lot of South Florida. You get pretty good breezes off the coast there. But nothing like it was at Dornoch. It was all about figuring out where to land the ball and where it was likely to go after it hit the ground."
Still, for all his excitement at landing an R&A title ("I never dreamed I would win one"), McCoy's reconnaissance trip to St. Andrews might just turn out to be the most useful aspect of his visit to an endlessly sunny Caledonia. A few logistical meetings with the R&A and the USGA has him feeling a lot more comfortable about what lies ahead, both on and off the course, when the Americans head over to play on Sept. 2-3, 2023.
"I'd seen the Old Course a few times before," McCoy says. "But I'm not sure I'd ever seen it quite as firm it was last week. That's one thing I'll be telling my players. And just how difficult it is possible to make the hole locations. They were brutal, hidden away behind humps and bumps, in corners and just over burns, which was the only defense in the absence of much wind.
"I was intrigued by the difference between straight driving and accurate driving," he continues. "Straight driving is fine, but it isn't always what you should be trying to do. It's more about finding the right spots from the tee in order to set up the easiest approach. Especially when the flags are tucked away in corners."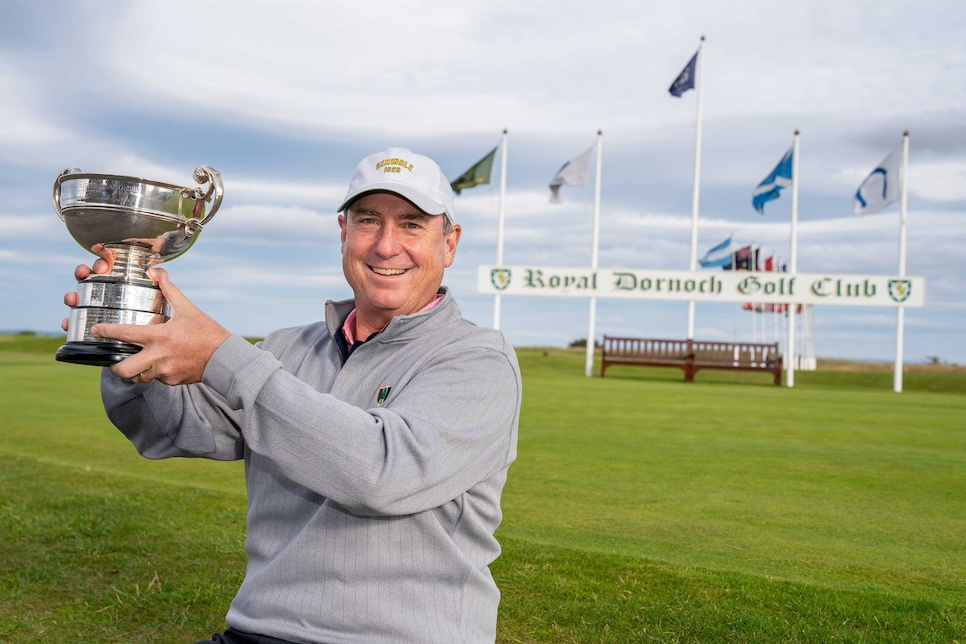 Mike McCoy pulled out a seven-shot win at the British Senior Amateur despite not playing with his own clubs until the third round.
R&A
One thing McCoy's players will deftly be doing is spending more time on the Old Course than on the range. There will be no repeat of the mistake made by the 1971 Walker Cup side, the only American side to lose the biennial contest between 1938 and 1989. Team members Lanny Wadkins and Tom Kite still shake their heads at how the team went to Gleneagles for practice before the matches. The King's course that is in play this week is a fine test of golf, but it is far removed from St. Andrews in terms of look and shots required.
"I know the Old Course can be underwhelming at first glance," McCoy says. "But the more you go round and round, you begin to understand what it is about. And that's when your affection for the course begins. Pretty soon you are in love, walking on sacred ground. I want my players to have that feeling. And the only way to get that is by playing rather than practicing."
Still, for all that golf at St. Andrews can be an acquired taste and one that some players simply don't take to, McCoy is reluctant to select players based on how suited they are—or are not—to the vagaries of links golf.
"In fairness, the players who earn the right to be in the team will be the players we bring," he says. "We use the [World Amateur Golf] rankings more than we used to, which is as it should be. I hope I can communicate to my guys just how important wedge play is going to be. And adjusting to slower greens. Those are the messages I'll be taking back. But the course and how it will likely play won't affect who we actually pick. We'll pick our best players and hope that they can adapt."
Speaking of which, McCoy will need to do a bit of that himself if he wishes to be around for this weekend at Gleneagles. "Three or four" three-putts scarred his scorecard on Day 1, as well as a frustrating ability to hit his approach shots close enough to the pins.
"I like this course," says McCoy, who enjoyed a practice round in the company of four-time major champion Ernie Els. "But there are two or three shots that just make me uncomfortable. Getting the pace of the greens is so key. And I hit a couple of loose tee-shots. I feel like, playing well, I could shoot five or six-under. The greens are so good. But you've got to be in play. You can't be out of position."