The Loop
Miguel Angel Jimenez leads at the Senior Open Championship, will spend the night with "a fat cigar and a nice malt whiskey"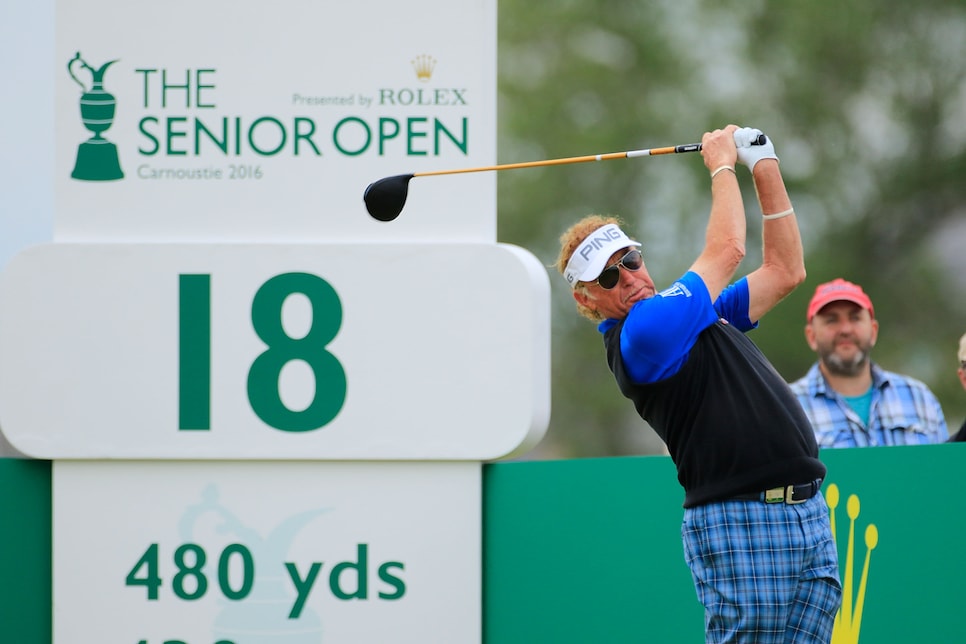 Miguel Angel Jimenez entered the third round of the Senior Open Championship just three strokes back of the lead, looking for his fourth Champions Tour victory and first career major win.
The 52-year-old Spaniard separated himself from the crowd on Saturday, though, firing a bogey-free seven-under 65 at Carnoustie Golf Links in Scotland. He finished the round one stroke off the course record, missing a six-foot birdie for that elusive 64 at Carnoustie, last shot by Oliver Wilson of England in the 2014 Alfred Dunhill Links Championship. Regardless, at 11 under, Jimenez will gladly take the four-stroke lead that has him firmly ensconced in first place.
"It would mean a lot. If I win -- in Scotland, the home of golf -- it would be amazing. Tomorrow we will see," said Jimenez following his round. "I love what I do, and what I've done for the past 28 years. I want to do well, to be as relaxed as possible and do my best."
However, rather than taking it easy the night before what could be his first major victory, Jimenez is spending his time just as you would expect him to: with cigars and some casual alcohol, just as he has done every night in Scotland.
"I'm going to do exactly the same things I've done in previous nights," said Jimenez. "Go for dinner with friends, have a nice bottle of Rioja, a fat cigar and a nice malt whiskey."
He got an early start, too, lighting a cigar up during his post-round interviews.
And the "Most Interesting Man in the World" only continues to build on his reputation worthy of that nickname. Never change, Miguel, never change.
Jimenez will tee off at 8:50 a.m. EST with Paul Broadhurst on Sunday morning.