Letter from Europe
This Solheim Cup legend shares some wild stories from the early years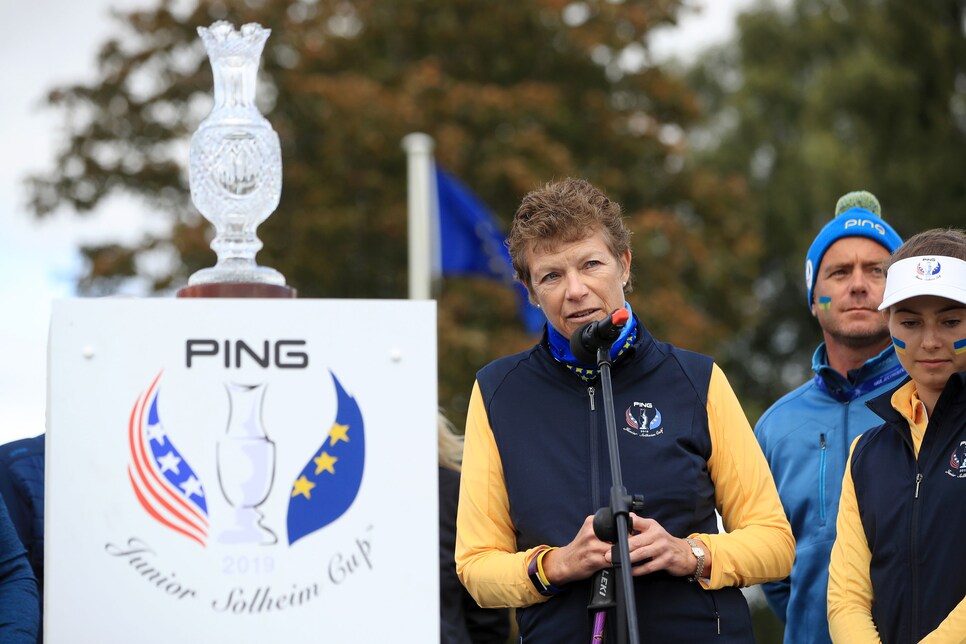 Mickey Walker, shown speaking at the 2019 Junior Solheim Cup, was captain of the European Solheim Cup team for the first four editions of the event (1990-92-94-96).
Andrew Redington/WME IMG
CASERAS, Spain — She was sitting quietly, as this unassuming soul tends to do, at the back of the Solheim Cup media center focused on the pre-match interviews here at Finca Cortesin. Which is ironic. Because Mickey Walker, Europe's captain in the first four editions of the biennial encounter with the United States (1990-92-94-96), is worth listening to herself.
"The captaincy has changed dramatically since my time," Walker, 70, says. "It wasn't until 1996 that I had a vice captain. Before that, I had no helpers. I used to have to ask players how they had performed in practice in order to decide who was playing and who wasn't. Crazy. And not exactly how it tends to be done these days."
A six-time winner on the Ladies European Tour and a near winner on the LPGA Tour, where she lost a four-hole playoff to Sandra Palmer at the 1976 Jerry Lewis Muscular Dystrophy Classic, Walker left the Solheim captaincy clutching a creditable 1-3-0 record. In their infancy, the matches were a long way from competitive, such was the overwhelming depth of the American teams of the 1990s.
"Back in 1990 there were very few spectators at Lake Nona for the first Solheim," says Walker, a two-time winner of the British Women's Amateur Championship and the first women to receive life membership of the British PGA. "But the event was only announced a few months earlier. The American team at that time was almost a 'who's who' of women's golf. I know Betsy King had no concept that it was an actual match. She thought it was nothing more than an exhibition. Which it was, to an extent."
Walker acknowledged that early on, the European side was largely in awe of the Americans they were competing against.
"We had Laura Davies. And we had Lotte Neumann. Pam Wright had been rookie of the year on the LPGA. But they would have been the only players on the opposing side the Americans either knew or had heard of," Walker said. "So they had no expectation that we could challenge them. And within our heart of hearts, we didn't either."
Still, all good things have to start somewhere. And the Europeans did win the second match, at Dalmahoy in Scotland in 1992. It was a week notable for two incidents, at least in Walker's mind. The first came when American Beth Daniel was quoted in the press saying that only two members of the home team, Davies and Neumann, would have any hope of making it into the U.S. side.
"So the rest of our side was rubbish really," says Walker with a smile. "No one likes to hear that about themselves. Although we probably agreed with Beth, to be honest. It was naive of her to do that."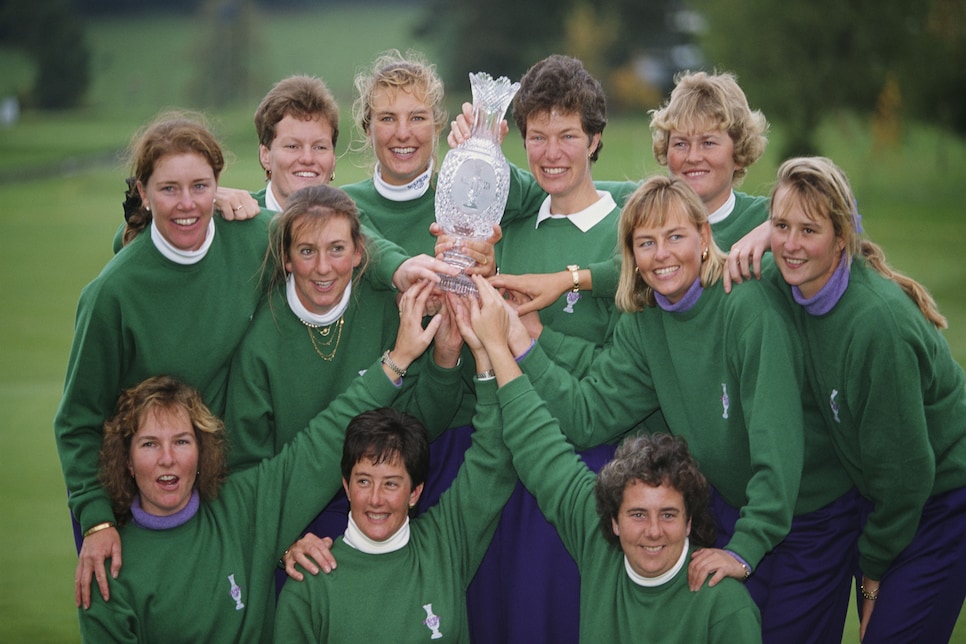 Walker's team in 1992 defeating the Americans at Dalmahoy in Scotland.
David Cannon
The other contentious note came along on the eve of the matches when King noticed for the first time that two members of each side would be sitting out during the foursomes and four-balls. So a meeting was called.
"Betsy wanted it changed so that everyone was playing," Walker said. "And John [Solheim, son of Karsten and Louise Solheim, who help create the event] tried to compromise by suggesting that the four players not chosen should go out before the matches and play each other. But it wouldn't count. Needless to say, we shot that one down."
A far more significant change came along in 1996, when the number of matches was increased for the fourth time in succession. In 1990, 16 games were played. Two years later it was 18. In 1994 that went up again to 20. And in '96 the figure was 28, where it has stayed since. But 27 years ago, Walker felt it was a step too far, one designed to almost guarantee an American victory.
"We tried to tell the Americans that the extra points wasn't going to make it a fair fight," she says. "But they didn't understand. They pretty much got their best team every time. They all played on the same tour. And sure enough, in 1996 at St. Pierre, although we led going into the singles, we were slaughtered head-to-head. We couldn't match their depth. That has improved, but it remains a factor. Look at the all-time records. We are ahead in foursomes and four balls but well behind in singles. We are catching up, but that is the big difference between the two teams historically."
Walker is correct. In foursomes, Europe's all-time record is 59-49-17. In four-balls, Europe leads 51-50-22. But in singles, the U.S. has a huge advantage, their record 97-71-28.
Oh, and there is more. 1996 was an eventful year for the Solheim Cup, especially behind the scenes.
"This isn't sour grapes," Walker contends. "We wouldn't necessarily have won the trophy any more or any quicker. But in a meeting early in 1996, the Americans vetoed our right to choose our team the way we wanted to choose it. Ideally, the more picks we had, the better our team was going to be. We wanted our strongest team. We didn't want to have a couple of weaker players qualify, even if they did top the money list in Europe. Just as the men still do in the Ryder Cup, Europe needs to have its strongest team to make it truly competitive."
Still, in a perverse but somehow logical way, there is nothing Walker likes to see more in Solheim play than a bit of a barney. To her way of thinking, conflict makes memories, which makes for wider public interest.
"In my heart, I believe Europe would have won in Germany in 2015 had there not been the incident with Suzann Pettersen not conceding a putt to Alison Lee," Walker says. "But that's golf and that's life. Just as the European team was galvanized when Annika Sorenstam was asked to replay a chip she had just holed at Loch Lomond in 2000, so was the U.S. team in Germany. Which is natural. When an opponent does something you think is unsporting, you react. And in that respect, women are exactly the same as the men in the Ryder Cup. But it's all good. Those incidents are important. They show that this thing really matters, that it means something."
These days, Walker is doing a bit of talking herself. She is in Spain this week to commentate on the Solheim Cup for the World Feed telecast. Which is as it should be. Clearly, few know more about the matches and their 33-year history.