The Loop
Mickelson's U.S. Open journey has a chance to come full circle
ARDMORE, Pa. -- So what does Phil the Thrill have in store for us this year on U.S. Open Sunday? The Open, which always ends on Father's Day, also concludes on Mickelson's 43rd birthday tomorrow. Oh my.
There is no tournament that has toyed with Phil Mickelson's emotions as brutally as this one. WIll he mend those wounds at Merion or add more scar tissue to the memory bank?
We know this: Lefty will make it exciting. He always does.
"It's going to be a fun day tomorrow," Mickelson said Saturday after his even-par 70 left him one stroke clear of the field at 209, the only player in red numbers on a brutally difficult Merion GC.
"I'm really looking forward to it," Lefty said. "I'm looking forward to facing the challenge of Merion again. It's a wonderful test."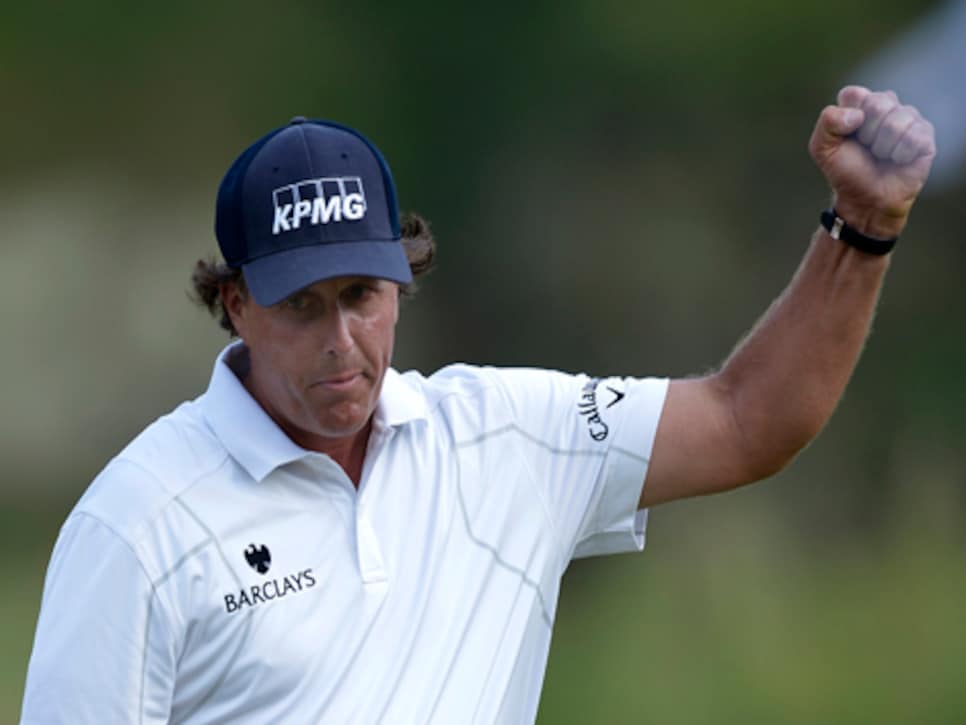 *Mickelson takes a one shot lead into Sunday's final round, on his 43rd birthday. *
Photograph: Brendan Smialowski, AFP/Getty Images
For three days, Mickelson has been the model of patience and control on this historic course that has proven to be more than a match for the best players in the world. Can he maintain that focus for 18 more holes?
Five times Mickelson has ended as the runner-up in the U.S. national championship, perhaps most painfully in 2006 at Winged Foot, where he double bogeyed the last hole when a par would have won.
A victory here would give Mickelson five major championships, tying him with Byron Nelson, Seve Ballesteros and Peter Thomson on the all-time list.
A loss and he stays in a select group of legends who won at least four majors but never the U.S. Open (Sam Snead, Nick Faldo and Seve), with three Masters green jackets and a Wanamaker Trophy at home.
Through 54 holes, Mickelson has been brilliant, posting rounds of 67 and 72 before his 70 in the third round.
Of the eight players within four strokes of Mickelson entering Sunday, only Charl Schwartzel, the 2011 Masters winner, who is one stroke behind, has a major championship.
Hunter Mahan and Steve Stricker are also one back. Justin Rose, Luke Donald and Billy Horschel are two behind; Jason Day trails by three and Rickie Fowler by four. All think this could be their shot at a first major.
"I love being in the thick of it," said Mickelson, looking exhausted after a long day on the golf course, his round taking more than five hours.
"I've had opportunities in years past, and it has been so fun, even though it's been heartbreaking to come so close a number of times and let it slide," he said.
"But I feel better equipped than I have ever felt heading into the final round of a U.S. Open," said Mickelson, sounding very much as if he believed what he was saying.
"My ball striking is better than it has ever been," he continued. "My putting is better than it has been in years, and I feel very comfortable on this golf course. I love it."
This has really been a Phil kind of week. After practicing at Merion for a few days, he raised a few eyebrows when he flew back to California for his daughter Amanda's eighth-grade graduation.
On Thursday, when the tournament started, he arrived in Philadelphia at 4 a.m., was on the practice range at 5, and teed off at 7:15. All he did was shoot 67 with only one bogey.
Oh yeah, and just to make it a Full Phil Experience, he didn't stick a driver in his bag this week, opting instead for an extra wedge.
Mickelson, who has been known to overthink a few situations -- he's played majors with both no drivers and two drivers -- made three birdies and three bogeys in the third round, none more bizarre than his bogey on the 18th hole.
Driving with a 4-wood, Mickelson barely made the fairway on the 535-yard 18th, and had 274 yards left for his second shot. He kept the 4-wood in his hands and went through the green, then couldn't get the ball up-and-down from the thick rough.
Until then, he had been flawless on the back nine, making birdies on Nos. 10, 11 and a dramatic one on 17.
Mickelson certainly has had an interesting relationship with the U.S. Open. In the 21 he has played since turning pro, he has those five silver medals, but he has also finished out of the top 40 on nine occasions. Now he has a chance to balance the emotional ledger.
"I don't think I feel any more pressure than anybody else who wants to win the tournament, a major championship, the U.S. Open," Mickelson said.
"But it would certainly mean a lot to me that this is a tournament for years I've had opportunities, I've come close to, and it would mean a lot tomorrow if I could play some of my best golf," he said. "Certainly if I can play the way I have been."
Mickelson, whose Everyman demeanor makes him a crowd favorite, will likely be carried along by strong emotional support here among the Philly crowd on his 43rd birthday.
"It's got the makings to be something special, but I still have to go out and perform and play some of my best golf," he said.
Indeed he does. And how fitting would it be if the man who flew home to be with his daughter made this his most joyous Father's Day at the U.S. Open.
The first runner-up finish Mickelson had in the U.S. Open was at Pinehurst in 1999 when he was edged out by the 15-footer on 18 by Payne Stewart. Phil played that final round with a beeper and said he would walk off the course if his wife, Amy, went into labor.
The next day, after that heartbreak in North Carolina, Amanda was born. Wouldn't a win on Sunday be a perfect way to complete the circle of life?