The Loop
Mickelson's birthday present? More work to do
BETHESDA, Md. -- Phil Mickelson leaned on his clubs. He stared down the eighth fairway, his 17th hole. He never blinked. A thousand-yard stare. What a long, terrible, trainwreck of a day.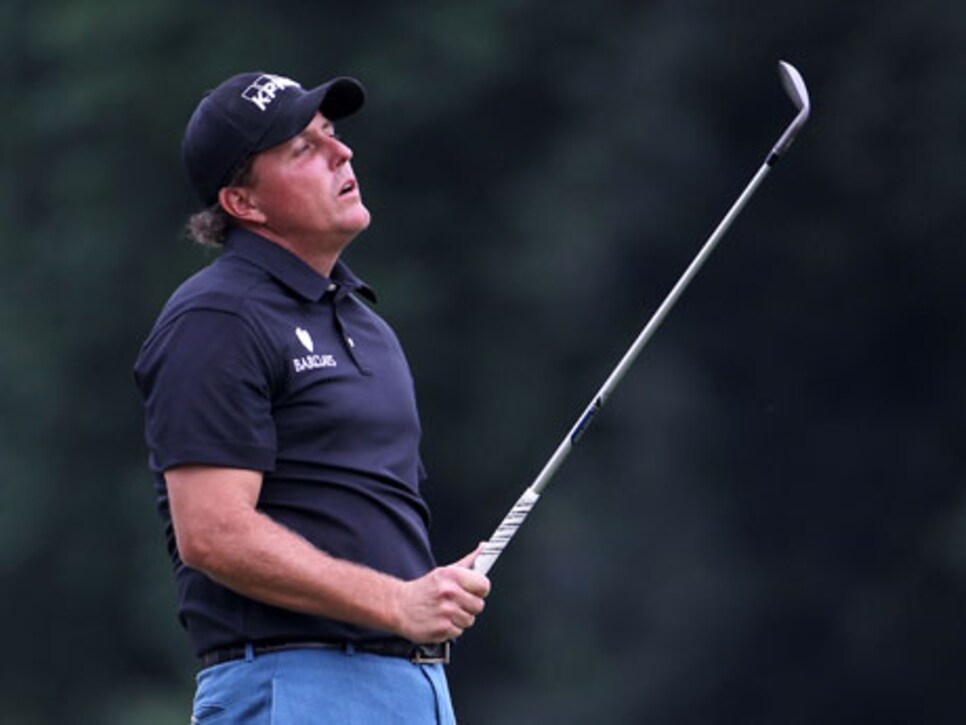 (Photo by James Squire/Getty Images)
He couldn't keep a tee shot in the ballpark. When it was his turn to hit, he seemed to come to the tee reluctantly, a dead man walking. And, again, he drove it wild, again he sent Congressional's squirrels scampering to safety. This one was so far left that Mickelson's caddie, in dogged pursuit of the unguided missile, would disappear behind the fifth-green scoreboard, maybe 50 yards off-line. As Mickelson left the tee, a fan with absolute respect for the great player and absolutely no sense of timing, shouted, "Happy birthday, Phil." Thursday was the old man's 41st. He walked on, oblivious. Oh-for-20 in the U.S. Open, he started this one with a plug-ugly 74, nine shots off the lead.
To reporters, a press officer said, "Phil has declined an interview."
And Anthony Weiner has nothing more to say. Some disasters resist analysis.
Just say that on a day when the old man did nothing right, the kid did nothing wrong -- for Mickelson's 74 must have felt like 104 when the kid in his threesome, Rory McIlroy, 22 years old, shot 65 for the first-round lead. Rory McIlroy! The Northern Ireland prodigy, last seen imploding at Augusta! Rory McIlroy, who we thought might never show his face again, let alone contend in a major. Look at these numbers from Thursday: Mickelson hit five of 14 fairways, McIlroy nine of 14. Mickelson hit eight greens, McIlroy 17.
So now we know that McIlroy is alive and well. But what about Mickelson? In the tournament that always demands the most accurate driving, he hit it so far left so often that if he doesn't fix the mechanical flaw overnight, he will be sucked deeper, perhaps beyond rescue, into the Sam Snead-couldn't-win-the-Open-either discussion.
Not that Mickelson would admit it. "This actually turned out to be a great day," he said.
Oh, no. Here comes the Perpetual Pep Boy finding the rainbow hiding inside the thunderstorm. Mickelson didn't talk to reporters, but he answered a couple questions for an U.S. Golf Association press officer.
Yes, he said, "because I played horrific "
This takes some explaining by veterans trained in MickelsonSpeak. He means it can't get worse, so it will get better. The calamities began on the day's very first shot. On the 10th, he plunked his tee ball into a pond. A double-bogey there. "And to hit it where I did," meaning to hit it sideways, "and to walk away only three over, I'm still in it where if I get this thing turned around, shoot a good round tomorrow, I'll be right back in it."
Absolutely, and if Anthony Weiner becomes Billy Graham overnight, he'll be right back in Congress.
As for the kid who made him look ancient, Mickelson said of McIlroy, "The game's easy when you hit it straight and make every putt. It's a wonderfuil game. No course is too tough when you hit it like that. He played terrific. It was fun to watch . . ."
And here, I think, it's safe to imagine that Mickelson smiled as he finished the sentence, " . . . although I didn't see much of it."