The Loop
Mickelson's back no better, 'unsure' about Saturday
SAN DIEGO -- Phil Mickelson is unsure about playing Saturday's Farmers Insurance Open third round after a shot out of the fifth hole's rough led to another "locked" back.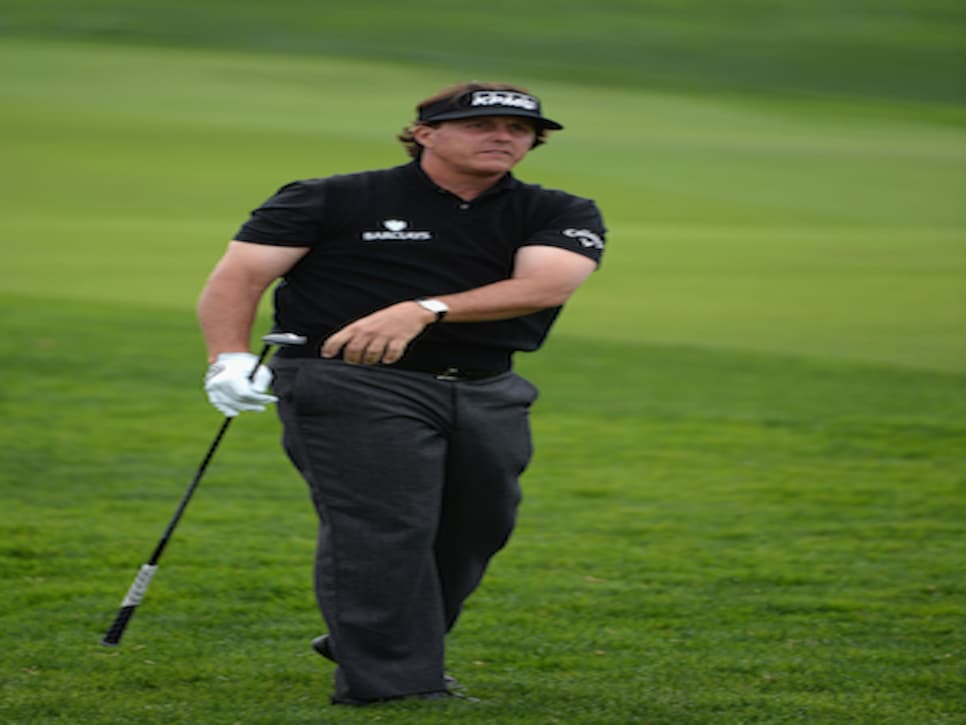 "I'm a little bit unsure -- I mean, I love this tournament and I want to play here, I love playing in San Diego and this is a place where I grew up playing, so I really want to play," Mickelson said. "And part of me also says that I'm getting in bad habits and if I hit it in this rough here, I've really got an issue because I've got to swing awfully hard to get it out and it jars it, so I'm a little torn right now on the best plan of action."
Mickelson walked gingerly most of the round and took the opportunity to sit on tee box ice chests whenever the opportunity arose. With high rough and cool, moist conditions, the recipe for further injury existed all day. After a night of treatment, Mickelson initially made a decent go of it even after the early issues.
"I hit it on five in the rough and it jarred it because I had to hit it hard to get it out," Mickelson said. "I was just an inch in the rough, but I had to hit a hard 6-iron and kind of locked up and I started protecting it a little bit thereafter."
A birdie on the par-3 16th got him to 3-under par with the par-5 18th remaining. After saving par at 17, Mickelson missed the 18th green with an 85-yard approach into the back bunker where saving par is next to impossible.
"I just can't stand bogeying the last hole with a sand wedge from the middle of the fairway. That's a terrible way to finish, but I probably would have taken it at the start of the round."
His 69-73 total leaves him eight back of 36-hole leader Jordan Spieth.