Ryder Cup
Phil Mickelson "of course" would accept Ryder Cup vice captaincy; remains focused on making team as player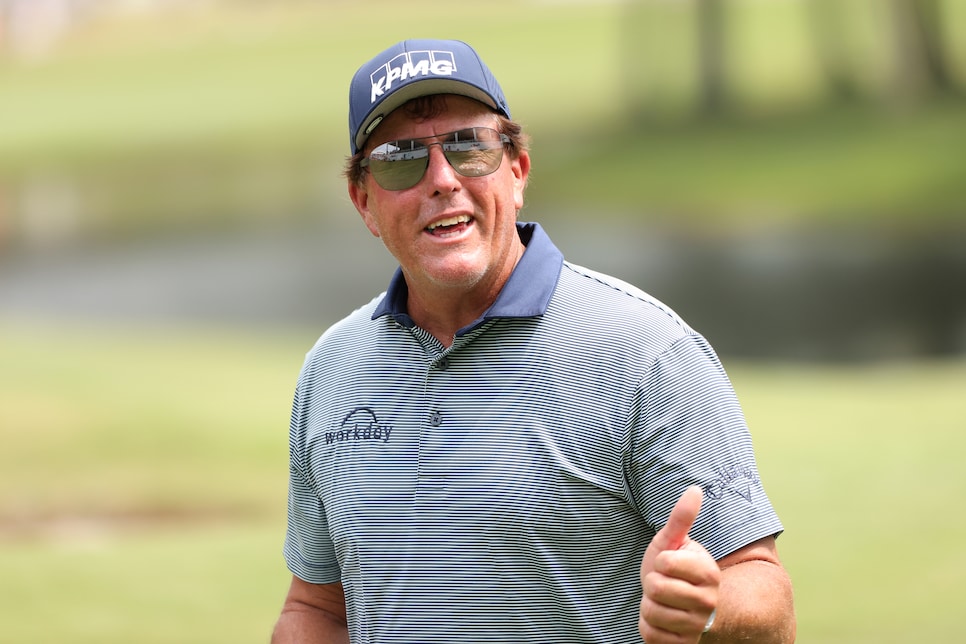 Phil Mickelson has played on every Ryder Cup team dating back to 1995. Following his triumph in Kiawah, it was a streak that looked like it would continue this September at Whistling Straits. But much has transpired since that magical weekend in May—or more appropriately, not much has transpired. Mickelson has posted a lone top-60 finish since the PGA Championship, and with the American team set to be finalized in two weeks, the streak is now very much in jeopardy.
Yet while Mickelson's participation as a player is a jump ball, don't be surprised to see Mickelson at Whistling Straits in some capacity.
Speaking to the media Thursday evening after the opening round of the BMW Championship, Mickelson said while his focus is on making the U.S. squad as a player, he would consider serving as a vice captain to Steve Stricker.
"I love being a part of the Ryder Cup in any way, shape or form, so of course," Mickelson said. "But I'm not thinking about that right now."
Making it to the season finale at East Lake next week would boost his case, although Mickelson would need a high finish at Caves Valley to earn a spot at the Tour Championship. The 51-year-old did leave himself in a good position to contend through 18 holes, turning in a four-under 68 that left him four back of the leaders.
Mickelson acknowledged he would have to make it to Atlanta to have a realistic chance at a captain's pick (the automatic bids will be set after this week, which Mickelson can't obtain even with a win). In that same breath, Mickelson is far from counting himself out of the proceedings.
"I mean, I'm not going to say—I'm certainly a long shot I would say, but I'm starting to play well," Mickelson said, "and if I can put together three good rounds, you never know."
The current forecast for the U.S. team is heavy on star power but light on experience, which could pave the way for the likes of Mickelson or Webb Simpson to grab one of six captain's picks. Mickelson's also been one of the guiding forces behind Team USA's "task force" following the 2014 Ryder Cup loss, and is viewed as an avuncular figure among the 30-and-younger crowd for the Americans.
"Certainly it makes a difference," Mickelson said of team chemistry. "You just want the guys to play their best. If they play their best golf, the U.S. team is really strong with a lot of great young players, a lot of young talent. But you've got to get the best golf out of them."
Mickelson has made 12 Ryder Cup appearances and played in 47 matches in his career, both team highs for the American side. Only Billy Casper and Arnold Palmer have scored more points.
The U.S. Ryder Cup team will be finalized following the Tour Championship. The 2021 Ryder Cup begins Sept. 24.