The Loop
Mickelson upbeat about his chances
CHASKA, Minn. -- When he showed up at Bethpage Black for the U.S. Open, Phil Mickelson didn't have a clue how he would play. Â His mind was on his wife, Amy, who would have breast cancer surgery in two more weeks.
Fast forward to Wednesday at Hazeltine National, the place where Mickelson showed up to play his practice round before the PGA Championship.
Afterward, he said don't count him out.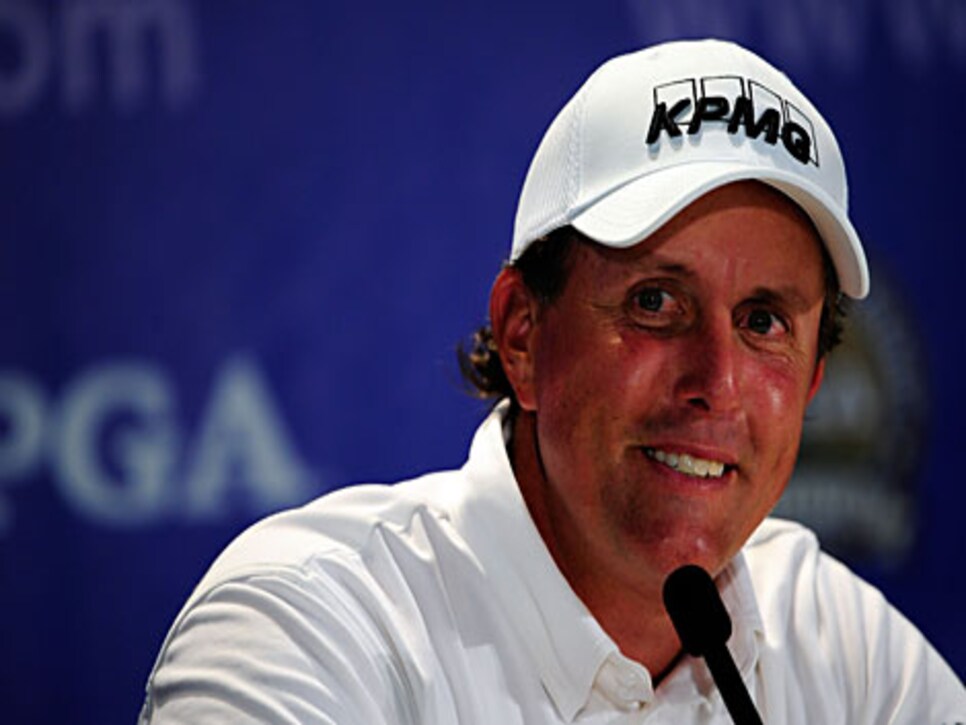 "I do have a better feeling," Mickelson said. Â "I feel much better about my game heading into this week than even the U.S. Open. Â So I'm excited to get this tournament going."
Mickelson played last week at the Bridgestone and tied for 58th in his first tournament since he tied for second at Bethpage Black. Â He said his short game is coming around and he's prepared to tackle the 7,674-yard layout here, but he isn't sure how much he will be able to play the rest of what he called an "interesting" year.
Amy Mickelson still has several series of treatments left in her recovery from cancer surgery and that has left Mickelson unsure of how many more times he'll compete.
"I'd like to play these FedEx Cup events and the Presidents Cup event and so forth," he said. Â "I think there's a good chance we'll be able to do that. Â But there's still some procedures we have to do over the course of the next year that will be kind of off and on, and if it fits the time line then I'll be able to play.
"But if not, I'm certainly not going to adjust medical procedures based on golf. Â So we'll see how that plays out."
The four-event Fed Ex Cup playoff series begins two weeks after the PGA Championship, beginning at the Barclays. Â After that, in successive weeks, are the Deutsche Bank Championship, the BMW Championship and the Tour Championship, which ends Sept. 27. Â The Presidents Cup is Oct. 8-11.
"I'm excited that, or relieved that, long-term we believe everything's going to be fine. Â But still, as we go through it, it's day to day. Â You have good days and you have bad days. Â But the big picture [is] we've been fortunate."
(Photo: Sam Greenwood/Getty Images)