The Loop
Mickelson, links courses finally bond, but will it last?
It is a draw, if the question is whether a bouncing ball on a British links is more or less predictable than Phil Mickelson. One never knows which way either will turn.
This is among the reasons a links is fun to play and Mickelson is fun to watch. "Truly, has there ever been anyone more fun to watch on a golf course than Phil Mickelson?" Bob Estes posted on Twitter.
Yet the erratic bounces his career takes are principally the reason that Mickelson's victory on one links course on Sunday portends nothing on another, more prestigious one in the days ahead. Punters beware. A form chart might as well be written in Sanskrit for what it reveals about Mickelson from one week to the next.
We'd like to think otherwise, wouldn't we, that there is significance to his victory in this tournament with a name that stretches the length of the 607-yard par-5 18th hole on which he won the Aberdeen Asset Management Scottish Open on Sunday?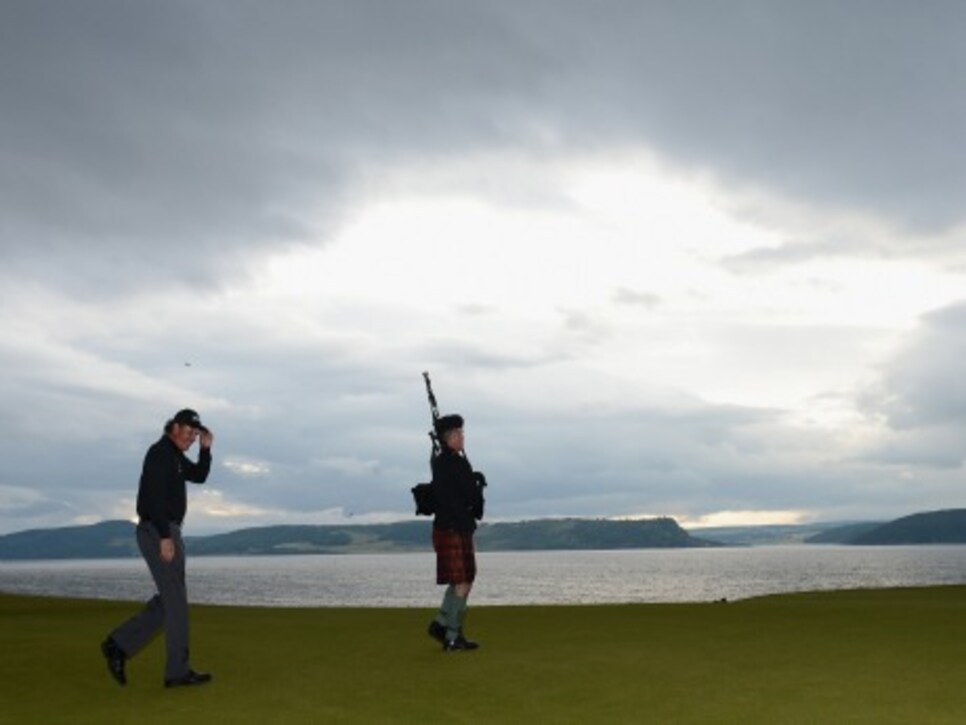 The 18th hole at Castle Stuart in the Scottish Highlands, in fact, revealed Mickelson's career in microcosm -- mystery and magic. He needed a par to win for the first time on a links course and from the fairway defied his instinct to have a go at the green in two. He laid up, put his third 20 feet from the hole and three putts later was headed to a playoff with Branden Grace.
The second time around, he went with the Mickelson script and pulled a fairway wood. He hit it to a steep grass bunker, adjacent to the green, then won the playoff with a high, spinning wedge shot from the tightest of lies, leaving him a tap-in birdie.
But that was this week and this is next week: The British Open at Muirfield. Mickelson's record in this major championship does nothing that would identify him as one of history's best. He has had 19 British Open starts and has missed the cut twice as often as he has finished in the top 10, four to two.
How does this compute, for a player with 41 PGA Tour victories, including four majors? One explanation might be that Mickelson is adept at playing the game in the air, while links courses require the ball be played largely on the ground. Shouldn't that be offset to some degree at least by his creativity and touch around the greens?
If anything can be gleaned from his Scottish Open victory it's that he can take to Muirfield confidence that he otherwise might have had on links courses.
"I'm playing well and it feels terrific," Mickelson said Saturday. "I would love to win here in the U.K., especially on a links golf course, but it just feels good to be able to drive the ball well, hit the shots that I need to, and play well over here."
He got his links victory, but he's playing for history at this point of his distinguished career. Unless Bobby Jones won a tournament called the Aberdeen Asset Management Scottish Open, it doesn't qualify.