The Loop
Mickelson laments issues in his game, not surreal finish
LOUISVILLE, Ky. -- Phil Mickelson took the high road. Except when he talked about his game.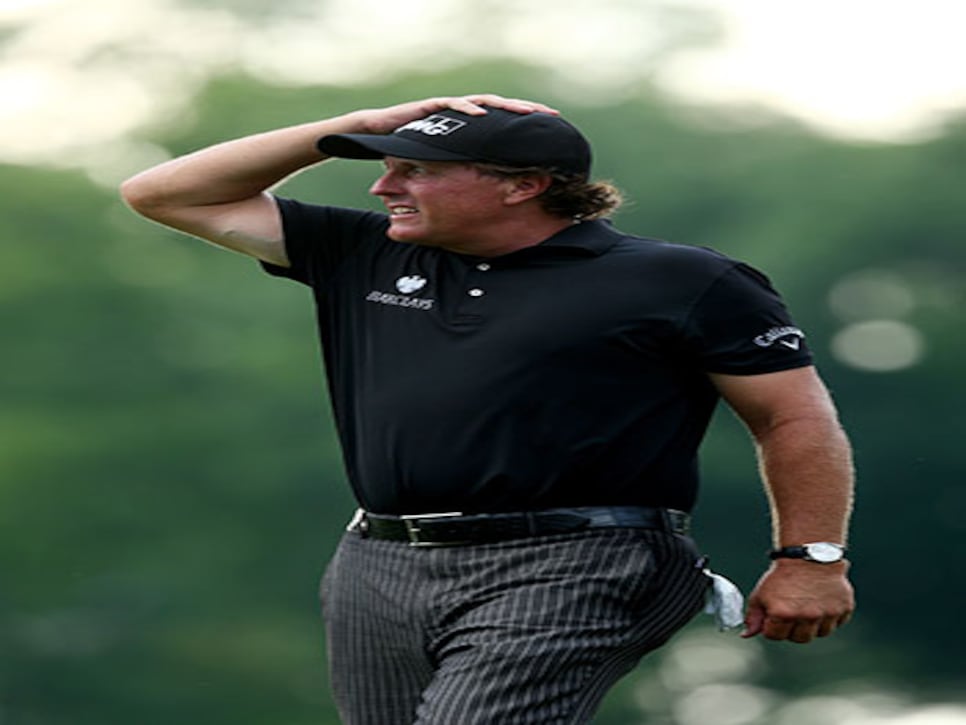 Regarding Sunday's surreal finish that looked more like the conclusion to the Valhalla Four-Ball than a major championship, Mickelson's group was asked to shorten Rory McIlroy's wait on the 18th tee and allow the eventual winner to play up in the darkness.
Mickelson appeared annoyed by the scene, knowing full well that McIlroy was getting a huge break from the normal pressures of a major championship conclusion. Peter Kostis of CBS even suggested that Mickelson was displeased. Yet after the round the PGA runner-up refused to criticize the circus atmosphere.
"It's not a big deal," Mickelson said. "It gave everyone a chance to finish just in the nick of time."
While Mickelson's aggressive greenside chip at the 16th and subsequent bogey appear to have been the death blow ("I botched it."), he pointed to a fourth-hole approach as more indicative of his season-long short-irons struggle.
"I'm trying to hole that half the time," he said. "Pathetic shot. I should have knocked it inside four or five feet, no problem."
The runner-up finish reinforces Mickelson's plan to re-evaluate his game.
"I have some glaring areas in my game that I have to work on, and I feel like if I'm able to continue to be strong and healthy and sharp in these areas of my game," he said. "I should have four or five good years that I really want to focus in on, and these next three or four months will be critical for me making sure that I address the issues and that I'm ready to go in 2015."
The week included a breakthrough with a putting touch that has been problematic all year. Mickelson finished fifth in putting, taking just 107 putts over four days. He led the field in approach-shot accuracy, but was only T-42 in greens in regulation (46 out of 72).
Mickelson did make the U.S. Ryder Cup team with the runner-up finish, but that was no consolation for the five-time major championship winner.