The Loop
Mickelson can't avoid Woods questions
AUGUSTA, Ga. -- The record will show that the Tiger Woods Scandal can't come to an official close until a player makes it through an entire media session without being peppered with Tiger Woods Scandal questions.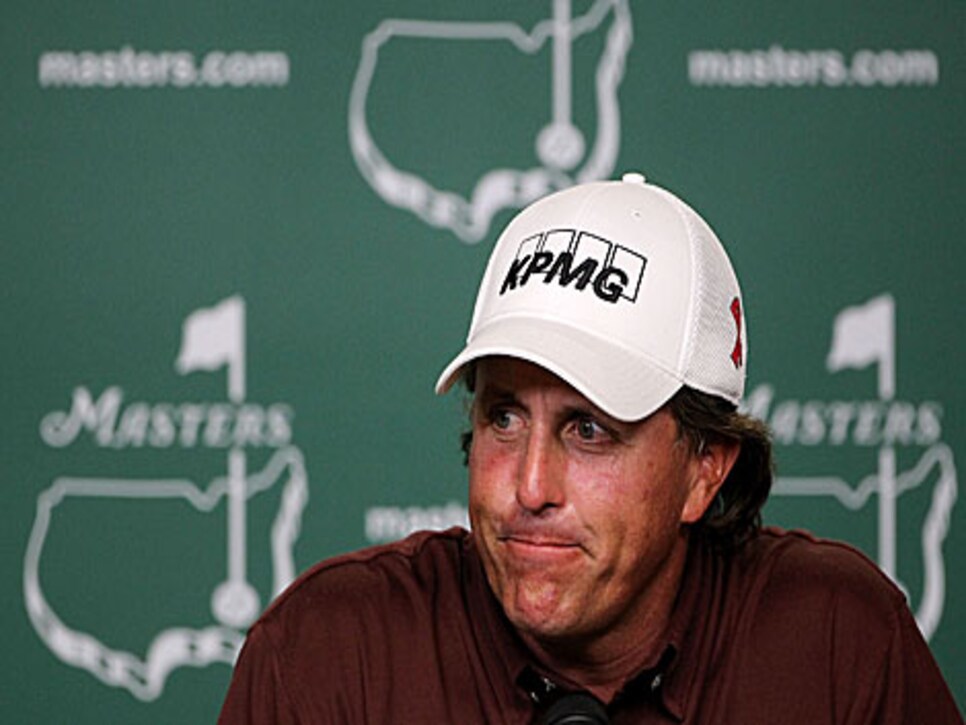 We're certainly not there yet, as Phil Mickelson can attest. Although the two-time Masters champion fielded his share of queries about the state of his game (disappointing to date, but hopefully on the upswing), the health of wife Amy (encouraging long term, but still a challenge) and what shot he dreads most at Augusta Natoinal (the tee shot over the water on 16 -- it doesn't set up well for lefties), Mickelson was still reminded he is a mere bit player in the media drama that is the season's first major. Which, in some regards, isn't a bad thing.
"I think that it can be helpful for some players to kind of slide in under the radar and be able to not have as many outside distractions and focus on their game, and maybe reduce their own expectations," Mickelson said. "You know, that could be an asset for some players."
If only such obscurity meant not having to answer uncomfortable questions about one's rival. Mickelson handled most of those deftly -- saying, for instance, that he thought Woods handled his press conference well, that he didn't owe fellow players like him an apology, and that Woods most certainly could win this week.
But as with everything else surrounding the Woods story, there were traces of awkwardness. Asked what he thought watching the scandal from afar, Mickelson merely offered, "I don't know." Asked what he thought of the series of revelations about Woods' personal life, Mickelson squirmed some more, "I don't really want to go into that."
By comparison, those old why-can't-you-win-a-major questions seemed fairly pleasant by comparison.
Mercifully, the news conference moderator signaled the interview was about to come to a close, but not before one last question. This one had nothing to do with Woods, but about Augusta National's demanding, uphill closing hole. The man asking the question was getting on in years, and he remarked that he always found the hole to be a bear.
Mickelson, flashing a mischievous smile, couldn't resist.
"Well, I think if you can carry it more than 200, it opens up the hole," Mickelson said. "So it might not play as difficult as you remember."
And with that, the session was over.
(Photo by Getty Images) *