Courses
Michigan's reputation as a top-shelf culinary destination has come a long way since 1946, when Buddy's put Detroit-style deep-dish pizza on the radar for food-loving travelers. Today you'll find locally sourced gourmet everything—from cherries and wine to morels and whitefish—on menus throughout the state. If food and golf are your ideal pairing, make Traverse City, within easy reach of award-winning golf destinations Grand Traverse Resort and Arcadia Bluffs, your base for exploring the local food scene. The town is teeming with eateries along Front Street, from the farm-to-table Cooks' House to the handmade fruit and pot pies at the Grand Traverse Pie Co. (downtowntc.com). A bit farther north are Boyne Highlands and Bay Harbor, both golf-rich areas, and good jumping-off points for foodie explorations (visitpetoskeymichigan.com).
No matter what your taste and budget, nor where your golf travels take you, here are five experiences not to be missed along the way.
Coney Dogs
A trip to Michigan wouldn't be complete without digging into a few fully loaded Coney dogs at the turn (or any time, for that matter). The "Coney" is southeast Michigan's hometown hot dog; the classic version is an all-beef Michigan-made wiener topped with beanless beef chili, mustard and chopped white onion. You can find variations all over the state, but Detroit's American Coney Island and Lafayette Coney Island (neighborhood rivals) are the undisputed top dogs.
A Zingerman's Reuben
Head to Ann Arbor for a vintage Alister Mackenzie-Pete Dye golf experience, then make a hasty retreat to Zingerman's Deli, named by Food & Wine as one of the top 25 food markets in the world, for one of its famous Reuben sandwiches. The Reuben is piled high with Zingerman's house-made corned beef, Swiss Emmental cheese, Brinery sauerkraut and Russian dressing on grilled, hand-sliced Jewish rye bread. Call ahead and ask for curbside service if you're in a hurry to get to the course. No need to park: a staffer will run your order to your car when you arrive. (Zingermans.com) But back to the golf: The University of Michigan has two premier golf courses open to the public. The University of Michigan Golf Course, where the team competes, was built by Augusta architect Alister Mackenzie in 1931, and the classic layout boasts views of the Big House (maybe take in a Wolverine game too?). Radrick Farms Golf Course is one of Pete Dye's first. Get a discount for playing both on back-to-back days. (umgolfcourse.umich.edu or visitannarbor.org).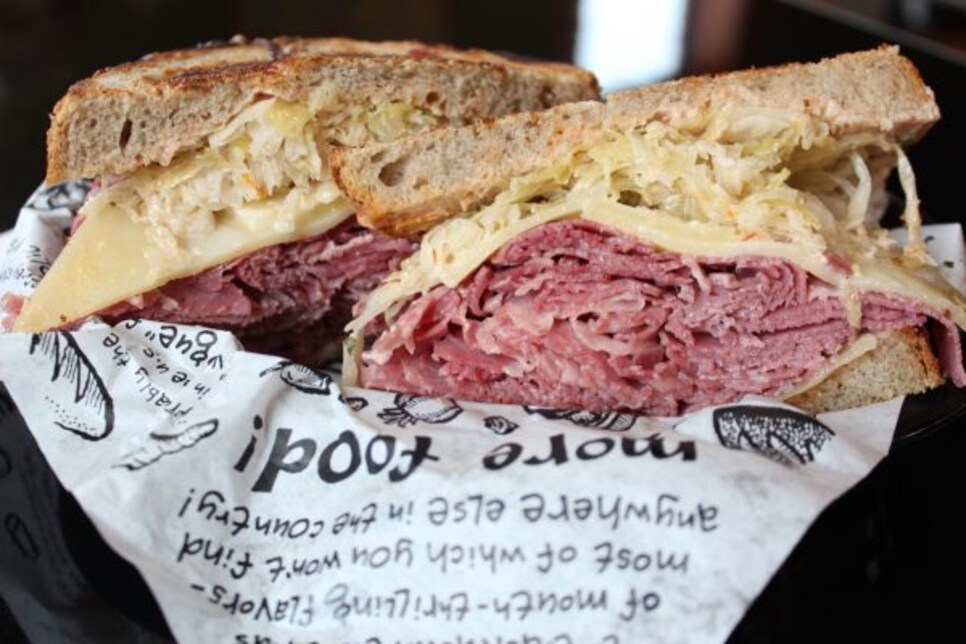 Photo courtesy of Pure Michigan
Lake Michigan Whitefish
You'll find whitefish in many guises on menus up north, from pate to parmesan-encrusted filets. But the best way to enjoy this delicate fish from the Great Lakes is a good old-fashioned fish fry: fresh fish expertly fried and served in baskets loaded with shoestring fries, crisp hush puppies, tartar sauce and crunchy slaw. Antrim Dells at A-GA-MING Golf Resort (a-ga-ming.com) serves up a tasty fish fry every Friday night in the summer. Even better, head to Scalawags Whitefish & Chips, a casual restaurant in Mackinaw City—the gateway city to Mackinac Island or UP golf adventures—or to its newer outpost in Traverse City. Scalawags is fast casual with plenty of kitsch that serves the freshest whitefish, perch and walleye from the Great Lakes. The restaurant is open May through October. (scalawagswhitefish.com)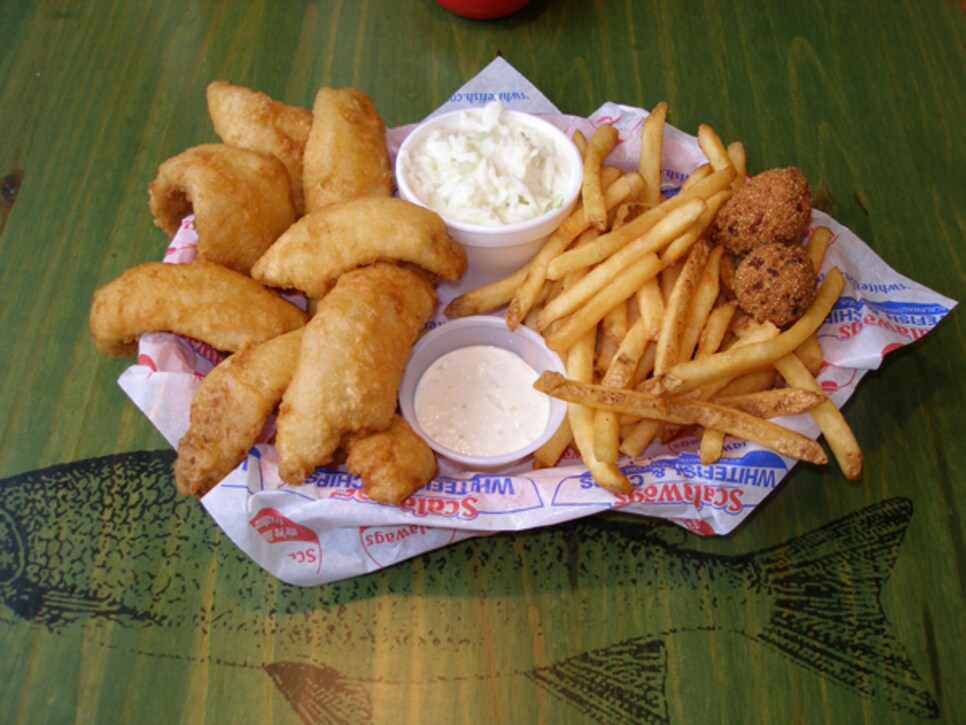 Photo courtesy of Pure Michigan
Cherry Pie
Michigan produces 75 percent of the nation's tart cherry crop, so it's no wonder Michiganders love their cherries in everything from beer to barbecue sauce. But the best way to enjoy the bumper crop is in a flaky-crusted cherry pie topped with Moomers homemade ice cream. (Moomers is the Ben & Jerry's of the Midwest.) Grand Traverse Pie Co. (gtpie.com) is a sure bet and has a dozen or so locations throughout the state, but Friske Farm Market (friske.com), which has been making pies since 1962, is worth a detour if you're playing in the Gaylord or Boyne area. It's an over-the-top farm stand experience offering everything from pizza to pie to preserves. You can even pick your own fruit. Getting there is half the fun north along scenic Grand Traverse Bay.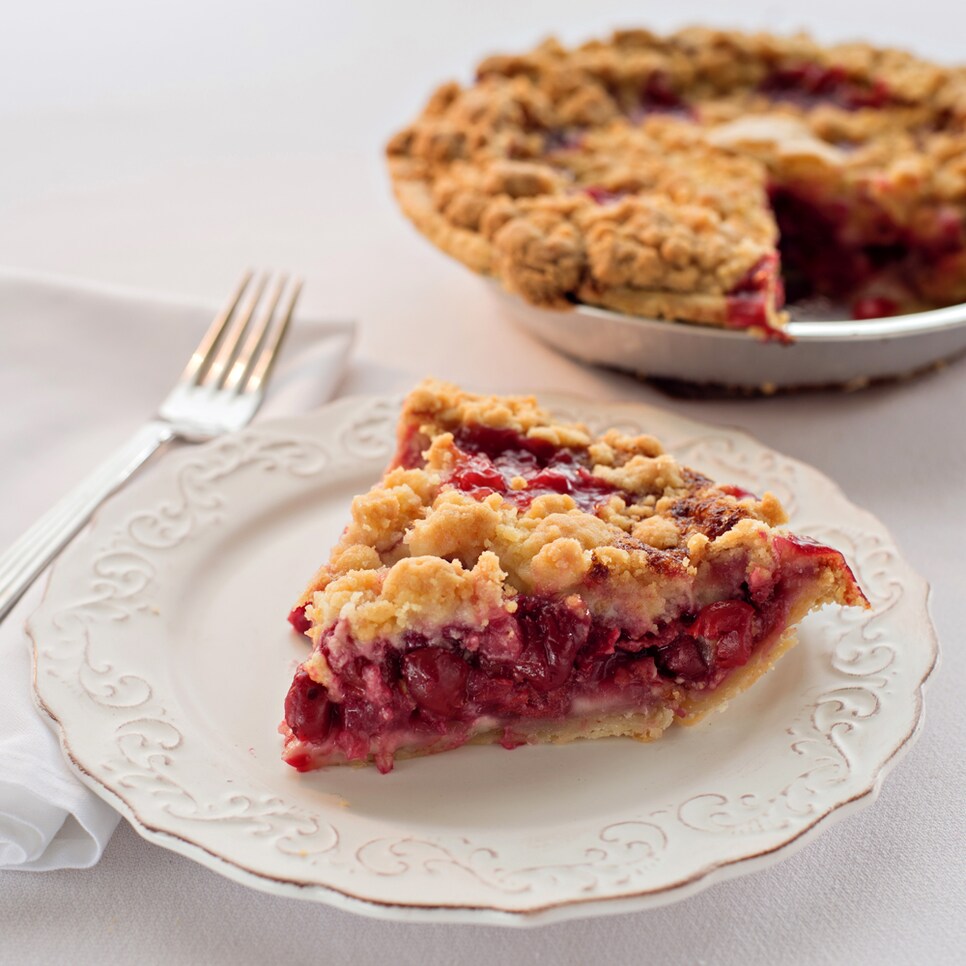 Photo courtesy of Pure Michigan
Beef Pasty
Bordering three of the Great Lakes (Huron, Michigan and Superior), the Upper Peninsula offers gorgeous scenery, world-class fishing and hiking, and a handful of top golf courses: Greywalls in Marquette (marquettegolfclub.com) and Wild Bluff (wildbluff.com) are just two to check out. Summer temps are mild, and you can play until 10 p.m. But the UP may be best known for the pasty. This is Michigan comfort food at its best: a flaky butter-crusted handheld meat pie stuffed with root vegetables (potato, rutabaga, carrot) and onion. The Cornish miners brought the pasty to the Upper Peninsula and it's become the signature dish of the UP. Devotees write blogs about them (see the thepastyguy.com for an UP pasty trail map). Family-owned Lehto's Pasties, on the north side of Mackinac bridge, opened in 1947, is the go-to spot (Lehtospasties.com).