News
Ochoa Breaks Away From Pack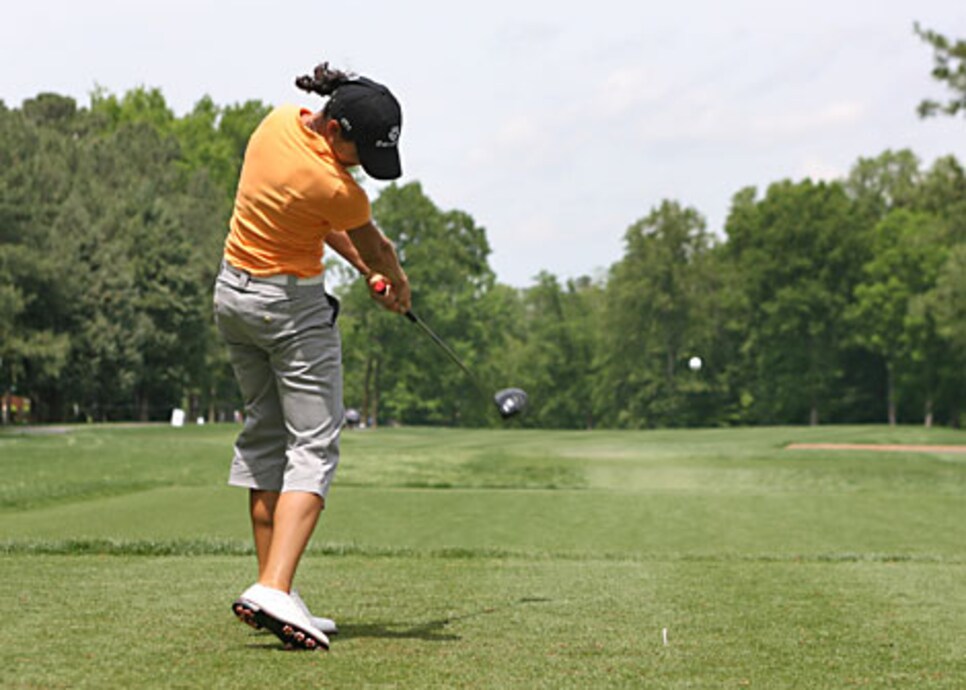 Lorena Ochoa risks turning the weekend at Kingsmill into a formality.
WILLIAMSBURG, Va. (AP) -- Lorena Ochoa is threatening to turn the Michelob Ultra Open into a runaway in another of her annual dominating runs.
She's also probably the person least likely to say so.
"It's never good to think that way," Ochoa said Friday after shooting a 6-under 65 for a tournament-record 13-under total and a three-shot lead.
"You always need to be ready and you always need to be humble and tomorrrow's going to be a new day, a new start. I'm going to play like if I'm behind for two or three shots. I never like to think I'm winning."
But she is, and looking mighty comfortable.
The world's top-ranked player and first-round leader took advantage of perfect playing conditions and soft greens to get eight birdies, matching her first-round total. Only two bogeys in her last four holes kept her from making the outcome look like a foregone conclusion.
And it's not as if the rest of the field rolled over. On the contrary, In-Kyung Kim, Song-Hee Kim and Cristie Kerr all finished at 10 under, and all three played better than Ochoa.
Still, coming off a wire-to-wire victory two weeks ago in her native Mexico, Ochoa has been the leader after six consecutive rounds and looks as if she might be on one of her rolls.
She has won at least three tournaments in a row once in each of the last three seasons, and last season won five of her first six events, including the last four in succession.
Teeing off around the time that Song-Hee Kim was finishing off a record-tying 63 and In-Kyung Kim was polishing off a 64 that put them in the lead at 10 under, Ochoa started with three straight pars and then made birdies on six of the next eight holes to retake the lead.
"I just thought I need to be patient and take advantage of the easy holes and the par 5s and go from there, and that's what I did," Ochoa said. "And then right away, I started making birdies and felt very comfortable.
"It think it was important to get those first couple of birdies to get me going."
It proved crucial, too, when others kept posting low numbers on a day when the fairways were still soft on the 6,315-yard layout, but soft greens made the pins popular targets.
Rookie Michelle Wie, eight back after an up-and-down 67, had one of the shots of the day, holing her approach for eagle on the par-4 10th, her first hole of the day. She immediately followed with a bogey, though, and had three more to minimize six birdies.
Song-Hee Kim, who tied the course record shared by six others, three times almost holed shots from off the green, and rolled in a 30-foot putt on the difficult eighth for birdie.
"I had a perfect day today," she said through a translator.
In-Kyung Kim was 5 under after six holes, finished with an eagle and two birdies on the three par-5s and came within a shot of the course record despite a pair of bogeys. Her eagle came when she hit a 58-degree wedge 80 yards on the 473-yard 15th and it spun into the cup.
"It was pretty cool," she said. "I didn't see it, but everyone liked it."
Kerr, who won here in 2005, also matched the course record with a blistering closing nine. She made five birdies on the first seven holes, and had eight birdies and no bogeys overall.
An 11-time winner on tour, Kerr said she's not yielding anything to Ochoa just yet.
"Nobody has a perfect golf game. Come Sunday, if you stay right there with her, anything can happen," Kerr said. "It's not a given that she's going to win. You've just got to be able to put pressure on whoever the leader is, whether it's her or somebody else."
Lindsey Wright, who started the day one shot back, labored to a 69 and is alone in fifth, five shots behind. The group of five another shot off the pace included Yani Tseng and Natalie Gulbis. Tseng shot a 64 to go from even par to a tie for sixth, while Gulbis shot a 65.