News
Michelle Wie West will be 2021 Solheim Cup assistant captain and hopes to compete sometime this year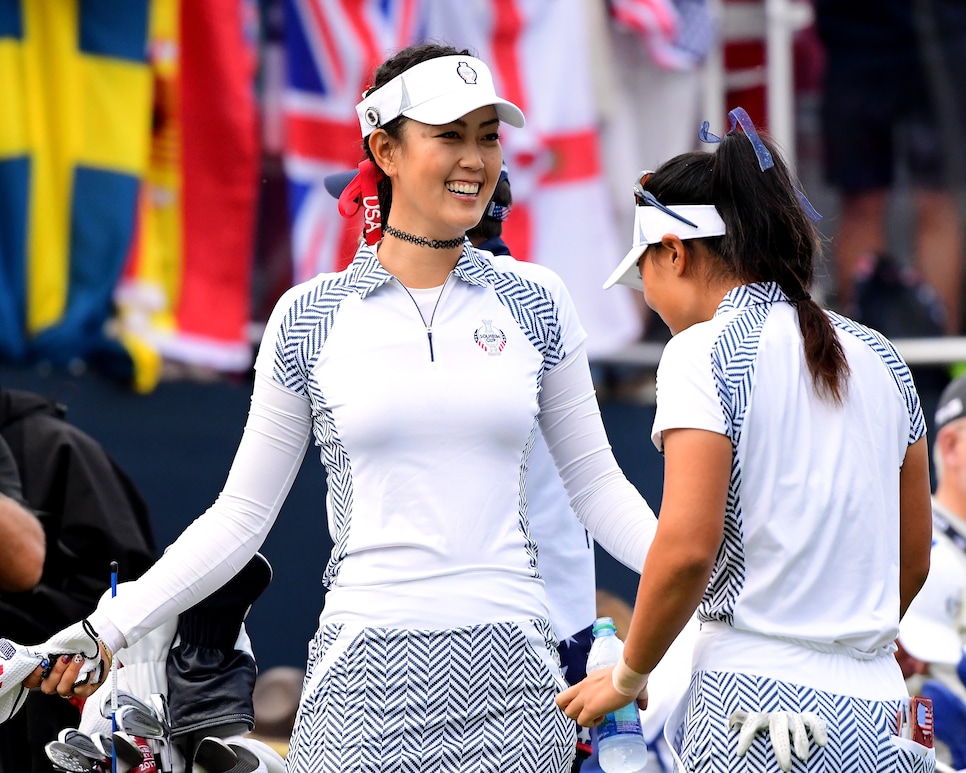 Michelle Wie played with Danielle Kang during the 2017 Solheim Cup.
Harry How
As soon as Pat Hurst was named the 2021 U.S. Solheim Cup captain in Janaury, Michelle Wie West grabbed her phone and sent her a text. The topic? Wie West wanted to be considered for an assistant captain position. It didn't take long for Hurst to agree.
"I just called her up, we set up basically an appointment to talk, and she was in my pod two different times, and I know what she's like," Hurst said. "I know she's very patriotic, loves the red, white and blue just like I do, and her intensity is there. All the players love her. They respect her, and that's what I need."
The decision became official on Thursday, Hurst formally announcing that Wie West would join Angela Stanford as an assistant for the team that will compete at Inverness Club in Ohio in September 2021.
Wie West played two of her five Solheim Cups in Hurst's pod and hopes to bring some of the stability to her own pod that Hurst exemplified.
Wie West said of Hurst as an assistant captain. "Really, she made me feel comfortable, and that's kind of what I aspire to be, and I just feel extremely honored when I actually got that phone call when she picked me as assistant captain. I was just ecstatic."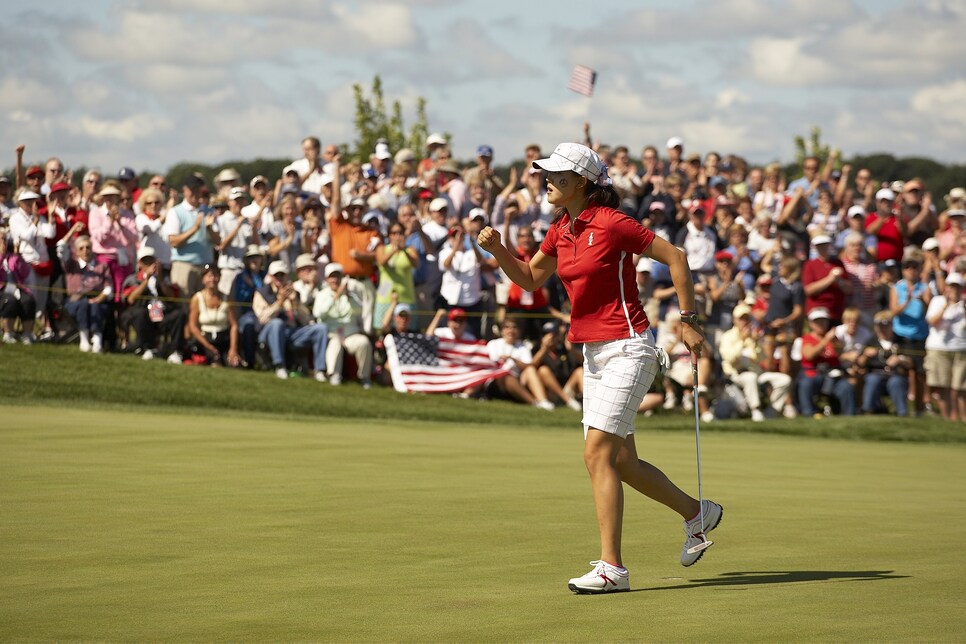 Michelle Wie celebrates her singles match victory in the 2009 Solheim Cup.
Darren Carroll
Whenever a young player—Wie West is now 30 years old—is named as a captain in a team event, the question of playing captain comes up. While Wie West says she's planning on making a return to competitive golf, the question of whether or not she'll be a playing captain is too far off to answer. It's tough for Wie West to predict what her game will look like in September 2021 because right now, her focus is on her baby, Makenna. Four and a half weeks before the assistant captain announcement, Wie West and her husband, Jonnie, announced the arrival of their first child.
"Whether or not I'm going to be a playing assistant or not, I've talked to Pat about that, and that's a bridge that we'll cross when we get there, if we even do get there, but I'll leave the decision completely up to Pat," Wie West said. "It's completely up to her whether she wants me to play or not. ... It's her decision, and if she wants me to play, I'll play; if she doesn't want me to play and only be an assistant, I'm fine either way."
Wie West has been able to get out on the range and the course, strategically planning practice sessions around Makenna's feedings. And while Wie West knows she wants to play on tour again, her priorities have shifted. Instead of golf, it's Makenna first.
"I see the world in a completely different light now and a completely different view, perspective, and it's insane how that happens overnight," Wie West said.
There's also the issue of her injured right wrist to consider. Wie West hasn't played on the LPGA Tour since June 2019, when the wrist injury sidelined her for the remainder of the season. With rest, she says it's feeling better—joking that she's afraid of saying anything positive about the wrist, fearing something bad always happens after she says it feels good.
Another variable is obviously the spreading of the COVID-19, how that can affect events on the LPGA calendar, and how complicated that can make travel with a baby.
With all of these variables in mind, Wie West says she'd like to be ready to play an event sometime in 2020.
In the meantime, Wie West will continue to work on her game around Makenna's schedule, and mentally go through her five Solheim Cups of experience to see what she can bring to Team USA in 2021.
"If I have my little pod and there's going to be a mix of rookies and veterans, I know that experience as a rookie, how scary it can be, from going from rookie to five-time veteran, and I've experienced it all," Wie West said, "and hopefully my experience can help Pat and the team out just even a little bit if possible."
The 2021 Solheim Cup will be played Sept. 4-6 at Inverness Club in Toledo, Ohio. The LPGA and Ladies European Tour decided to keep the date despite the men's Ryder Cup being postponed from this year until 2021.