LPGA Tour
Michelle Wie West talks about the status of her game and plans for 2022 tour season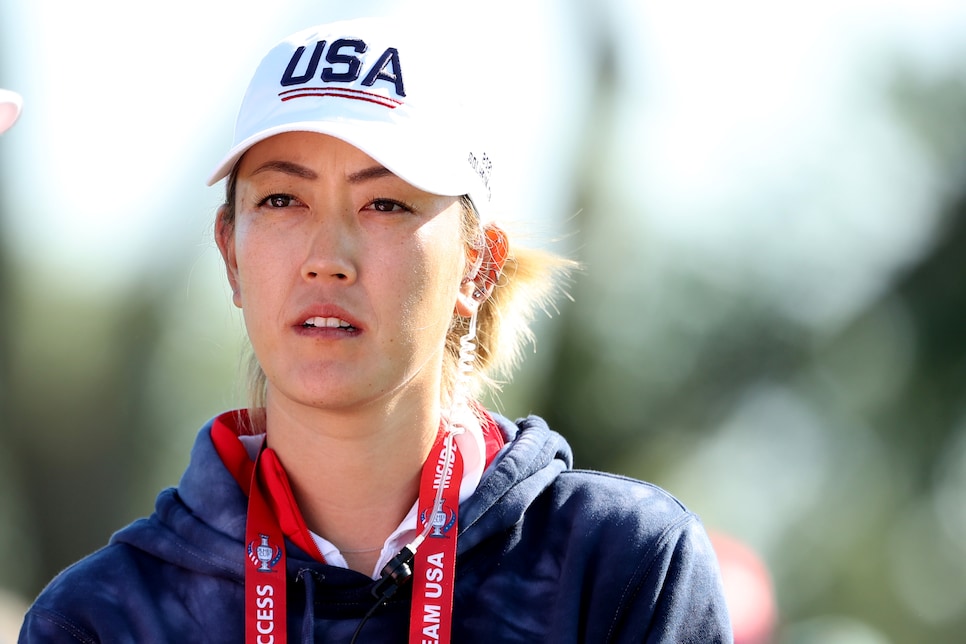 Wie West, who was an assistant U.S. captain at September's Solheim Cup, hasn't played on the LPGA Tour since last June at the KPMG Women's PGA Championship.
Maddie Meyer
Michelle Wie West has a lot going on these days. She's mother to 19-month-old Makenna, she and her husband Jonnie West recently moved their family—which includes, in addition to Makenna, three dogs—from San Francisco to Los Angeles, she's pursuing her entrepreneurial interests by getting involved in investing in several startup companies, oh, and she's playing in her first LPGA Tour event in seven months.
The Hilton Grand Vacations Tournament of Champions starts Thursday, where Wie West will tee it up with celebrities and LPGA winners of the past two seasons. Wie West got a spot in the field from her 2018 LPGA victory at the Kia Classic. (She deferred her spot in this tournament two years due to being on maternity leave, making her eligible for the 2022 event.) Wie West played six LPGA events in 2021. She committed to the Tournament of Champions field a couple weeks before the deadline and has a simple goal for the tournament:
"Make as many birdies as I can," Wie West said.
Her longtime coach, David Leadbetter, used to live on Lake Nona Golf Club, where the TOC is being played, so Wie West has some familiarity with the course. To prepare, she said she's been working on everything.
"I spent a long time not playing, and then kind of picked up the clubs again," Wie West said. "So it's been a real grind, just kind of working on everything."
When Makenna was little, Wie West would post Instagram photos taking her to the range and pushing her in a stroller on-course. But Makenna's a lot more mobile now.
"We finally got a nanny, which has been a game changer," Wie West said. "I no longer can bring her out to the range with me because she will run around and I can't hit balls. So, I probably go out there two, two and a half hours every day, or try to."
Childcare isn't the only factor Wie West has to consider when it comes to practice; she's struggled with injuries for years and continues to manage them.
"I'm not at the stage of my body where I can go and beat balls for four hours anymore. So, yeah, definitely always taking into consideration my body and my wrist, neck," Wie West said. "Trying to have more quality practice than quantity. I've done that even before the baby as well, so that's not new."
While excited for the opportunity to play in the event at Lake Nona, Wie West said she hasn't yet made decisions about how many events she'll play in 2022 or when she'll play next. In 2021, she teed it up in six events, making the cut in only her last two starts: T-40 finish at the Mediheal Championship anf T-46 at the KPMG Women's PGA.
"I'm kind of looking at the schedule and just seeing what fits best with me and my family."