The Loop
Michelle Obama tells Stephen Curry to make fun of the President's ears the next time they play golf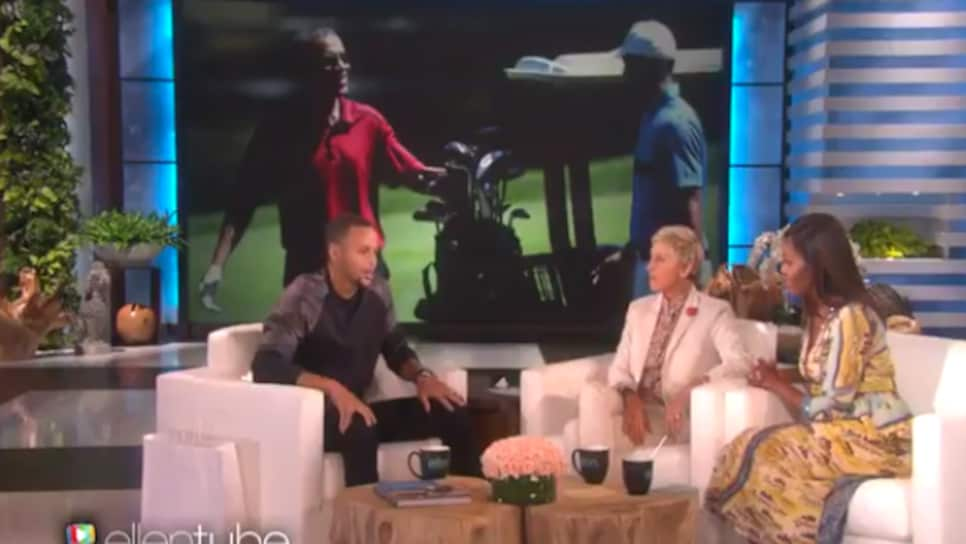 We've heard plenty of stories about President Barack Obama's gamesmanship on the golf course. Not that the most powerful man in the world has to do much to rattle his opponents, but let's just say he's developed a reputation as being a bit of a trash-talker. Do his playing partners give it back to him, though?
Well, Michelle Obama says they should. In fact, she's even offering advice on how to do it.
The First Lady was co-hosting the Ellen DeGeneres Show on Tuesday and the topic came up when two-time NBA MVP Stephen Curry was a guest (Curry and Michelle are also partners on a health initiative involving water called "Drink Up"). Michelle's advice for Steph? Go for the ears.
"If you're putting, you want to say, 'the shadow from your ears is really messing up my putt,'" Obama said. "Try that one!"
That's savage! Stephen Curry laughed, but still seemed hesitant to put Michelle's tip to use.
"With the secret service out there, if I trash-talk and he just gives them a look, I'm out of there," Curry said.
"And we never see you again," DeGeneres says.
Yeah, we wouldn't be that bold, either. Anyway, here's the full clip: