The Loop
Michael Trostel isn't an archaeologist, but as far as the USGA is concerned, he's the next best thing
As senior curator and historian for the USGA Museum in Far Hills, N.J., Michael Trostel develops historical content and manages research activities for the governing body. The 30-year-old (below, left) has been at the museum full-time since 2010 and recently discussed the curating business in a Q&A for Golf Digestix.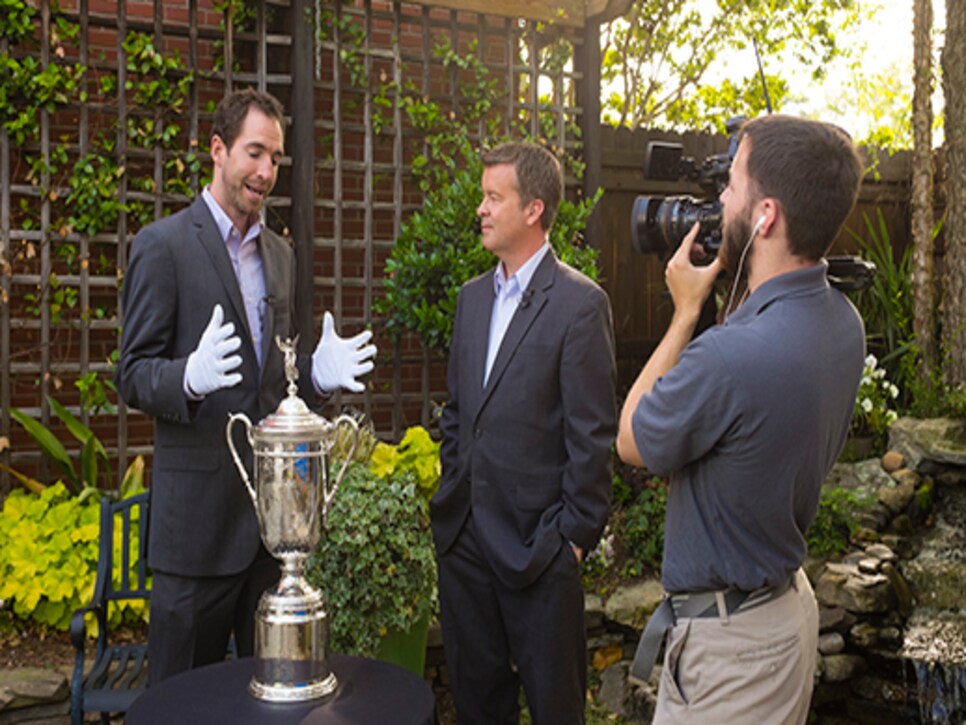 At the risk of ending the conversation before it starts, why is it important to collect and archive golf history?
Golf is a game with such tradition. There's so much to learn from it that it's important to remember and preserve what great things have been accomplished. Our museum is focused on USGA championships and champions. So what we try to do is take those events and names come to life, through photos and videos and artifacts and putting things into context outside the sport. Golf isn't separate, golf is very much part of the fabric of American culture.
__ Archaeologists literally dig to find new discoveries. Is there an component of that in your work? Going out and finding new pieces of history?__
Yes, I think there are elements of that that go into it. We're always looking to improve our collection. We've tried to be better at is proactive acquisitions. We did a letter writing campaign a couple years ago to all our USGA champions who we didn't have anything in our archives from. Our goal is to have something from every champion. But where archaeologists dig and don't necessarily know what they'll find, we typically know what we want. We're just trying to find where it is. It's more of a treasure hunt.
__ What's the bigger challenge for you as a curator, acquiring the artifacts to help tell a story or creating an interesting story based around an artifact?__
Definitely the latter. We have such a great resource in the library and so many great artifacts. Only about 10 percent of our collection is actually on display at the museum. The hardest part is picking out the great stories and trying to offer them context in an interesting manner. It's taking a step back and really asking why is this important and trying to sum things up in a concise way to grab people's attention so they can move around in 45 minutes to an hour and not have their eyes glaze over.
Do you get unsolicited call from people with donations?
Yes, all the time. Mostly it's, 'I have my grandfather's clubs in my garage, are they worth anything?' But other times some things fall right into your lap. We got a ticket from when Ben Hogan won his first tournament. It was a four-ball event and this guy called us up. He said, 'I want to donate this to the museum, I think it's the proper place for us.' That's definitely the benefit of being part of associated with United States Golf Association and our Museum. There is a lot of respect for it. And a lot of people feel like this is where I want this great artifact to be. They want the artifact to be shared with many more people than just it was sitting in their house. They have a trust in the museum, and that's powerful for me to see. I didn't expect to see that as much when I took this job.
There are other museums in the U.S. and abroad that tell the story of golf. How competitive is the golf curating business?
There is a bit of overlap with other places like the World Golf Hall of Fame, the British Golf Museum and others. I don't think there's much of a competition though. We're not trying to drive up prices on artifacts or put each other out of business. We're actually gathering all those stakeholders in the golf history business together in the fall. If we can't work together that means in some ways we're [all] going to fail. We're not going to capture the proper history.
What is your favorite artifact in the museum?
The most unique item in the museum and the one I like talking about the most is Alan Shepard's moon club. A lot of the artifacts we have here are amazing, but you know this is the only club that's been in outer space. It's very unique. And again it's the context of it that makes is special. Going to the moon was such a seminal event in history. It transcends sports.
What's the thing you guys want that you don't have?
We're targeting a few items. Tom Watson's wedge from 1982 at Pebble Beach, which is down at the Greenbrier. That's such an iconic moment in U.S. Open history. The 4-wood Corey Pavin used at Shinnecock in 1995. I don't know how much the question has been asked, maybe we just have to do a little better job of asking.