The Loop
Michael Phelps signs equipment deal with Ping
When you've conquered one sport (as in winning 22 Olympic medals in swimming -- 18 of them gold) you might decide not to take on another sport. Not so with Michael Phelps. An avid golfer, Phelps has decided to make a concerted effort to get better at the game. And Phelps has chosen to play Ping golf equipment to do so. Ping announced Tuesday that Phelps has reached an agreement to play a full set of the company's clubs.
The bats Phelps will swing in pro-ams (he is slated to play with Bubba Watson at the Waste Management Phoenix Open pro-am) and on the Golf Channel's "Haney Project" highlight Ping's commitment to custom fitting. Standing 6-feet-4 with long arms and large hands, Phelps' Ping G25 irons were made one inch longer than standard and 3 degrees upright. His grips are 1/32-inch over standard size. Phelps also will play the company's G25 driver (9.5 degrees), 3-wood (15 degrees) and hybrid (20 degrees). Ping Tour Gorge wedges and a Ping Scottsdale TR Senita mallet putter round out the bag.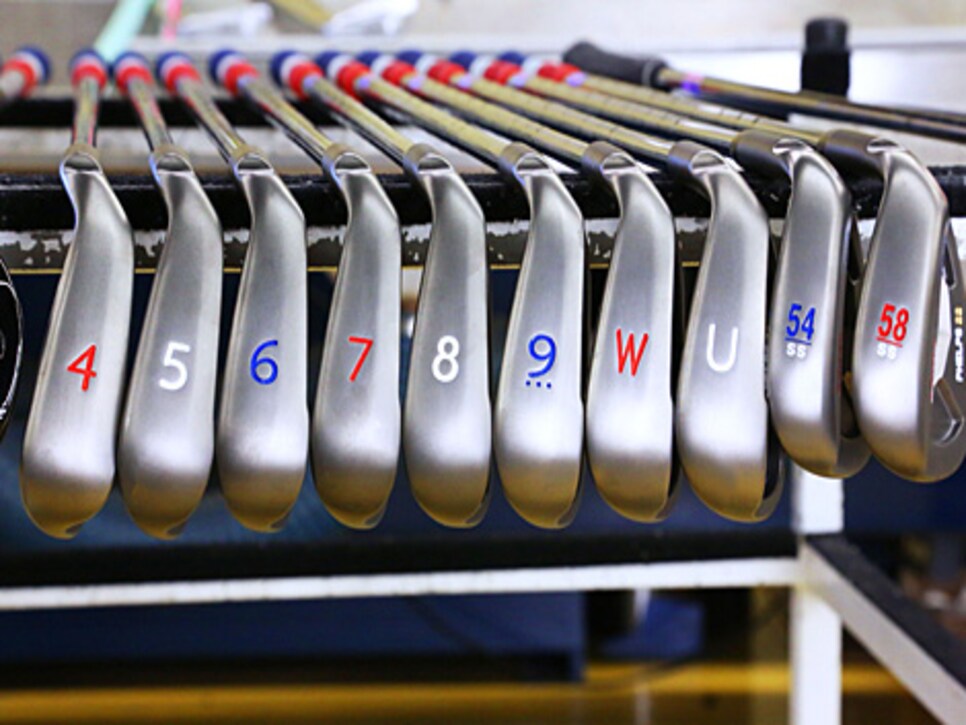 Ping added some custom touches to the 27-year-old Phelps' clubs, including red, white and blue paint fill on the irons as well as "Phelps22" on the irons, wedges and putter with the number 22 in gold paint. Gold highlights also are on Phelps' metalwoods. Here Phelps speaks with GolfDigest.com on the fitting experience as well as his thoughts on taking on his next sports challenge.
How did the relationship with Ping come about?
As soon as I picked up the Ping clubs -- I was able to get into a set of G25s --there were no other clubs I was able to get as comfortable with. The other thing that struck me is that they are a very family-oriented company and that is very important to me and I wanted to be a part of that. Other sponsors I have had have felt like a family away from home and I like that. When I walked into the headquarters here in Phoenix you could feel it the moment you walked in.
Plus they have the putter vault with all those gold putters from champions using Ping putters in their wins.
I just found out about that today [Jan. 29]. There's a lot of gold here so it seemed like a perfect fit.
Have you ever been fitted for clubs before and what was the fitting process like for you?
I've never been fit for equipment before like this. When I first got the clubs they sent me I was able to play with them for a week or two and get a feel for them but that was really it. But during that time I was able to pick up on a few things that needed some changing. And Hank [Haney] and I were able to see how that affected the ball flight, so when I got here for the fitting I had an idea of some things that we wanted to do, such as stiffer shafts, different grips that didn't feel like sandpaper, etc. We both felt the ball flight was super high. So we wanted stiffer shafts to bring that down. With the driver and 3-wood the shaft felt like a U, it felt like it was bending so much. So the Ping guys put me through a very thorough fitting. I never realized it was so technical. I never knew that there were 50-plus shafts to choose from or that a fitting was so technical.
How does that compare to swimming? Did you get fit for your suit, cap and goggles?
When I was in the pool you got a swimsuit, a cap and a pair of goggles and that was it. The last four years we had one kind of suit we swam in. With the cap it was small, medium or large and that's all. The suit goes up in waist size from 22 to 24 to 26 to 28 to however big you need it. There are about 15 types of goggles to choose from but we all have to follow the same guidelines. It's nothing like getting fit for golf clubs. It will be fun to become more educated about things such as the shaft in the driver and the loft gap in the wedges. I'm really looking forward to that. I want to be more knowledgeable about this.
What kind of improvement did you see?
As soon as we changed the grips and the shafts the improvement was noticeable. I'd hit one good one, one bad one. Then after some changes I hit three consecutive 7-irons from 170 yards to 180 yards and they were pretty much dead straight. At that point I knew what kind of improvement was possible. A lot of it is simply being comfortable with the club. Having confidence in it. When we added the length and some weight in the shaft it felt more comfortable. It didn't seem like I was swinging a wiffle ball bat like it did before. It's something I noticed just from holding the club and I liked the feeling.
Describe yourself as a golfer.
I'm learning. I think it is the same as in everything I do. I don't like to put limits on anything. This is a passion that I have and I'm going to do everything I can to improve and get to where I want to be. I have friends that are single-digit and scratch golfers that I would love to be able to compete with. I know it is a very challenging sport. It's the most humbling sport I've ever played in my life. And I know the small things can make a big difference. Eliminating three-putts and working on the short game are important. To get in a rhythm and be consistent is key. I know the more time I put into it the better I'll get.
You're a competitive guy. Does the challenge of the game appeal to you?
There were times that I've been really frustrated and didn't want to pick up the clubs anymore. But now it is hard to get them out of my hands. I know it's not going to happen overnight and I have to put in the time. There are ways to move forward and improve, but it has to be something you want. And this is definitely something that I want. I cannot stand to lose and I can't stand the thought of being beat every time I go out there with my friends. I don't want them giving me 15 strokes or even more than that sometimes. It's annoying for me. I'd like to play at the same level as them or even someday pass them.
Not to mention the golf course is a little more interesting than a pool I would think.
The playing grounds are much prettier than a pool. It is something that is very different from swimming. There we have the same pool. It's the same length, the same temperature and not much is different from one pool to the next. But being able to travel all over the world and see the courses, well, it's wild. At the Dunhill Links event I think I figured out I never want to go back to Carnoustie. That is the hardest golf course I have ever played. I was stuck in the rough so much and couldn't get out. It was so frustrating. There were times I wanted to just pick the ball up and move to the next hole. It was driving me insane! The greens at the Old Course were cool, though. They were the biggest I'd ever seen. So it's neat to play different courses with the weather changes and the different layouts. The different lengths of course. It's interesting to see how every course is different. I have a little board of all the top 100 courses and so far I don't have a lot on there but at some point I'd like to say I've played them all.