News
Michael Kim's 'little mental note' leads to win and first step toward rejoining his Class of 2011 rivals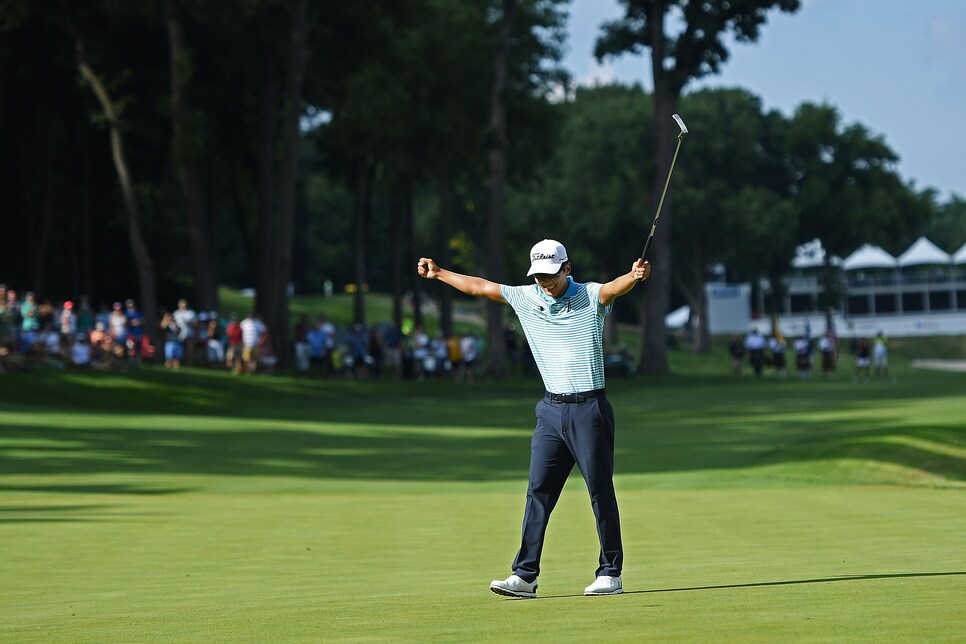 If you're still on the fence about whether or not golf is a mental game, make a mental note to talk to Michael Kim. You'll have to wait a week, unless you're going to Scotland, which is where the third-year PGA Tour player is headed to compete in the Open Championship after obliterating the field in Sunday's John Deere Classic.
Owner of one top-10 finish in his previous 83 career starts, Kim was virtually unconscious at TPC Deere Run in Silvis, Ill., torching the joint for a record 27-under 257 total and an eight-stroke victory, a margin double the previous tournament record. To say that Kim elevated his game into unknown territory is an understatement, especially after he had missed the cut in five of his last six starts and was sitting an uncomfortable 161st in the FedEx Cup standings.
The difference? He simply changed his mental approach prior to the first round. "A little mental note," he said, cryptically, without expounding further. Then he proceeded to convert a tournament-best 30 birdies - the first player in more than two years to make that many over 72 holes - and beat the field by an eye-popping 13.514 strokes in strokes gained-putting after entering the week ranked 99th on tour.
But there was more to the turnaround. Kim was second in driving accuracy after coming in 195th for the season, and he was third in greens in regulation after ranking 192nd overall.
He made only three bogeys.
Some guys go to Dr. Bob Rotella for mental help. Kim went Dr. Seuss: Oh, the thinks you can think.
He also recently changed swing coaches, a subject on which he chose to not elaborate. But make no mistake, Kim largely earned his breakthrough by changing his approach. Whatever it was, he became the season's 10th first-time winner and now gets to test it further at Carnoustie Golf Links in the upcoming 147th Open, having earned the final spot in the field at golf's oldest major.
Though he knows how he changed his approach to the game, even he was at a loss to explain the dramatic change in fortune. "I don't know. I wish I had the answer," he said. "I don't know. I've been working hard at it. You know, the season has been up and down, to say the least. A lot of down, especially leading up to this event. To be able to hit a high like this is pretty special."
Kim essentially locked up the victory with a seven-birdie stretch over two days. On Saturday, his 25th birthday, he birdied five of his last six holes, including the final four, to build a five-stroke lead over Bronson Burgoon. When Kim birdied the first three holes out of the gate Sunday, everyone else was playing for second. Burgoon got a share of it with Francesco Molinari, Joel Dahmen and Sam Ryder, who all finished at 19 under.
The only question for Kim was whether he could surpass Steve Stricker's tournament record of 258. Though he played more conservatively with his huge lead, he got the record with a 21-foot birdie conversion at the par-3 16th. Two pars and he finished off a bogey-free 5-under 66 to pocket $1.044 million, nearly quadruple his season earnings.
"To be able to finish out in style like this means a lot," said Kim, who got teary-eyed after holing out at 18 and saw to his surprise his brother and parents in the gallery.
Winner of the 2013 Haskins Award while competing at Cal, Kim had been wondering when his time might come while watching many of his peers – Jordan Spieth, Justin Thomas, Daniel Berger and Xander Schauffele – excel. The San Diego native admits he was feeling "left behind," but he understood that he simply needed more time to get used to the rigors of professional life.
"I played against them in college – beat a lot of them in college. I had a really, really good career at Cal," he said. "But you compare it to some of the guys from that [high school] 2011 class -- Jordan, Justin, Berger, Xander -- you can't help but feel like you're being left behind. It was just more motivation than anything. You know, without them doing so well I might not be holding this trophy right now."
Kim now will play against them in the final two majors of the year, and he also earned an invitation to next year's Masters, another of his goals realized with the victory.
Next up, he'd like to hook up for a round with Tiger Woods – when it matters, of course.
"I was talking with Bronson about playing with Tiger, because he played with Tiger at Quicken Loans, you know, in contention. Talking about how nothing felt quite like it," Kim said. "Hopefully he'll be out here for a few more years and hopefully I'll be able to get a good round with him; hopefully on Sunday near the lead, because that would be awesome.
"I started playing when I was eight years old, watching Tiger win all those tournaments," Kim added wistfully. "You know, you say you dream about playing on the PGA Tour, winning on the PGA Tour, but as a kid you don't really know how hard that is, how much work that takes. But to be sitting here with the trophy, I don't know, I'm just at a loss for words. I think I made the right career choice."
Oh, the thinks you can think.