News
How technology—and some old-school thinking—are allowing one golf course design team to adapt to challenging times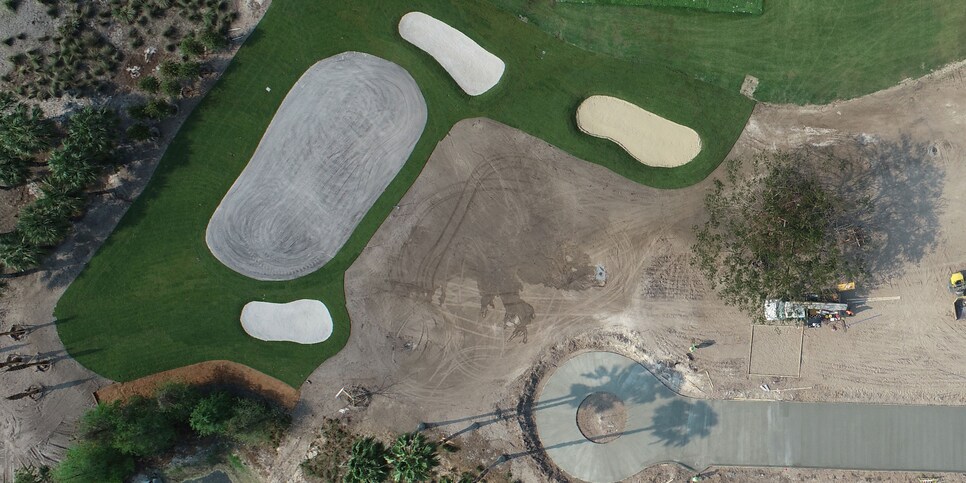 In the wake of the economic downturn in 2008, Dr. Michael Hurdzan and his partner/son Chris made the decision to try and do most of their golf course design work within no more than a six-hour drive from their office in Columbus, Ohio.
Hurdzan certainly never anticipated anything like the current coronavirus pandemic that has forced the shutdown of entire industries and rearranged the economy, but the slowdown of more than a decade ago taught him to prepare for some other development that could adversely affect his career. So, while he knows quite a few peers who are struggling, Hurdzan is staying moderately busy.
"It's almost like the old days with [his mentor] Jack Kidwell, working exclusively in and around Ohio," Hurdzan said (below). "Six hours by car, that gets us to Chicago, clear up into the middle of Michigan, Ontario, Buffalo just about, certainly into the middle of Pennsylvania and West Virginia and Kentucky, Indiana. So if we can't find enough work there, then we're probably doing something wrong."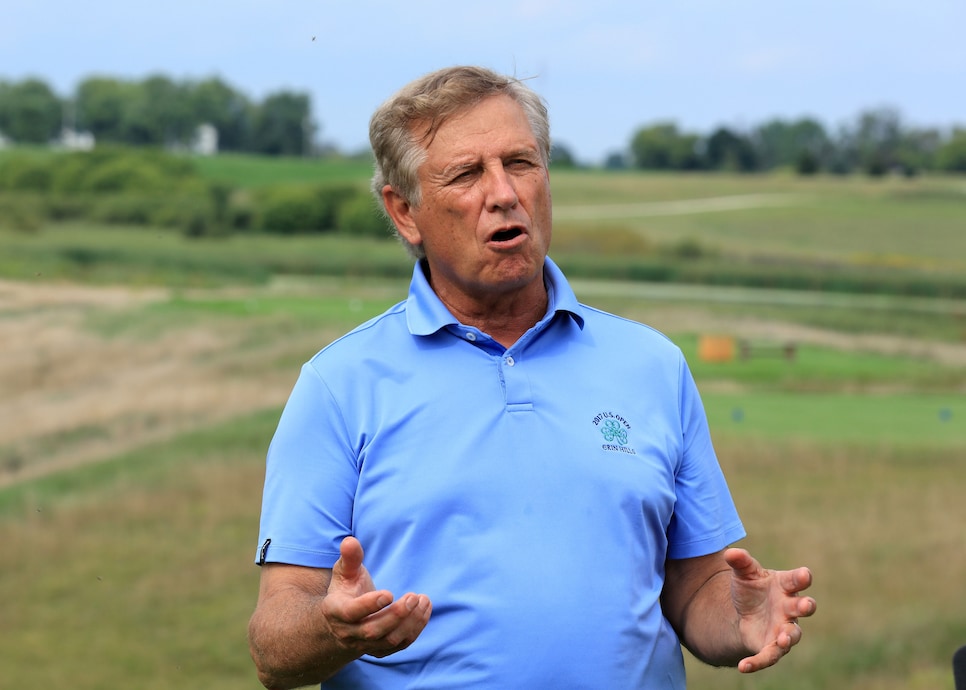 Michael Hurdzan has been in the golf course design business since the 1980s.
David Cannon
Added Chris: "We're not trying to hit home runs with that big project. We feel like if we hit enough singles, we'll be fine. In the present climate, a lot of courses just want to tidy things up, get a face lift. That's our long-term business model."
Presently, the main projects on the Hurdzan team docket are renovations in Dayton, Cincinnati and Westfield Center, Ohio. Fortunately, these projects also have long-term horizons—two to three years. Meanwhile, three jobs in Canada are in limbo due to the Canadian government limiting nonessential travel. Among these is a renovation of London Hunt Club in London, Ontario, a Robert Trent Jones creation that hosted a Shell's Wonderful World of Golf match in 1969 notable not for the participants but for the appearance of Arnold Palmer as color analyst.
A bit more ingenuity is required for their biggest project, which is at The Quarry in Naples, Fla. And, again, echoes of 2008 reverberate. "The trend in golf course remodeling going back to '08 has been to reduce sand area, add more tees, try to reduce maintained areas, especially hand-maintenance areas, and reduce trees that are causing issues in play or maintenance," Michael said. "Reasons being to reduce labor costs, improve pace of play, make the game more enjoyable."
The use of drones has been crucial to the process. Footage is downloaded for viewing on YouTube. Hurdzan uses the footage (below, top image) to make drawings (below, bottom image) that he scans and sends to the contractor on site. Yes, drawings. Hurdzan has the ability to create computer renderings, but they have limitations, especially if an architect can't follow up in the field because of travel restrictions or health concerns.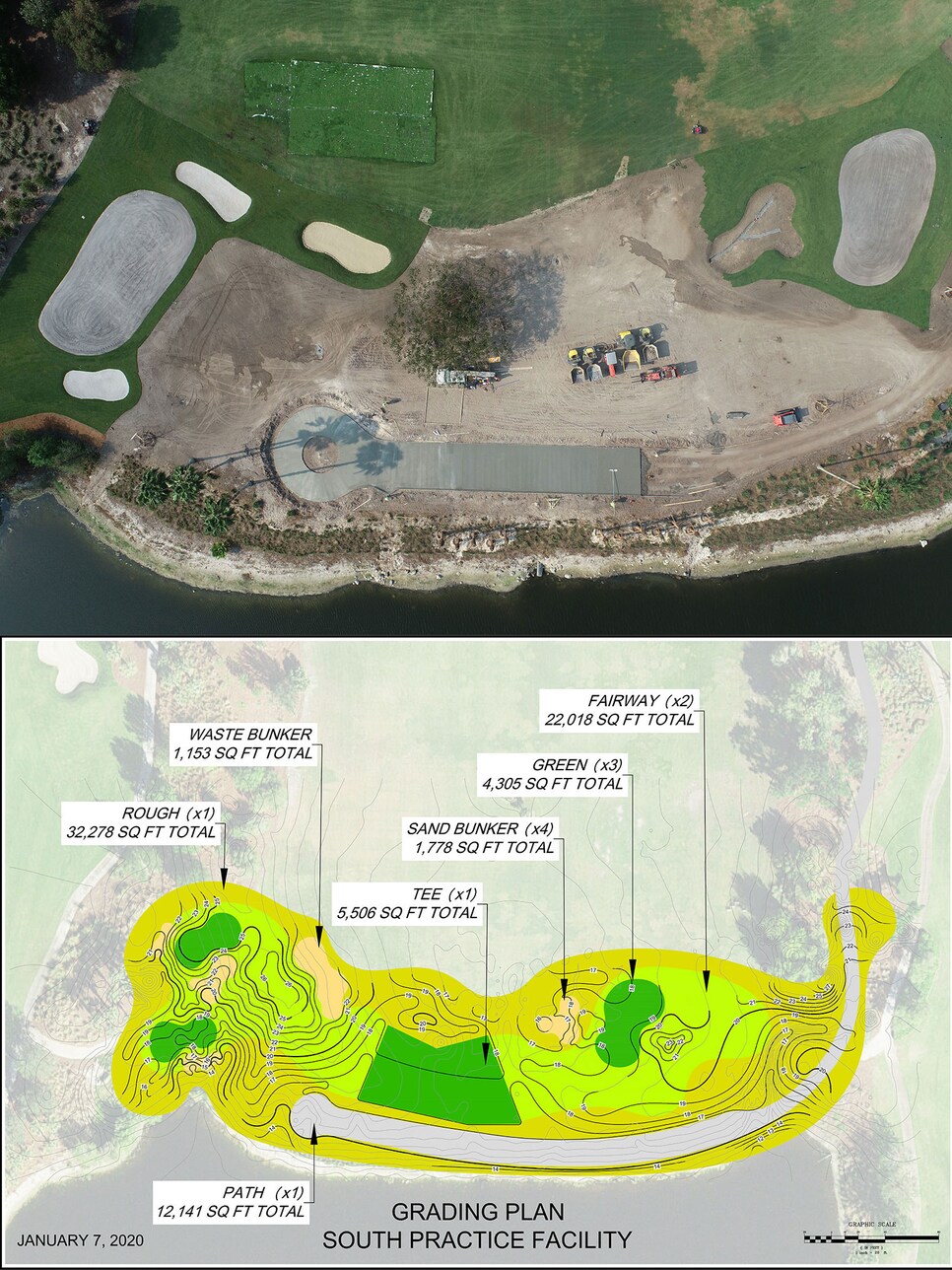 "It's a bit old-fashioned, but we're doing a lot more drawings," he said. "The fact that we do things on paper is actually better for the flow of work on the course. I can be more precise, and it's actually more efficient. For instance, when I start tracing contour lines, they might run hundreds of feet, at times. You can't really do that very well or measure it as well on a computer, whereas I can put all these thoughts and directions down on paper and they can go build the thing. You can get things started. The old methods are more valuable right now."
Chris explains that drones don't replace the work in the field, but it's a way to get things started. "The key is real-time drone operation from different angles in the field," Chris said. "Say you want to look at a four-foot deep bunker. You have the drone fly into the bunker to the base. Then to two feet vertical, then four, then rotate 360 degrees. You get enough data points to where you almost feel like you are there. The drone does have the aerial views you can't get from a ladder, but people don't play golf from the air. You need to work from the ground. It's a stop gap. This will do for now."
"It's interesting to me how the two things mesh, some new things and some old," Mike added. "We're fortunate in that we're relatively busy compared to some of our peers. It's definitely a tough time, but we've been able to adjust."