Memorial Tournament
Keegan Bradley says 'screw it,' and takes his range work to the course for a 65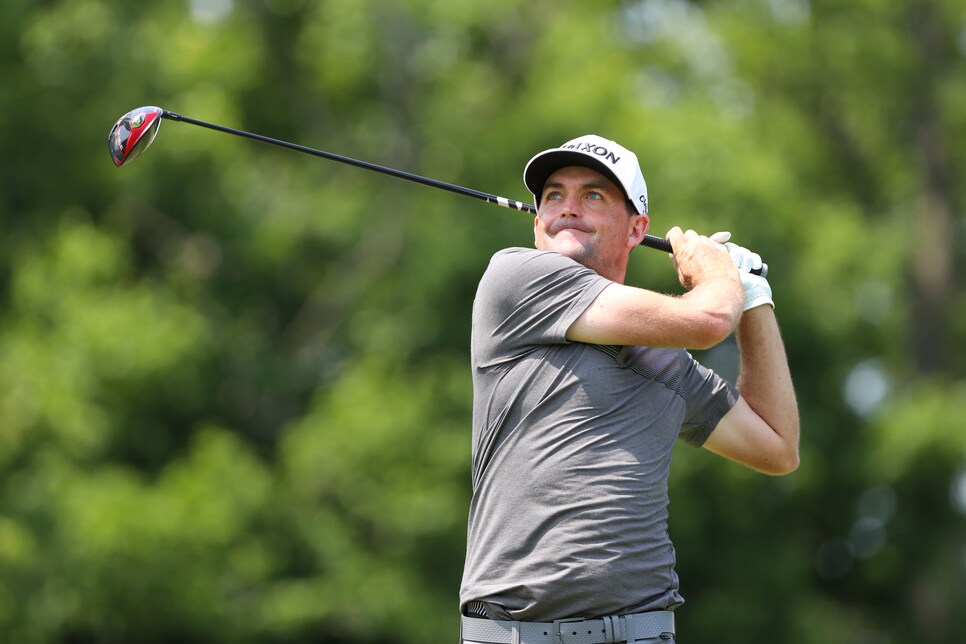 Keegan Bradley watches his tee shot on the 18th hole during the third round at the Memorial.
Icon Sportswire
DUBLIN, Ohio – A familiar narrative continues to permeate the grounds of Muirfield Village Golf Club at this week's Memorial Tournament, though it's probably far from unique most weeks on the PGA Tour. Players can't seem to carry their range game to the golf course.
Defending champion Billy Horschel endured this dreaded malady in the extreme during his first-round 84 on Thursday. Though he carded a four-under 68 on Friday, World No. 3 Rory McIlroy is struggling with his mechanics that seem dialed in on the practice range. During Saturday's third round, Collin Morikawa, who won the Workday Charity Invitational at Muirfield Village in 2020, lamented his inability to trust a golf swing "that looks good" in warmups, and it cost him a few bogeys in a 68 that featured eight birdies.
Then there's Keegan Bradley, who on Saturday equaled the low round of the tournament with a seven-under 65 despite a bogey on the difficult home hole.
Bradley bucked the trend, to put it succinctly.
The former PGA Championship winner had been working for a few weeks on a slight adjustment in his backswing, but he's been reluctant to take that change to the course. But after struggling for two days and making the cut on the number at three-over 147, Bradley figured it was time to give it a test run under the gun.
"I've been working on this feel the past couple weeks," said the Vermont native, "and I've sort of left it on the range and tried to play, and then today I just said screw it and I went out there and I had this … the feel that I've been working on, and I just hit a lot more quality iron shots."
Basically, as Bradley describes it, he's trying to take the club slightly more to the inside on his backswing and getting the club "more open." His tendency is to shut the clubface going back.
The experiment went well. To say the least.
After ranking in the bottom half on strokes gained/approach the green, Bradley was first in the category on Saturday, gaining nearly 3.5 strokes on the field. It didn't hurt that he also was first in putting.
The question then, was, why did he wait to incorporate the changes in competition?
"I don't know, I always try to leave what I'm working on there, out warming up on the range, and just try to go play," Bradley, 36, said after jumping up near the top 10 on the leaderboard. "But last night I was thinking, just wasn't hitting that great of iron shots and I just said, 'All right, I'm going to take this feel to the course.' It just really felt good. Then when the putter gets hot like that and combine those up, that's when you can shoot a good one, like today."