TAKEAWAYS
Will Zalatoris in contention again, Jordan Spieth's putter wakes up and Hideki Matsuyama's obscure DQ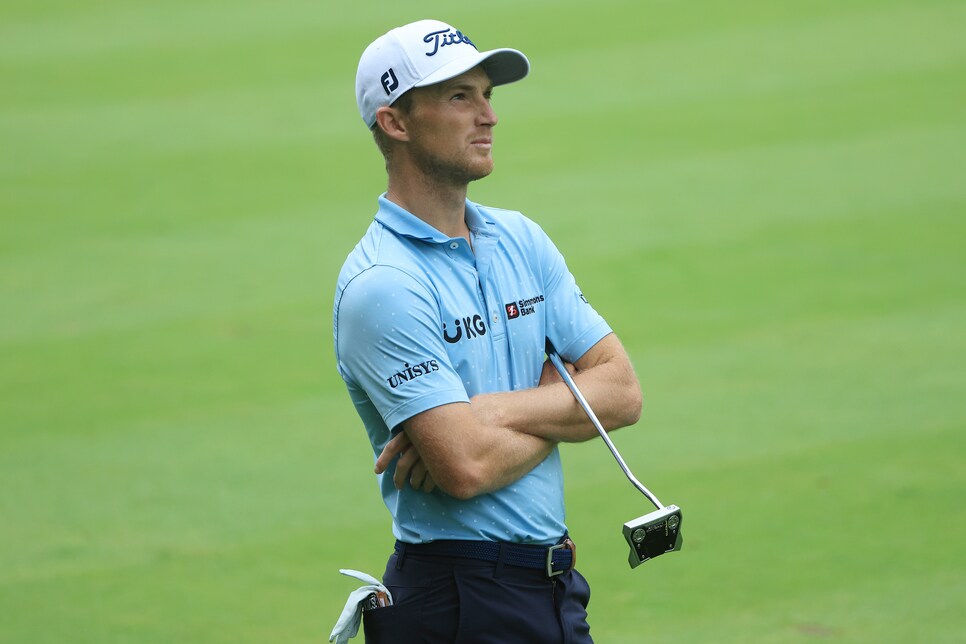 Narratives can be tough to rid, and in some cases stay long past the point where they are proven untrue. Conversely, there's usually a reason why the narrative was constructed in the first place. Which is a long way of saying Will Zalatoris has been viewed as a good, really good player … but a player that's been kept from greatness by his putter.
His backers, which are many, say this is an oversimplification and embellishment of the 25-year-old's nascent career. After all, the man finished runner-up at his Masters debut in 2021, took Justin Thomas to a playoff at this year's PGA Championship and has five top-10 finishes in seven major starts; clearly the flat stick isn't that bad. Others say, well, look at the stats. Zalatoris finished 122th in strokes gained/putting last season and entered this week 166th. Maybe, this crowd counters, if he and his putter were on the same page those top 10s would have translated into a W.
So when that putter cooperates, like it did Thursday at the Memorial, it gives a glimpse of what could be on Zalatoris' horizon. Thanks to 11 consecutive one-putts, Zalatoris turned in a four-under 68 to be near the top on Day 1 at Muirfield Village.
"I made some nice par saves to keep the momentum going and had a couple of bonuses in there with a couple of 20-footers," Zalatoris said, needing just 24 putts on the day and ranking first in putts per GIR. "Pretty pleased where my game is at, but need to drive a little better the next few days."
Zalatoris' one-putt streak began after starting with bogey on the 10th hole, and proceeded to make seven birdies in that 11-hole stretch. To be fair, Muirfield Village's defenses were muted by overnight rains; still, for one often at odds with his short game, now is no time for asterisks.
"Crazy," Zalatoris said of his round. "Making eight birdies around this place obviously is really nice. I was just saying earlier before I came out here, Monday, Tuesday, if you said I was going to shoot 68 first round, I thought it would be four birdies, no bogeys. I'm shocked at how this place has softened up, with the weather we've had, because Monday and Tuesday was probably one of the firmer practice rounds I think I've had in my short stint out here.
"I guess it feels like Augusta. When you get out there Monday, Tuesday, Wednesday, it's crazy firm all of a sudden greens keep the same pace, but they soften up a little bit."
Yes, it's only one day, and Zalatoris has been one of the better opening-round players on tour this year. The weekend, not so much (115th in Saturday scoring, 116th on Sunday). But even the most well-rounded players aren't perfect. He is young, not even 50 tour starts to his name, and though he's still looking for his breakthrough victory, he's continued to put himself in a weekly position of knocking at the door. Eventually it will open, and when it does, Zalatoris could leave that pesky narrative on the outside.
Three other things you may have missed from Day 1 at the Memorial.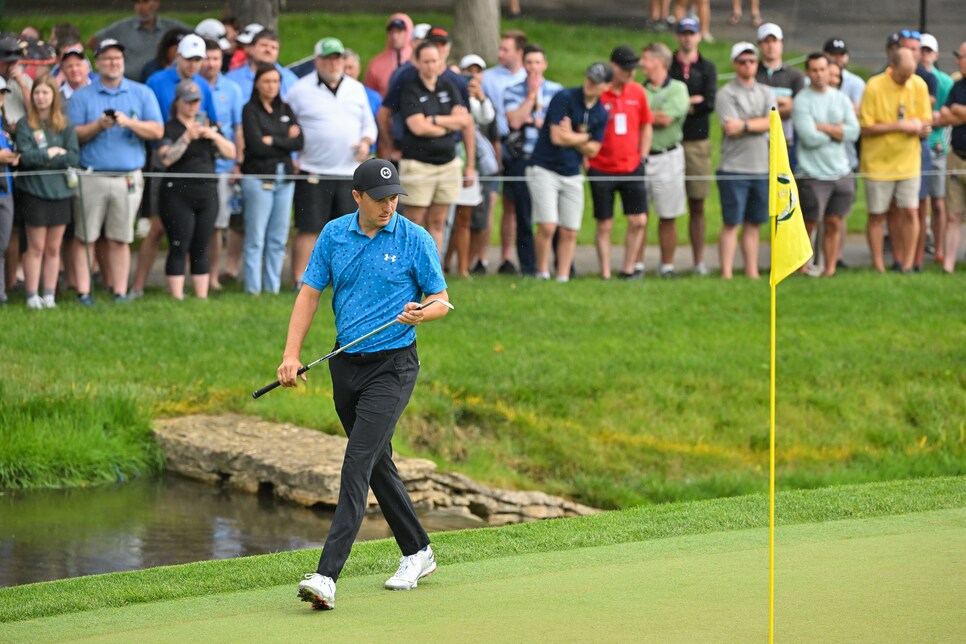 Speaking of those in couples therapy with their putters, Jordan Spieth has been battling his Cameron flat stick most of this season, ranking 173rd in SG/putting. It's been particularly brutal on the short ones, standing in 200th on tour from within three feet and 198th from five. Things have reached the point where Spieth was experimenting with a putter change earlier in the week.
But Spieth kept his old club in the bag, and his loyalty paid off, gaining three strokes on the field on the dance floors Thursday en route to a respectable two-under start.
"I didn't strike the ball really well at all and I putted great. Kind of the opposite of how things have been going," Spieth admitted, "but I've been putting in a lot of work in with the putting and made a couple early and then just kept it going made a birdie early and kept it going."
Spieth insisted there's nothing new he's been working on, and that while the stats haven't showed it he does feel like he's progressing. He's confident in where he's going, even if it has taken a bit longer to get there.
"Had some misreads, just been looking for the hole to catch a few, and let it get going," Spieth said. "And got on some fast—this morning might have been the best putting surface I've ever been on in my life, they were that good.
"So you knew there was no excuse, and then they were so quick that wherever you're going to start, it's just going to roll perfectly."
Muirfield Village has been a mixed bag for Spieth. He's made the cut in eight of nine appearances, but has really only contended once, finishing T-3 in his magical 2015 season. Thursday's conditions facilitated a lot of red on the board, but for a player in desperate need of results from his putter, Spieth walks away with something far more dangerous than a good score.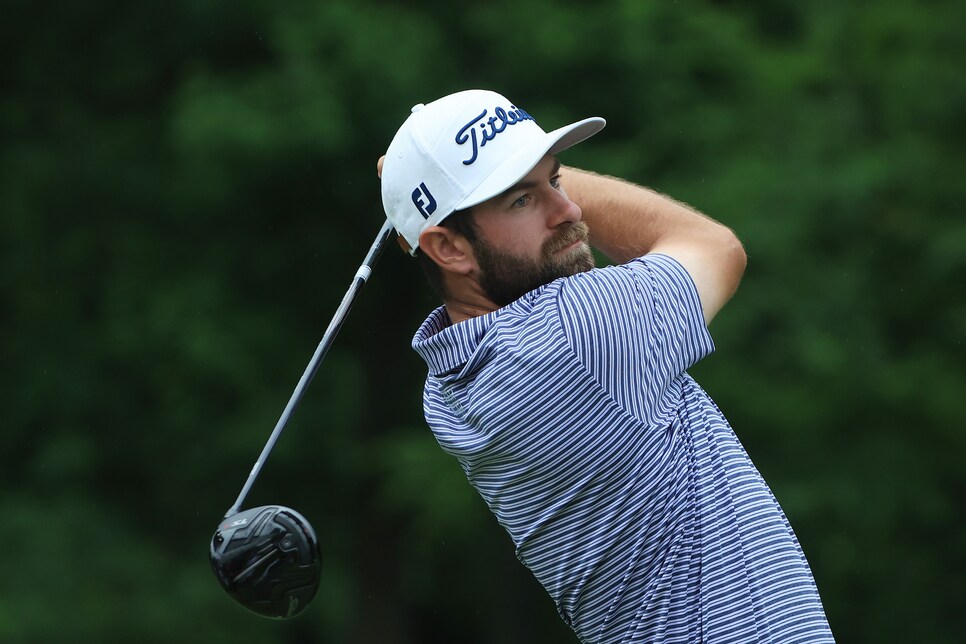 Young's star continuing to shine
He may have introduced himself to a larger audience at the PGA Championship, but Cameron Young has been doing work long before Southern Hills. The rookie is 10th on tour in strokes gained/total and seventh in scoring, and entered Ohio on a heater, finishing T-3 or better in each of his last three starts. That heater is still flaming after Thursday as Young is tied atop the board with a five-under 67.
"I think I've just been driving it really consistently," Young said afterward. "I don't know if I hit as many fairways today, but I feel like I hit a lot of good shots off the tee and consistently doing that has put me right there a lot. If I can hit the driver well, I'm going to put myself in a lot of places where not only do I have a chance to make birdie but it's hard to make a bogey."
Young did just that, making five birdies while throwing in an eagle at the par-5 15th, with only two bogeys on the front side (his back) keeping him from a clean card.
"I think to have shot something worse than five when I was five under through seven holes, even missing a short one on 16, to have shot three or four, I think would have been a little disappointing given that start," Young said. "It's just nice to feel like I got back to where I was in the middle of the round and post a good score."
It's worth restating that Young is in his first year on tour, earning his card thanks to back-to-back wins last year on the Korn Ferry circuit. However, despite it being his freshman campaign, Young has eschewed any "happy to be here" notions.
"I was hoping to [compete], for sure," Young said. "I think we knew what was possible, but I think I've also gotten a lot better throughout this season. I think I'm continuing to figure out how to play professional golf better. I think I'm learning what I can and can't do. And having done well, I think, makes it a lot easier. If I was really fighting to keep my card for next year, I think it gets a lot harder. To have been around the lead and then finish high a few times, I think, just that comfort level has gone up and I've been able to keep going, doing what I've been doing."
Forget keeping his card; Young is in the driver seat for PGA Tour Rookie of the Year, and could be in line to snag a spot on the U.S. Presidents Cup team. Helping that cause would be a win this week. Mentioned above, Young's profile was already bright and made brighter by contending in Tulsa. Should he take home Jack's tournament, consider Young a full-blown star.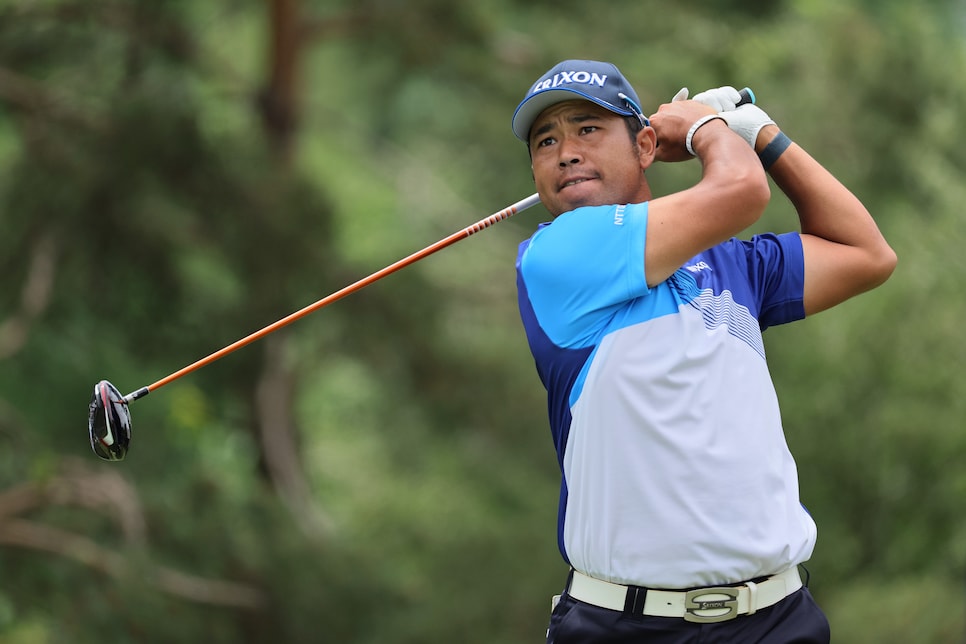 Hideki Matsuyama won his first career tour event at the Memorial in 2014. He had another tour first on Thursday, albeit one he'd rather forget, as the former Masters champ was disqualified for the use of a nonconforming club.
Matsuyama shot a three-over 39 through his first nine holes at Muirfield Village, but was pulled off the course before reaching the 10th. Tournament officials discovered early in the round that Matsuyama's 3-wood—with a face that had been covered in white paint—was in possible violation of the rules for applying foreign substance to the club.
Under the new Rules of Golf, had Matsuyama not used the club before being notified, he could have continued. However, Matsuyama used the 3-wood on his opening tee shot.
Rules official Steve Rintoul explained that although the substance was believed to act as an alignment aid (foreign substances have been known to create greater distance) it still constituted a violation of the rules because the paint was considered excessive. Matsuyama was told about the potential issue on the second hole and reconfirmed what happened on the fifth. The reason he was not disqualified until the 10th is because tour officials needed to confer with the USGA about the violation.
"Our committee became aware through some pictures that were posted that there may be a substance that has been painted on the face of one of Hideki's clubs," Rintoul explained. "And we approached Hideki and went through the process. Hideki, are you carrying this club? Yes. Have you used this club? Because if he hasn't used the club, it's OK to carry a nonconforming club, you just can't use it. Have you used this club? Well, the poor guy has played one hole, and he managed to use it off the first tee.
"At that point, without jumping to too much conclusion with the club and what exactly what was done to the club, I met Hideki at the fifth tee. The damage was done. One shot and it's a disqualification."