Memorial Tournament
Prescription glasses pay off for Fowler, Morikawa goes low with new putter, and rain ruins Muirfield Village's reopening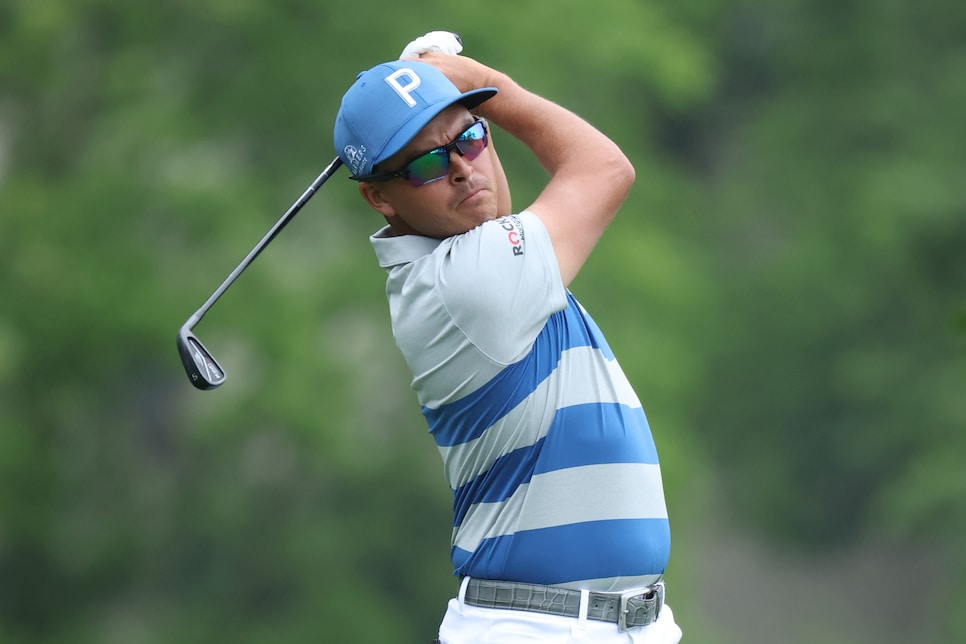 The golf gods have a sense of humor. A cruel, twisted sense of humor.
Got to feel for Jack Nicklaus. His fear of increasing distance gains was so fierce that it prompted him to do an overhaul of his beloved Muirfield Village. Just in case you forgot, he made sure to let you know by having construction crews tear up the course as the 2020 tournament and its telecast was ongoing. Coupled with U.S. Open-like conditions at last year's event—the final round was the highest scoring average (75.959) for any round on tour outside of a major in four years and the highest round at the Memorial in four decades—and a public blasting of the governing bodies for their lack of policing, Thursday's opening round was supposed to be an unveiling of Jack's reprimand to the game: If you won't take care of this, I'll do it myself.
Perhaps the upcoming days and years will prove that true. But that message was washed out, literally and figuratively, in Round 1.
Now, rain is so ingrained into the Memorial's fabric that the tournament logo might as well be a group of players huddled under an on-course shelter waiting for a storm to pass. However, Thursday's storms did more than halt play on two occasions. They, ahem, watered down Murifield Village's new defenses.
Thirteen players in the morning wave broke 70, highlighted by Collin Morikawa's 66. When play was called for the day due to weather, more than half the field was even or better. The course did claim its share of victims; Jamie Lovemark and Camerson Champ failed to break 80 while Matt Kuchar was nine over through 14 before dropping out due to injury.
Still, this was not the grand reopening Jack had in mind.
"It was definitely the rain," Morikawa said on the scorable conditions. "The greens were soft enough and they're receptive. Wedges are spinning back, and I actually didn't see any of that the past couple of days warming up or practicing."
"The redesign's made it at least one to two strokes harder," Jon Rahm added, "but when the greens are receptive like now and you can fire at every single pin—you saw what Collin did. He probably left a couple putts out there, he was just firing on all cylinders. And when you're a good iron player you can take advantage of it."
We'll soon see if Muirfield Village can be the sport's answer to increasing distance gains. But Thursday was a reminder that there is no defense against Mother Nature.
Three other takeaways from a soaked Day 1 in Dublin, Ohio.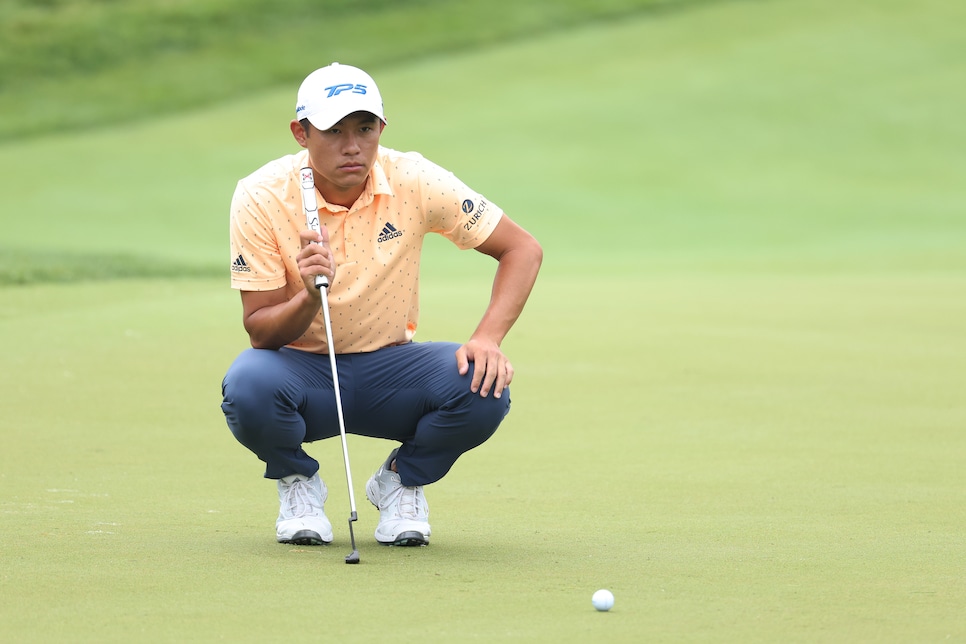 Morikawa gets new putter, goes low
The financial and human capital management software vendor Workday signed a 10-year deal to become the new sponsor of the Memorial. It was news that should have caused Collin Morikawa to light up a victory cigar. Two of Morikawa's four PGA Tour wins have been sponsored by Workday, including last year's one-off tournament that replaced the COVID-canceled John Deere Classic and was held at Muirfield Village. The sponsorship doesn't start until 2022, however, but apparently Morikawa missed that part of the memo, as he sits atop the leader board heading into Friday.
Morikawa leads the tour in strokes gained/approach, and that second-shot prowess continued Thursday, hitting 15 greens and gaining three shots over the field in the category. But his short game, usually the bane of his existence (180th in SG/putting), was also strong. A performance Morikawa attributed to a switch from a mallet to a blade-style putter.
"It's a new putter, but it's the same blade I used actually last year at this tournament, I used it a lot coming out of college. It's just got a SuperStroke grip on, a little different loft," Morikawa explained. "So, overall, it's a putter that I've used before, I feel comfortable with. I just wanted to go back to a blade because I've putted with a blade my entire life and why not just go back and figure out the things that I've been working on and forget about the stroke, forget about the putter, just try and make the putt."
It was clear that Morikawa felt comfortable with the new flat stick. Although maybe that comfortability—Morikawa made just one bogey against seven birdies on the day—can be chalked up to the surrounding environment.
"[The course] fits my eye off the tee a lot," Morikawa said. "There's only a couple tee shots where I might not be able to hit my cut as well as I want to. But other than that if I keep it in the fairway, I feel like I'm hitting kind of a lot of 9-irons, 8-irons and 7-irons and that's kind of what I've based my game on the past couple years. And when I'm able to put those irons in my hands I feel like I can attack pins, I can be smart and give myself maybe some closer birdies than other guys can. And obviously we rolled in a few today and just got to keep that up."
If that putter remains formidable through the weekend, there's a good chance Morikawa grabs title No. 5. Even if the trophy won't have "Workday" on it.
Fowler "sees" improvement
Rickie Fowler's slump has been one of the sport's chief wonders over the last year. Despite the struggle, Fowler has maintained a positive outlook, and entered Ohio off his best finish of the year with a T-8 at the PGA Championship. Fowler continued to see things moving in the right direction Thursday, thanks to … well, being able to see.
After turning in a three-under 69, Fowler was asked about the sunglasses he wore in Round 1, which Fowler explained were more than a fashion statement.
"I always struggled with seeing more than say 150 yards and little things far away," Fowler said. "It's not enough to where like I really wanted to try going to like Lasik or anything like that. I've always been able to see up close fine, I don't have any problem with that. The only time I start to struggle with some depth perception is in low light situations, so like early morning or as the sun's going down. And so I just wanted to try another option before going to Lasik down the road."
It's incredible, really, that Fowler has achieved the heights that he has while battling vision problems. Fowler said he's avoided wearing glasses in the past because they moved too much during his swing, causing him to lose sight of the ball.
However, now that Fowler swings "a little bit more just within myself," that problem is no more.
"So I said, shoot, why don't we try prescription [sunglasses]," Fowler said. "So now, yeah, I can actually see the ball land."
Makes sense. This is the "Year of the Comeback." For Fowler, that revival is sight.
OK, technically this happened during Wednesday's pro-am, but it didn't make the social rounds until Thursday. So with half the field unable to post a number Thursday, let's give this video the space it deserves.
The following clip comes from a golf instructor at Ohio State named Scott Pealer, who captured one of his students, Trey, getting invited inside the ropes at Muirfield Village by Mackenzie Hughes to attempt a shot. Our man Trey did not disappoint:
Straight ice veins! Forget sticking one to 15 feet. That he didn't chunk one into the water is a damn fine feat in itself.
Great for Trey, and good on Mac Hughes for making a kid's day.