Dow Great Lakes Bay Invitational
Mel Reid and Carlota Ciganda ride their enduring friendship to early lead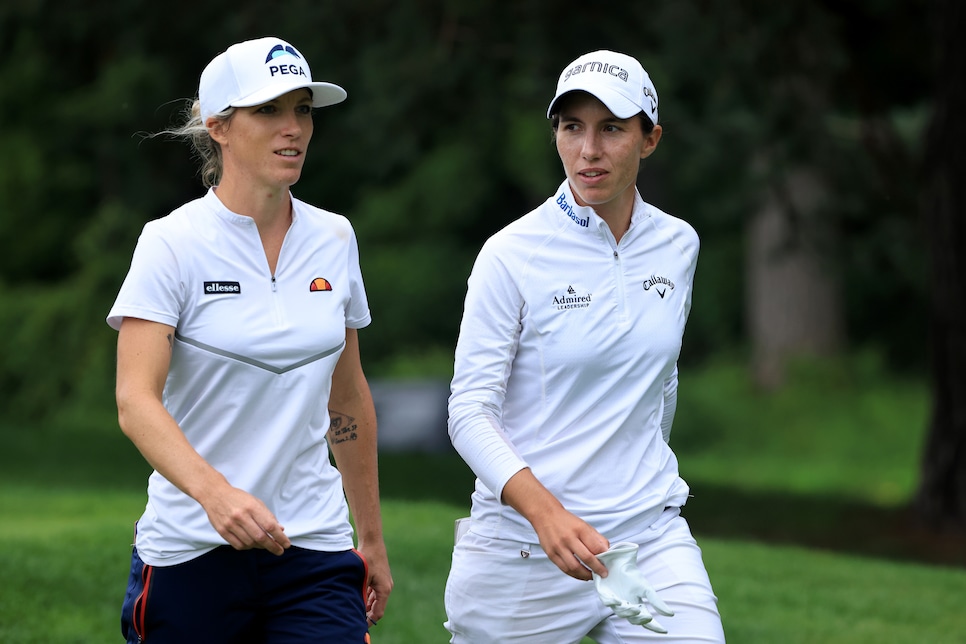 Friends of nearly 20 years, Mel Reid and Carlota Ciganda partnered together at the Dow Great Lakes Bay Invitational this week for the first time since the 2017 Solheim Cup. They maintained their team play chemistry in Midland, Mich., leading through the morning wave Thursday at 10-under par after a second-round six-under 64 of four-ball.
"Honestly we were kind of saying we're both playing a little bit of a C game," Reid said Thursday. "We're kind of excited for the weekend and hopefully make that into a B or an A game. Yeah, to be in the position that we are, kind of the way that both of us aren't probably on top of our game, is actually quite a nice feeling."
The 31-year-old Ciganda and 33-year-old Reid first met playing European team championships as amateurs, including the junior Solheim Cup in 2005. Their rapport developed when Reid took the Spaniard out after the final round of the tournaments they played in to get Ciganda in trouble.
"I used to try and get her absolutely wasted and she doesn't drink," Reid said. "So I used to make her do shots and just basically embarrass her. What else do you expect from me?"
"She always wins," Ciganda added. "I just follow."
They've continued following each other throughout their LPGA Tour careers. Ciganda and Reid played three team matches in the Solheim over 2015 and 2017, going 1-2-0. Ciganda (32nd) and Reid (37th) are two of the three highest-ranked players for the European Solheim team in the Rolex World Rankings this season, giving European captain Catriona Matthew the option to play them together for a third Cup.
The close friends continue to spend time with each other off the course. They've rented Airbnbs together this season, along with Giulia Molinaro. Reid affectionately calls Ciganda "Chiggy," which originated from when Molinaro and Ciganda played together at Arizona State University.
"I lived in college with Guilia Molinaro and she's Italian," Ciganda said. "So my last name is Ciganda, she started calling me Chiganda, so from Chiganda to Chiggy. Now I'm everything, Chig, Chiggy."
Reid and Ciganda's close friendship lets them be who they are, on and off the course. It allows them to shrug off the bad shots, even going so far as to make fun of each other when they happen in team play.
"I can be Carlota, she can be Mel, and we just play and we have no issues, no pressure," Ciganda said. "We just hit it, find it, hit it again, and at the end of the day we have a score. We are happy, we go back to the house, have a great time, and then the next day we just have a great time on and off the golf course."
"I really don't care when she hits a bad shot," Reid explained. "In fact, I actually quite enjoy it, because, one, it makes me feel human. I think she's a great player. I think she's one of the best players in the world, or she is one of the best players in the world, so it makes me feel a bit better when I do it."