U.S. Women's Open
Megha Ganne's calculus teacher exempts breakout U.S. Women's Open star from calculus homework, is a legend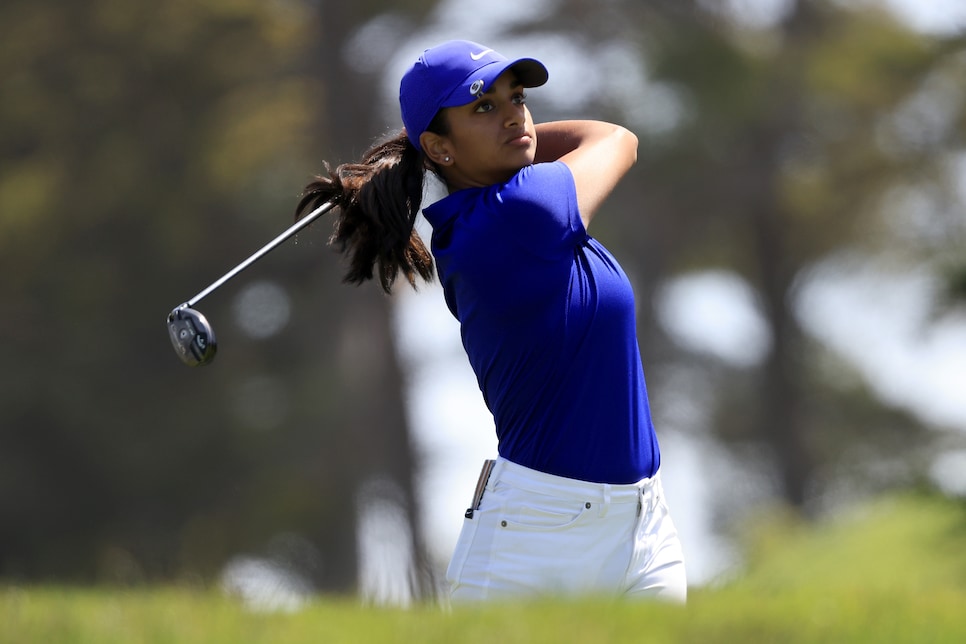 Megha Ganne has been the breakout star of this U.S. Women's Open at Olympic Club. The 17-year-old from New Jersey shot a four-under 67 on Thursday to share the lead after 18 holes and has done anything but fade since—her 71 on Friday and 72 on Saturday have her in the final threesome on Sunday, four shots back of leader Lexi Thompson.
Seeing as she's, you know, 17 years old, Ganne is still in high school. She's not even a senior, in fact, but she's already taking calculus because she's an all-around all-star. (In related news, she's committed to play her college ball at Stanford). After her round on Friday, she was asked what's more difficult: playing the second round of the U.S. Women's Open or the calculus homework she has waiting for her?
"Probably the calculus homework," Ganne said. "I don't know how I'm going to manage to fit that into my schedule in the next few days. Hopefully my teacher gives me a little bit more time to do that, but yeah, it's hard to balance both."
Video of the clip made its rounds on the interwebs, which prompted Golf Channel's Kira K. Dixon to specifically call on Ganne's calculus teacher to cut her student a break given the quite extraordinary circumstances.
Ah, the magic of social media. On Saturday evening, Ganne's calculus teacher granted her star student's wish.
"Hi. I'm Megha Ganne's Calculus Teacher," wrote Jennifer Pace Corboy on Twitter. "I'll help a girl out. Megha, you are exempt from the project. We are all rooting for you! Good Luck +C."
It's good news for everyone, really, as Ganne's play has been captivating this week, and we can all get behind having her 100 percent focused on the final round of a major championship. As far as excuses go, this is about as far as "the dog ate my homework" as humanly possible.