Eric Veilleux and John Ogden
Meet the two club pros who call Jack Nicklaus 'boss' and are playing in the U.S. Senior Open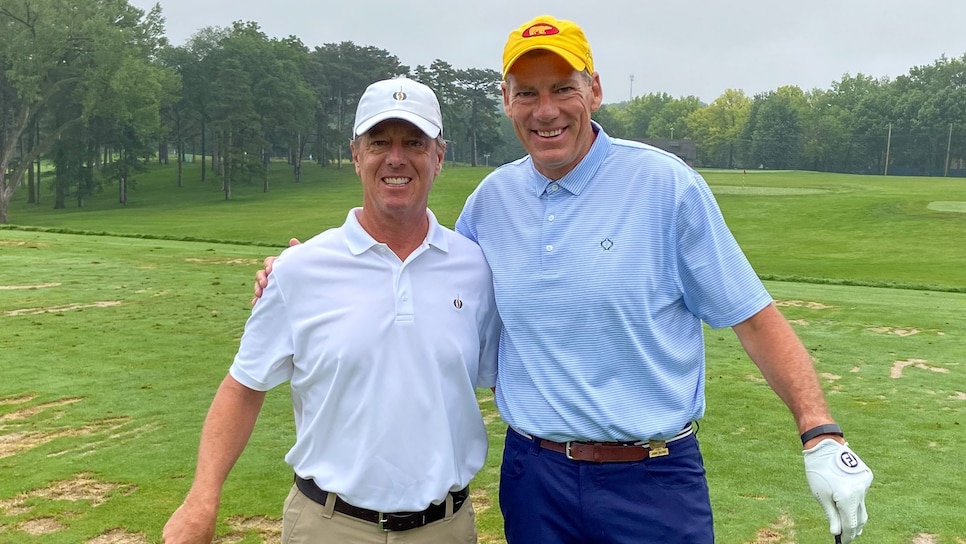 When your day job is working for Jack Nicklaus, chances are you are too busy focusing on your responsibilities to devote much time to keeping your game in decent shape, let alone have it polished for a major championship. It's also probably a good career move, too.
So it says something about the respective talents of John Ogden and Eric Veilleux that they are contestants in this week's U.S. Senior Open at Omaha (Neb.) Country Club – which their boss won twice among his eight USGA championships.
Ogden, 54, (pictured on the right above) is the head professional at Muirfield Village Golf Club in Dublin, Ohio, annual site of the Memorial Tournament, the PGA Tour invitational event that Nicklaus founded and hosts. He recently left Cherry Hills in Denver to succeed Larry Dornisch at the course Golf Digest ranks 16th among its top 100 courses in America. Veilleux, meanwhile, is the longtime director of golf at The Bear's Club in Jupiter, Fla., the place where Nicklaus hangs his hat most of the year.
Each man was making his debut in the championship after earning berths via qualifying, Veilleux at the Bear's Club, where he was first alternate and got in when Scott McCarron withdrew, and Ogden at Worthington Hills in Columbus after a stellar 69 he shot on about four hours of sleep after returning from his daughter's graduation party in Denver.
Neither man was particularly happy with his score. Veilleux shot 76 and Ogden 78. Each made one birdie. But neither was surprised by how difficult the course played. Plenty of players struggled. That includes players with extensive resumes.
"One of my playing partners told me, 'Hey, it's pretty cool that you're here qualifying as a club pro, and that's exactly how I felt," said Veilleux, 53, who was happy with his ball striking even if he was slow to get it in the hole. "To hear your name announced on the first tee, to receive the kind of treatment we have had this week, it's just a great experience."
"When you qualify for a U.S. Open or a Senior Open, I found out be careful what you wish for," Ogden said with a laugh. He later found himself choking up when the large contingent of family and friends in attendance signed a hat they had purchased at the club. "That was really special," he said.
Veilleux has had plenty of major experience before, but not as a player. He caddied for Nicklaus for five years. Ogden, meanwhile, has been involved in USGA events while he was head pro at Cherry Hills, which hosted the 2005 U.S. Women's Open and the 2012 U.S. Amateur. Additionally, the PGA Tour brought a playoff event, the BMW Championship, to the famed layout in 2014.
(Coincidentally, the Golden Bear won his second U.S. Senior Open at Cherry Hills in 1993.)
Both men were touched when Nicklaus sent out a good-luck message to them via Twitter and Instagram on Wednesday. The two played a practice round together earlier that day at Omaha CC and marveled aloud at their surroundings.
"This is kind of our 15 minutes of fame," Ogden said. "The two of us there together, the guys who work for Mr. Nicklaus at his two clubs, we just talked about how neat that is. I mean, we're just club pros, so just being out there was an accomplishment.
Veilleux, who had his son, Will, on the bag, echoed that. "You know, Jack's two guys, club pros, we get in, and it's sort of mission accomplished. It's truly a fun thing. We're out there [at the club] giving lessons, doing things we need to do for our members, and then here we are in a major. We just feel fortunate to be here and have this experience and, regardless, it's also an extension of our jobs and representing Jack and just doing the best we can. It's a satisfying feeling."