The Loop
Meet "Hood Adjacent's" James Davis, Comedy Central's rising star -- and most avid golfer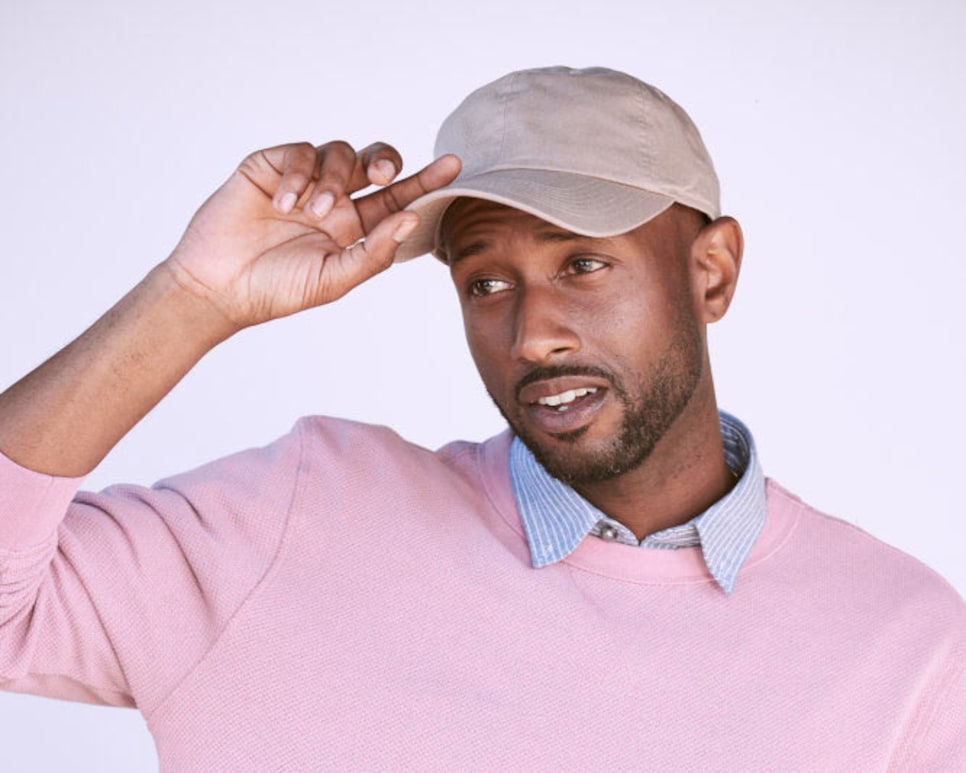 Comedian James Davis is a busy man these days. He's got a new show, "Hood Adjacent With James Davis", debuting on Comedy Central on June 28 (9 p.m. ET), and an hour-long stand-up special in the works for next year on the same network. The only drawback is his golf game has been neglected. Davis' other passion won't be forgotten on his new show, however, with one of the episodes focusing on the sport.
For Davis, golf is a perfect example of how he's "straddled two worlds" his entire life. On one hand, he lived a block away from the dangerous South Central area of L.A., but on the other, he spent many days on the golf course growing up and even taking lessons at ritzy Riviera Country Club (Davis eventually turned down a golf scholarship to Hampton University to attend Pomona College). The rising star joined us to discuss the role golf has played in his life, offer his ranking of the top-five current stand-up comedians, share where he sees comedy potential on the PGA Tour, and explain why you won't see him parodying Tiger Woods anytime soon.
Tell us a little about your new show, Hood Adjacent With James Davis.
"I do stand-up to live audience about topics that relate to me and pop culture and I do field pieces where I unpack and investigate those topics further from my uniquely hood-adjacent view. I literally grew up a block away from South Central. So I've always been someone who has been straddled between two worlds. The hood. A very urban, very black, and also I took lessons at Riviera Country Club. My perspective is somebody who is a bridge between two different worlds and I go and talk about topics as someone who can explain it to both sides.
We're excited that you've shot an entire episode about golf. What can we look for in that?
I love golf. I wanted to be Michael Jordan as a young kid, but I got cut from basketball team and that was about the same time when Tiger Woods won the Masters. Golf changed my life, golf is so important to me. As somebody from a hood-adjacent neighborhood, I wanted to show another young black man who is really into golf and not a caricature of a hood rat playing golf, but someone who respects the game and is very invested in it. In the episode, I show my love of golf and show my experiences that you you don't see on Golf Channel or Golf Digest. I show the faces of golf that I see. And also, I want to do my part to make golf cool and expand its reach. I explore the fact that after Tiger there was an expectation of seeing more black people on tour, there was a surge of interest, but at the same time, the look of golf hasn't changed as dramatically as some projected it to change.
How can you help change that?
I'm very invested in letting people from the hood and people who feel like golf isn't a welcoming sport for them, to let them know golf is welcoming. Let them know they don't have to be rich, they don't have to be at a country club and that you can have just as much fun on the golf course with your friends as you can playing pick-up basketball. And to not think of the golf course as a place where they're not allowed. Want them to know they're very much allowed. The episode breaking down that mental boundary that people in the hood feel about golf. I'm on the course, I'm having fun, I'm dressed in golf clothes, but I don't look like a loser, I look cool. You can make golf as cool as you want to make it.
Have you gotten to play with any celebrities?
This is my first show, so I haven't played with many celebrities yet. I definitely want to play with Steph Curry and J.R. Smith. They're definitely on my bucket list. Bill Murray, Justin Timberlake, Aaron Rodgers. All those guys would be cool for sure. I want to show how many of these random people that you wouldn't think have an interest in golf, are avid golfers. Not enough people realize that. People don't understand that if golf was a party, It's a really good party. It's not like a bunch of old folks and they're not dancing. Everybody's having a good time!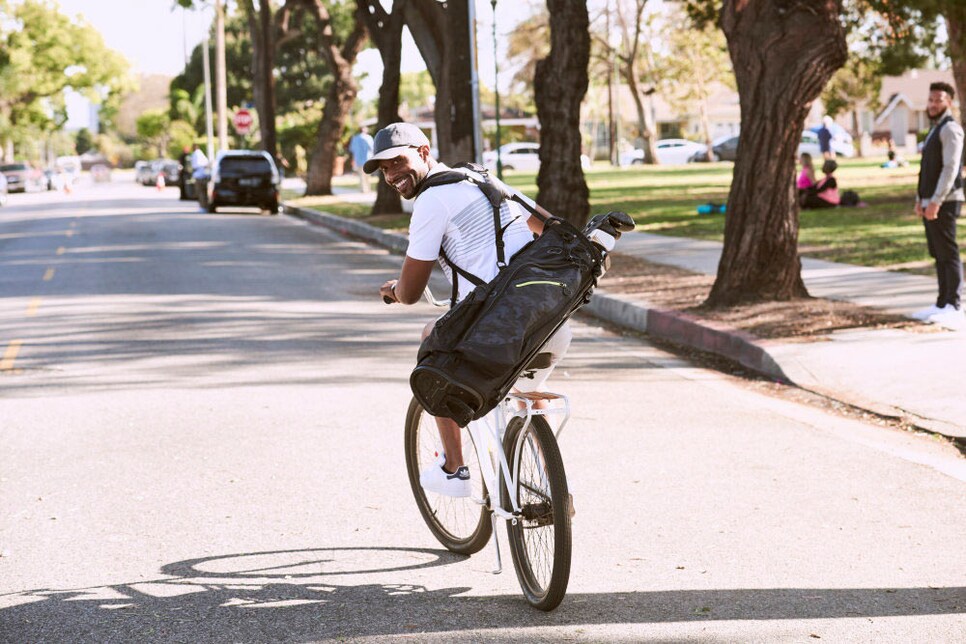 How's your golf game right now?
I haven't been able to play and practice as much as I'd like so I kind of hover around a 12/13 handicap. But I'd love to get back to single digits . . . my low was a seven. That was in high school when I was practicing and I still thought I was going to make the tour.
What are your bucket-list courses and which courses are your favorite to play?
Bucket-list courses are definitely Pebble Beach, Augusta, TPC Sawgrass. I have played in Hawaii where they hosted the Grand Slam. And at Princeville. So Hawaii golf is probably my favorite. I also love Palm Desert. I love playing out there even in that 110-degree weather.
You're known for your parodies of Kobe Bryant and President Obama. Are you working on a golf one?
I've always felt like I have a Tiger Woods impression or parody in me, but I'm also Tiger's biggest fan. So to parody him would be to make fun of him, and there have been enough Tiger jokes out there, so I don't know if I want to add to the Tiger jokes. But I'd like to do a parody of my favorite guys on the tour. I love how they dress. And I love the way these guys talk to their caddies, especially when things go wrong. I feel like there's a web series in that. That to me is where there's comedy potential.
Speaking of comedy, what comedians inspired you to get to where you are?
Dave Chappell, Jerry Seinfeld, Richard Pryor, Eddie Murphy, Chris Rock. Those are the names that jump out to me as guys to follow. I've always been a big Bill Murray fan as well. He's one of my favorite SNL cast members. Those are my favorite people to draw inspiration from.
Who are the top-5 stand-up comedians today?
1.) Dave Chappelle.
2.) Chris Rock.
3.) Jerrod Carmichael.
4.) Rory Scovel, who is a big golfer as well. 5.) Bill Burr.
Hope that doesn't get you in trouble. How do you compare the pressure of performing standup comedy vs. the pressure of competitive golf?
I think there are a lot of parallels between stand-up comedy and golf because at the end of the day, when you're standing over that shot or putt, there's just you, and what you have to do in that moment. And I've really always admired Tiger Woods' mental strength in those big moments to make those putts or hit those key shots. And now, I might have a special set or something riding on that performance. And it's like the third-round leader approaching that first tee shot on Sunday. You have a goal. You're confident, but it's up to you to finish it out. And there are other people on this golf course just as talented who are trying to get what you're trying to get. They're trying to book that Tonight Show spot or win the Players Championship. So it's all on you, but you have to be aware that everyone is doing their best as well.
How do you hone your longer stand-up sets?
Those shorter, 12-minute sets during the week are my preparation. In a way, that is my driving range for when I go out on the road. Those 12-minute sets are the equivalent of me working on my flop shot or my draw or my fade. Those 12 minutes are part of that hour performance that I'm going to give out to the world either when I'm headlining or in a comedy special.
How long does it take to craft an hour-long stand-up set?
It takes months, and sometimes years. Because you're taking some jokes, leaving jokes behind, you're working on jokes, and the only way you can work on jokes is by performing. I mean, you can write them out, but you have to perform. You have to put in damn near 5,000-10,000 hours for everything in your hour to be proven and you're confident in it.
What's your most memorable golf moment?
Easy. It's a rainy Saturday afternoon in 1999 and I'm playing at my home course, Chester Washington. 140 yards, 11th hole, I hit a shot and can't really tell where it landed. Can't find my ball. I walk up and my ball is in the rain-filled hole for a hole-out eagle. Best shot I ever hit. Those were the good old days when I'd get dropped off and they didn't have to pick me up until it was dark.
So you don't have a hole-in-one, either?
Yeah, man. It's like everybody's getting them except you and me!
Most awkward golf moment?
My first junior golf tournament on a non-par-3 golf course when I was 13. Lotta nerves. I whiffed my first tee shot and I shot 120, but my dad followed me my entire round.
Very good dad. I would have left.