The Loop
Meet Brandon Hagy, the man whose prodigious drives are wowing fellow PGA Tour pros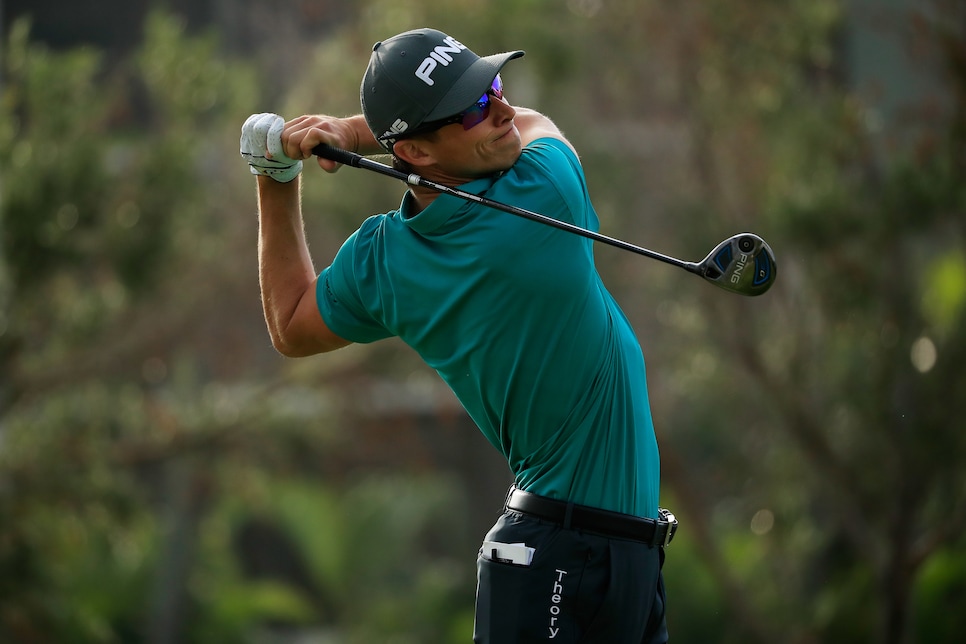 Cliff Hawkins/Getty Images
CROMWELL, Conn. -- At the far end of the driving range at TPC River Highlands, a road filled with cars entering and exiting the golf course meanders high above the grass. It's probably 1,000 yards away and it's obviously out of range, but when Brandon Hagy has driver in his hands, anything seems reachable.
Hagy is in the midst of his first full season on the PGA Tour, but he's already developed a reputation as one of the longest hitters in that game. At 5-foot-11, 175 pounds, Hagy isn't as imposing of a figure as say Dustin Johnson, but his swing produces a staggering ball speed that can reach north of 190 miles per hour.
So when did people first realize Hagy was freakishly long off the tee?
"There wasn't a specific moment," Hagy said after an opening 70 at the Travelers Championship, "but definitely sophomore year of high school, junior year, everyone started talking about how long I was hitting it."
And they're still talking about it. As Hagy got ready for a second range session of the day, fellow PGA Tour pro Brad Fritsch, who played behind Hagy's group on Thursday, yelled over at the 26-year-old.
"What did you hit into 13?"
Fritsch looked at his caddie, gave a little smirk, and responded, "Just a little six?"
"Yeah, just a little slider," Hagy said with a chuckle.
Then Hagy's caddie, Corby Segal interjected. "Did you see the one he hit on 18? We had 99 in!"
Now it was my turn to be amazed. I saw Rory McIlroy hit an absolute bomb on TPC River Highlands' finishing hole and he -- again, this is Rory McIlroy we're talking about -- had 135 yards in. I check Shot Tracker to confirm, and yep, Hagy's drive on 18 is listed at 340 yards with 100 left to the hole. Incredible. We'll give his caddie the benefit of the doubt on that extra yard.
Hagy credits a lot of his athletic swing to playing a lot of football and basketball growing up. And he said he made great gains distance-wise when he started working out seriously following his freshman year at the University of California-Berkeley. All the while, Hagy's swing coach, Brady Riggs, encouraged him to grip it and rip it.
"He told me, 'I want you to keep as much swing speed as possible and we'll figure out the straight stuff later,'" said Hagy, who currently ranks third on the PGA Tour in driving distance, just behind Dustin Johnson and Luke List.
And Hagy has figured out everything else enough to have made 11 of 17 cuts this season, including three top 25s.
"I'm definitely feeling more comfortable each day," said Hagy, who finished 19th on the Web.com Tour money list in 2016 to earn his PGA Tour card. "I've just got to keep working on the little things that add up to good finishes. It's just about the process of working on there's a certain part of your game, for me, it's the short irons, continuing to work on that, add shots. That can be a half shot around, and that's the difference."
This week marks just the 28th start of Hagy's PGA Tour career. He's had a short stint in the bigs, but word of his prodigious length has already spread far and wide.
"That's always going to be something people talk about," a smiling Hagy says, "which is fine."