News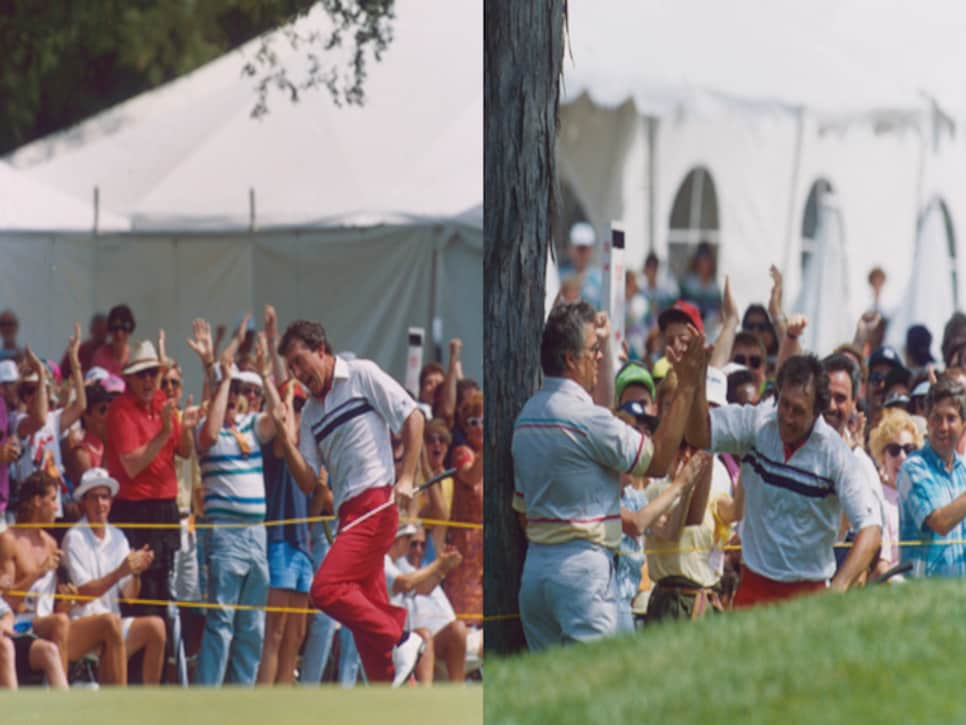 Hale Irwin celebrates with fans after sinking a 45-foot birdie putt on the 72nd hole at the 1990 U.S. Open at Medinah to force a playoff with Mike Donald. Irwin would go on to win, ending Curtis Strange's two-year reign as the Open champion.
Medinah Country Club has been the site of three U.S. Opens (1949, 1975, 1990) and two PGA Championships (1999, 2006) before this year's Ryder Cup. Below we share some highlights and quirks about Medinah from coverage in Golf Digest and Golf World.
Taking dead aim (maybe at a member)
Here's a legend about a legend. Tommy Armour, who was the pro at Medinah in the 1930s, declared the spacious digs his private hunting preserve. John Husar, writing for Golf World's 1975 U.S. Open preview, unearthed one story that had Armour putting a member through some futile places on the practice tee before turning away in disgust and picking up a rifle. Armour began sniping at chipmunks downrange.
The member was miffed at the lack of attention. "When are you gonna stop that and take care of me?" he asked Armour, who replied, "Don't tempt me, you SOB."
Ooh, that smell (and Crazy Corner)
The 1975 Open at Medinah, won by Lou Graham in a playoff with John Mahaffey, is still remembered for the heat, humidity and thunderstorms that created a prolific barnyard bouquet. As Golf World's Ron Coffman reported, "Course superintendent John Jackman did his best to cover the worst areas with 1,500 bales of straw, most of which came in from Arlington Park racetrack and smelled like it when mixed with the mud and then steamed in the hot sun." Added Herbert Warren Wind: "It was a disaster. They even had the wrong kind of hay." I can vouch for the foul odor--that year friends and I made the trip to attend our first major championship. The smell at Augusta National during a muddy Masters several years ago doesn't begin to compare with the olfactory assault at Medinah in '75.
Noise was another problem that year at Medinah. There was air traffic from O'Hare, heavy truck traffic on Lake Street, and screaming from children at an amusement park across Medinah Road that led players to name that section of the golf course Crazy Corner.
Watson, the lightning rule and the smell of burned wire
Tom Watson started 67-68 in 1975 to tie the Open 36-hole record but finished 78-77, three shots out of the Graham-Mahaffey playoff (a year after leading the Open at Winged Foot through 54 holes before a final-round 79). In the second round at Medinah, Watson invoked "the lightning rule" and returned to the clubhouse, a decision that was questioned--briefly--by the USGA's P.J. Boatright and other officials. "We talked about it," Watson said, "and they went out on the first tee, and ZAP, it hit. Mr. Boatright apologized." Added Watson: "It's nothing to fool around with. You're talking about your life. I have a lot more U.S. Opens to play in, but I have only one life."
The next week, with the tour still in the Chicago area, Lee Trevino and playing partners Jerry Heard and Bobby Nichols were hit by lightning during the second round of the Western Open at Butler National. Trevino was burned on the back, Heard in the groin, and Nichols was sent to the hospital after telling Butler National official Red Harbour, "I feel strange; I don't seem to have any equilibrium." Harbour told Golf World: "I smelled his breath--I'm in the construction business, and I know what burned wire smells like. That's just what I smelled. I called for an ambulance right away."
After Watson failed to hold the lead in 1975, things turned around the next month at Carnoustie, when he beat Jack Newton in a playoff for the first of his five Open championships. But Watson is one of many who can say they coulda/shoulda won at Medinah.
Ben Crenshaw was in contention until he splashed a toed 2-iron tee shot at the 17th, and made double, missing the playoff by a stroke. I recall him bolting for cover after a crack of lightning punctuated his tee shot, though I've read a report that says he also fled when another bolt hit right before his bogey putt (which he missed 15 minutes later). Frank Beard followed a third-round 67 with a final-round 78 and also missed the playoff by a stroke, tying Hale Irwin, who went on to win the 1990 Open at Medinah, and Bob Murphy. Jack Nicklaus, who had visions of a Grand Slam after winning the 1975 Masters, bogeyed the last three holes at Medinah to miss the playoff by two shots. "One day," Nicklaus said that weekend, "a bunch of us are going to look back and say, 'If I'd played well at all, I could have won by 10 shots.' " The next month, Nicklaus finished a shot out of the Watson-Newton British Open playoff at Carnoustie before Jack won the PGA Championship at Firestone, meaning he missed a chance at the Grand Slam that year by three shots.
Also a near-miss for Snead
Medinah was the site of one of Sam Snead's near-misses in the Open. In 1949, Snead was tied with clubhouse leader Cary Middlecoff with two holes to play but left his tee shot at the par-3 17th in the fringe. Choosing to putt instead of chip, Snead rapped the ball past the hole and missed the comebacker. While this was going on, Middlecoff was cooling his feet in a clubhouse pool. Bob Drum, writing for Golf World in 1990, recalled Middlecoff winning despite taking two 7s out of bunkers. "For a formidable player," Drum wrote, "Middlecoff was the worst sand player ever seen on the tour."
Mickelson's U.S. Open debut
Phil Mickelson was the low amateur in the 1990 Open at Medinah, being serenaded with "Happy Birthday" (his 20th) after walking off the 18th green on Saturday. Steve Loy, then Mickelson's coach at Arizona State and now his agent, had some prophetic words after Phil's final-round 72 for a 288 finish (T-29): "Phil Mickelson wants to be a role model for what people expect him to be. He, I guess, wants to please people. He is truly a class act." David Duval, playing after his freshman year at Georgia Tech, got to three under par for the tournament on Sunday but lost eight shots over the last 11 holes for a 77 and 293 finish. "This week," Duval said, "I learned that I can play out here."
No No. 3 for Curtis Strange at No. 3
Curtis Strange was trying to win his third consecutive U.S. Open when the championship came to Medinah No. 3 in 1990. After wins in 1988 at The Country Club and in 1989 at Oak Hill, Strange tied for 21st. "I was two shots back going into the last round," Strange told Golf Digest's Guy Yocom in 2005. "I didn't play very well and didn't win. I was in the car with [wife] Sarah and my brother, Allan, when the realization hit me that it was over--that two-year run of being the Open champion. I'd had a ball being on top of the world, but the feeling when it ended was an odd mix of emptiness and total relief."
Hale Irwin won that Open in a playoff with Mike Donald after making a 45-foot birdie putt on the 72nd hole, followed by Irwin running around the green and high-fiving fans. "People thought that was a little out of character for me," Irwin told Yocom in 2003. "The fact is, when I'm excited or on the go, my instinct is to run. I grew up running everywhere I went--to the golf course; to baseball, basketball and football practice; to the library and school. Everywhere."
Golf Digest's Dan Jenkins, after Irwin followed Open victories at Winged Foot and Iverness with a third at Medinah: "Surely he became the only one who ever won Opens wearing glasses ('74), braces on his teeth ('79) and contact lenses ('90)."
Jenkins during the 1999 PGA at Medinah, when several U.S. players said they should be compensated for playing that year's Ryder Cup at Brookline: "Greed gives patriotism 2 a side. . . . Team Europe no doubt was taking great delight in watching Team money devour itself."
Sergio's shot from the tree
Sergio Garcia's shot from the base of a red oak during the final round of the 1999 PGA earned a spot in golf's all-time highlight reel. Sadly, the tree became a safety hazard and had to be cut down 10 years later. But we still have memories of Sergio's closed-eyes swing, followed by a sprint up the hill and a hop to see the result. As Jenkins wrote:
"The mind shudders to think of what might have happened:
"1. The ball hits the root and slams back into Sergio's knee, turning him into a lifetime sweater salesman.
"2. The ball hits the root and bounds back into Sergio's forehead, turning him into Jean Van de Velde.
"3. The clubhead hits a root beneath the ball and breaks Sergio's hand, turning him into the youngest player to not quite play in the Ryder Cup.
"But the answer is none of the above. It was the shot of the championship, perhaps of the decade--maybe of the whole century.
"And he didn't charge a dime for it."