The Loop
MediaWatch: Seve, from start to finish
It was a nice sentiment, CBS' opener that mentioned Seve Ballesteros on Saturday that was bookended with another reference at the end of the telecast.
"The third round of the Masters is underway on this, Seve Ballesteros' 54th birthday," CBS' Jim Nantz said at the top of the show.
It then caught up with the rounds of Spaniards Alvaro Quiros and Sergio Garcia, each of whom were climbing the leaderboard that the moment.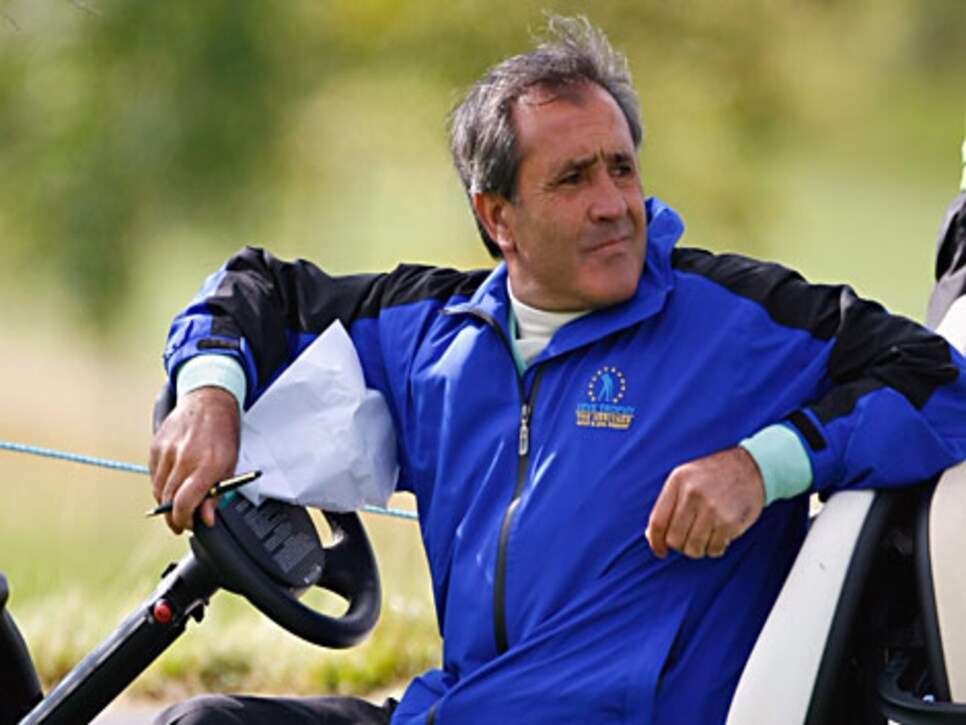 Seve's (shown at the 2007 Seve Trophy) celebrates his 54th birthday on Saturday.
Near the end of play, after Tiger Woods somehow managed to save par after hitting from a crouch beneath a tree left of the 17th fairway, Nick Faldo paid homage.
"Let's give a shout-out to Severiano Ballesteros, his birthday today, still unfortunately under the weather," Faldo said. "Tiger made that stance bending those knees reminded of the great Seve and those recovery shots. All the best, Seve. We're still thinking of you."
CBS, per its custom, showed the ceremonial first shots that Arnold Palmer and Jack Nicklaus hit to begin the tournament Thursday morning.
"They both hit it long and straight at number one," Nantz said.
Tiger Woods reacts to ball hanging on the lip at No. 5
"Nearly a great Verne Lundquist moment," Nick Faldo said as Woods' ball, its Nike Swoosh visible, hung on the lip at the fifth green.
Faldo on McIlroy: "He knows how well he's playing. That gives you that lovely confidence, that you can relax and play. The analogy I can give you, if you know you're not going to fall off your bicycle, how relaxed are you?"
A tradition unlike any other is the Augusta National Golf Club deliberately preventing the viewing public from seeing the leading groups play every hole. It's still annoying. And inexplicable.
Only four minutes of commercials per hour is no consolation. Greatly appreciated, mind you, but no consolation.
Baker-Finch, when Woods' high cut from right of the fairway landed softly on the 11th green: "That landed like a butterfly with sore feet."
Twelve-year-old daughter, otherwise paying no attention: "That's a funny metaphor."
Dan Jenkins on Twitter: "The knock on Jason Day: He's slow."
"Quite slow in his pre-shot routine, I've noticed, this week," Ian Baker-Finch said of his fellow Australian. "He's taking four practice swings each time for each tee shot and trying to advance the left hip like a pre-shot routine that gives him the feeling of clearing the left hip and hitting down and through the ball. Obviously quite effective."
David Feherty gave Phil Mickelson a better chance at winning than Mickelson might have given himself.
"Nick, Phil Mickelson is tied for 19th at three-under par. Depending on McIlory and Day and maybe this man [K.J. Cho] he can still win."
"You think so?" Faldo replied.
McIlroy and Day were tied for the lead at nine-under par at the time. Choi was seven-under par.
England's Oliver Wilson, watching on television somewhere, posted this on Twitter, regarding Woods' second to the 15th green, a dangerous sweeping hook: "Tigers shot into 15 was incredible!! Even better than it looked, not many people can do that, great to see him playing better again."
It was in vain. Woods three-putted for par.
Bring back metal spikes, at least at Augusta National. That's been the message the last two days from two members of CBS' crew, Faldo on Friday, Feherty on Saturday.
The latter said this as Day clung to the bank short of the 15th green, as he prepared to hit his third shot: "These younger players grew up with SoftSpikes. Anyone who is not wearing nails is giving something up here. You just have to wear them."