The Loop
MediaWatch: 'Golf capital of the world'
We ask from a major championship two elements on Sundays -- drama and a compelling winner. On this Sunday, one out of two was sufficient.
Once Phil Mickelson and Dustin Johnson ignominiously removed themselves from the picture, it was all Darren Clarke, and who couldn't appreciate watching the gregarious Northern Irishman stroll to a resounding victory in the British Open, what Paul Azinger said would likely rank among the more popular in the this tournament?
It was the second straight major won by a player from Northern Ireland and third in the last six majors (Rory McIlroy and Graeme McDowell having won the last two U.S. Opens).
"Northern Ireland...... Golf capital of the world!!" McIlroy posted on Twitter.
McDowell also weighed in via Twitter: "Darren Clarke aiming to be the first Northern Irish golfer to win a major in almost four weeks!"
This is no minor feat. ESPN's Terry Gannon noted that consecutive majors hadn't been won by different players from the same country -- excluding Americans -- since 1910, when Alex Smith and James Braid of Scotland won the U.S. and British opens back to back.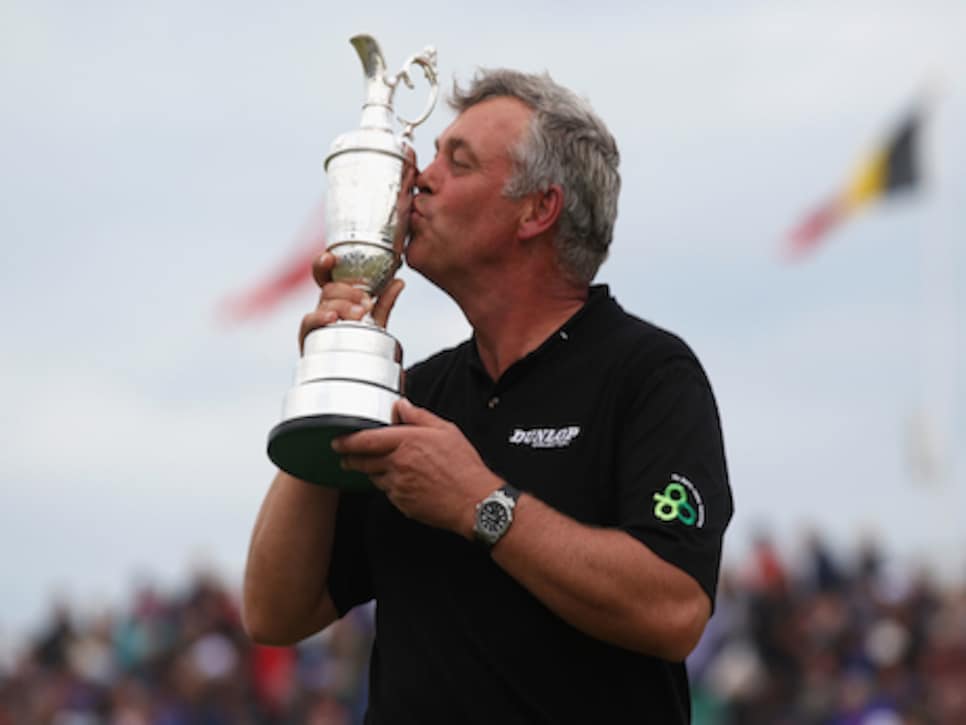 The media roundup from Sunday:
-- On a cold, windy, rainy day, ESPN's Rick Reilly looked to be selling ice cream. He was attired in a cream-colored sport coat, multi-colored tie and pink pocket square with white polka dots. Maybe he was just attempting to brighten an otherwise gloomy day. It didn't work, particularly when he was discussing the troubles in Northern Ireland and a bomb once blowing up a bar in which Clarke was working.
At that, the piece was not well received, not because there wasn't a good story there. The message was better than the messenger, according to Twitter reaction.
Turner Sports' Jim Huber: "Somebody give Rick Reilly a Prompter, PLEASE!"
Blogger and Golf World contributor Geoff Shackelford: "Rick Reilly is no @TimRosaforte on the ESPN player backstory hits. Just hacked his way thru something on Darren Clarke."
Yahoo Sports' Jay Busbee: "And as Rick Reilly takes over the screen, millions of Americans stand up and go for another cup of coffee."
Sports fan Ron Lewis: "oh man that was horrible. and he used bong in place of bomb and then corrected. terrible piece."
-- Azinger, with Clarke on the first green: "Watch his eyeline change. This is something that will make you inconsistent. His eyeline right now is on the line he wants to start it. Look at it shifting on his backstroke. Then when he makes contact his eyes have cocked way to the left. It makes Darren inconsistent. It's something to look for today."
-- Nice sentiment from Huber on Facebook: "Watching Phil Mickelson chase Darren Clarke, can't help but think how both their lives have been stricken by women with breast cancer. Do we dwell? Only if the attention helps the cause"
Clarke lost his wife Heather to breast cancer in 2006. Mickelson's wife Amy and mother Mary have been battling breast cancer.
-- The missing word: Choke. Then again, Johnny Miller was not in the booth when Dustin Johnson hit his second shot out of bounds on the 14th hole on Sunday to kick away another opportunity at winning a major.
-- Once the broadcasters stopped talking over them, Mickelson and caddie Jim Mackay gave viewers an opportunity to eavesdrop on a discussion they were having over whether Mickelson should use a driver or 3-wood off the tee at No. 5. Mackay argued in favor of the driver, Mickelson the 3-wood.
"I just remember the time we spent with [Dave] Pelz," Mickelson said. "He said when it's 15 knots or more downwind your 3-wood will go farther than your driver. Because you'll get it up in the air a little bit higher and you'll get a little more spin."
The problem, Mackay was arguing, that the longer 3-wood shot diminished the margin for error.
"I think Bones [Mackay] is right," Azinger said. "The hardest thing for Mickelson is to give in and he gave in here. Bones is exactly right. Less margin for error with the 3-wood."
Mickelson hit the driver, but still only made par.
-- Another British victory: To our poll question -- which ESPN announcer do you enjoy the most? -- Peter Alliss of the BBC won overwhelmingly with 55 percent of the vote. Mike Tirico was second with 24 percent, followed by Paul Azinger (13 percent), Curtis Strange (six percent) and Tom Weiskopf (three percent).