The Loop
MediaWatch: At least there was Johnny
It was good for those who were disinclined to kill an entire day watching televised golf, but Rory McIlroy's morning rout did not promise riveting television in the afternoon.
At least there was Johnny.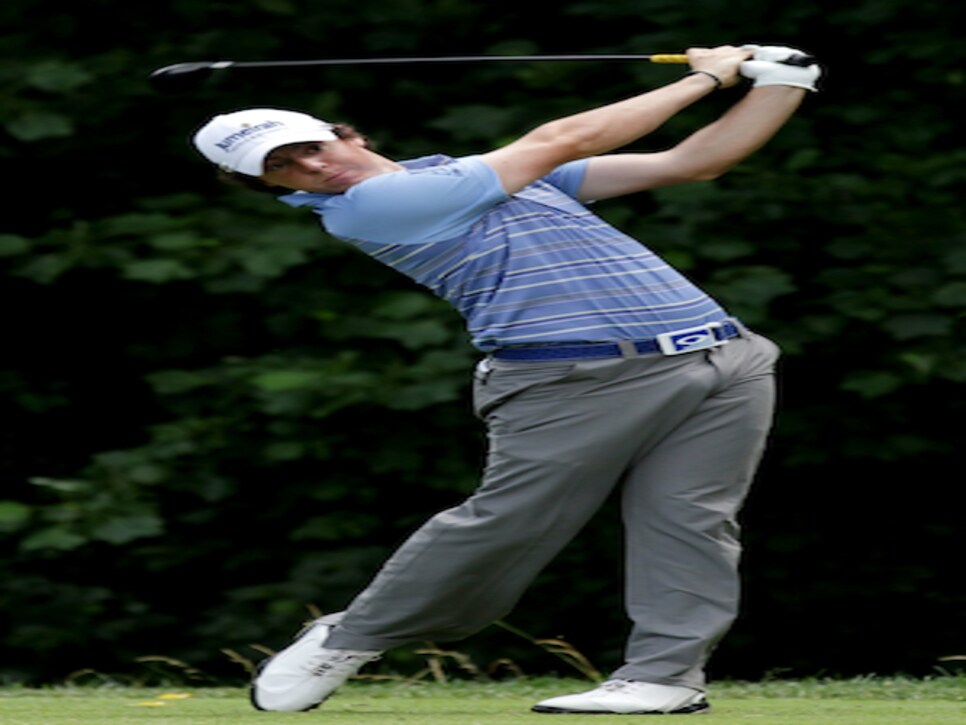 That would be Johnny Miller, the NBC analyst whose candor rankles some, notably players. But how would a broadcast be better served if the analyst didn't provide honest analysis?
Rather than agreeing with everything said about McIlroy, for instance, Miller challenged one widely held belief, that McIlory's back-nine collapse at Augusta National was a learning experience.
"Dottie [Pepper], what do you learn when you shoot 43 on the back nine at Augusta?" he asked. "Everyone says it's a learning experience. To me it's a haunting experience."
When McIlroy revealed in an interview with NBC's Bob Costas that he might spend his afternoon in a movie theater seeing "Hangover 2," Miller said, "Hangover one was at Augusta."
Later in the broadcast, Miller dismantled the swing of the reigning U.S. Open champion, Graeme McDowell, on Friday, after McDowell's approach to the 18th green squirted well right.
"He does not have a good swing, folks, I just want you to know," Miller said. "If you were to pick that swing apart there are about five things he does that are not wonderful. But it is his swing, I'll give him that much. It's all shut at the top, laid off, a lot of things going on."
The counter to Miller is Peter Jacobsen, nice guy who isn't given to critical analysis. "We'll have a boxing match on that," Jacobsen said to Miller regarding McDowell's swing. "I like Graeme McDowell's swing."
Some of the highs and lows from the rest of the day:
-- NBC's promo of the U.S. Women's Open was an embarrassment.
"Defending champion Paula Creamer tees off against Michelle Wie, Cristie Kerr and the top players in the world at the U.S. Women's Open. July 9th on NBC," it said. It didn't mention the best player in the world, Yani Tseng, who needs only a victory in the Women's Open to complete the women's grand slam. Wie, meanwhile, is ranked 10th.
Shamelessly, if predictably, it also featured a photo of Natalie Gulbis, who is ranked 109th and whose only victory came four years ago.
-- Just wondering: Does anyone other than Chris Berman call Retief Goosen the Iron Goose?
-- Golf Digest's Dan Jenkins on Twitter: "Somebody pull Tiger away from the Bugs Bunny reruns and tell him Rory's 10 under par."
-- NBC's Gary Koch after McIlroy's perfect 4-iron second shot to the par-5 16th hole: "Some of these shots are virtually leaving us pretty much speechless. That one you couldn't have drawn it up any better. Four-iron, 222, high, left to right, right into the center of the green."
-- ESPN's Paul Azinger: "I really want to see Rory do well this weekend. We may be looking at the beginning of an era and the end of an era. I'm talking about the Tiger Woods era. Maybe Tiger's sitting at home right now and is going to have something to say about that. But there's a new kid on the block."
-- Picking a nit: "He's 34 years of age from Calgary, played at the University of Calgary," Chris Berman said of Wes Heffernan. "I'm going to take a stab here. I think they're the Dinosaurs."
Close. The University of Calgary used to be the Dinosaurs. In 1999, it officially changed it to Dinos.
-- Suffice it to say that Phil Mickelson plays aggressively most of the time, but Dottie Pepper wondered whether McIlroy's growing lead forced Mickelson into an 18th miscue that led to a double-bogey at the last hole. Mickelson attempted to thread his second between two trees well ahead of him and run the ball onto the green. Instead, his ball ran out of momentum as it neared the green and veered left into the water.
"McIlroy's play forced Mickelson into playing more aggressively than maybe he'd like to at the very end of this round," she said.