The Loop
Media: Was Muirfield setup fair?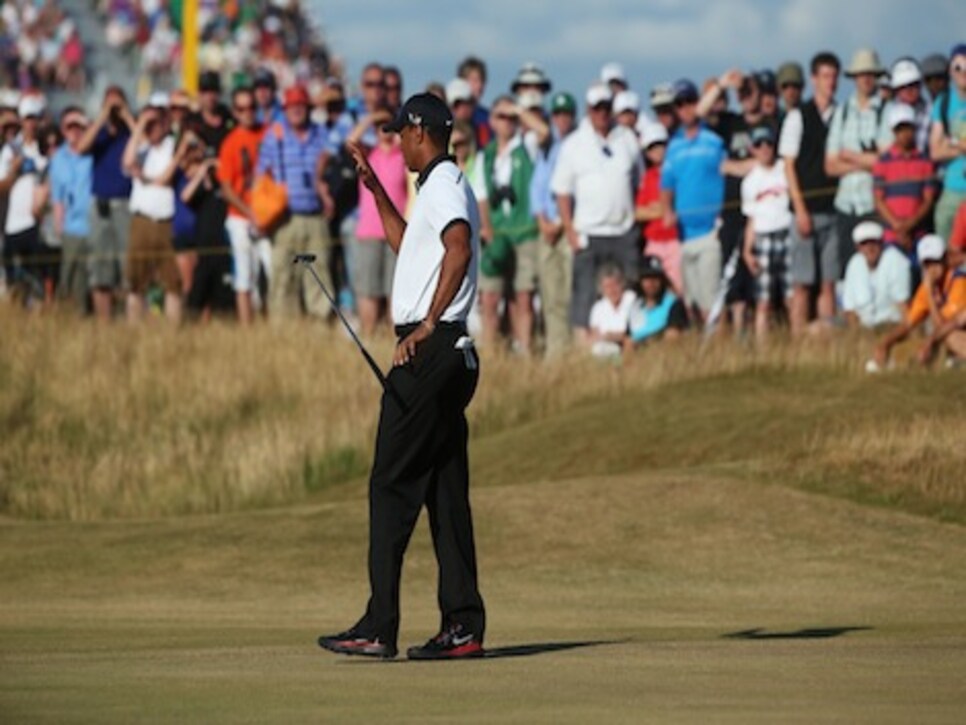 Scrutiny was the story of the day throughout the first round of the British Open. The target was the Royal and Ancient and the topic was whether its course setup at Muirfield was fair.
It depends to whom one listens, as it usually does.
Phil Mickelson opened the debate, though he tempered his remarks in his post-round interview with ESPN's Tom Rinaldi. "I think the R and A was really worried about the scores going too low and so they used some really funky pin placements. Watch the guys on eight. It's going to be funny. They use some funny spots. About a third of every green has died, it's so brown."
ESPN's Paul Azinger homed in on the eighth hole as well. "I think he's taking pretty much a shot at the R&A for the way they set it up, without taking a shot," he said, citing Mickelson's remarks. "He clearly wasn't happy with the setup today...Eight is cut in a pretty dicey spot. It's in the slope somehow. Maybe it was dark when they set that one."
The most critical remarks came from Ian Poulter via Twitter. "Unfortunately the guys this afternoon will struggle with a few pin positions. 8th hole is a joke, 18th needs a windmill & clown face," he wrote.
That did not sit well with many, including David Duval, who is playing in the event and moonlighting for ESPN. "I hate seeing Tweets like that," he said. "That looks like sour grapes to me, frankly. Hard is fine. I don't think it even approaches unfair golf."
Sour grapes? Well, Poulter did bogey four of the last five holes and finished with a one-over par 72. Hours later, he apparently was still seething. A Twitter follower informed him that Peter Alliss, presumably on the BBC, used the word "childish" to describe Poulter's Tweet.
"All entitled to an opinion," Poulter replied. A few minutes later, he came back with another defensive Tweet. "As someone who has played today I'm entitled to air my views & if they are not to your taste press the unfollow button it works perfectly."
The best response to the conditions was provided by Jordan Spieth, who is 19 and astute enough to recognize that his youth and inexperience deny him the license to criticize a major championship setup.
"I'm not in a position where I feel I can say much," he said in his post-round interview with Rinaldi. "I felt like it was tough and fair."
ESPN came back with a response from Peter Dawson, the chief executive of the Royal and Ancient. "Obviously, we'll take conditions that we've seen today into account, and indeed the comments we've seen today into account. It's very important we have a championship course that's not just a great test for the players, but also one they appreciate."
"That's the worst shot we've seen off number one today," Azinger said of Tiger's tee shot that left him with an unplayable lie far left of the first fairway.
Peter Alliss is 82 now, but still worth listening to in his daily hour with ESPN. This was his take on Bubba Watson: "Probably the most ungainly golfer of the highest quality I've ever seen. How he makes it work I don't know. Neither does he, probably."
Keegan Bradley: "On range after my round Miguel a Jimenez walked past me with aviator sunglasses, cigar and bottle of wine. Maybe he is the coolest man alive"