The Loop
Media: The best way to get Tiger's autograph?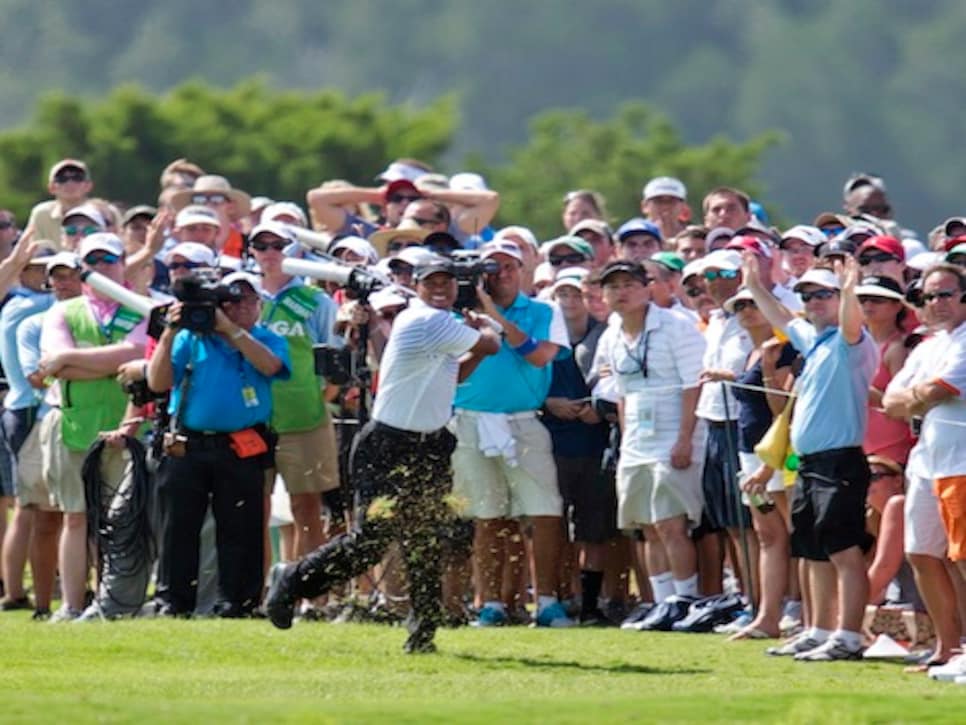 One of the few highlights of Saturday's washed-out telecast of the third round of the PGA Championship was CBS' David Feherty's response to Tiger Two Gloves.
Twice on the par-4 fourth hole on the Ocean Course at Kiawah Island, Woods hit spectators with shots (the photo above shows him after one of those shots) and gave each of his victims a signed glove. When he nearly hit a third person at the seventh hole, Feherty said this:
"He's signing more autographs on the course than he does off," Feherty said.
Tiger no doubt would not have appreciated the remark, but surely viewers did.
Another high spot was coverage of the search party looking for Rory McIlroy's ball on the third hole. CBS eventually put a slow-motion replay of the ball in flight.
"It hit the tree, that little dead limb," CBS' Gary McCord said, referring to a dead tree in the middle of the third fairway. "Where'd it go after that?"
"That tree's so rotten it may have embedded," Feherty said.
They finally were able to ascertain that it stuck in a hollow atop a branch of the tree, about eight feet off the ground.
"Somebody tell them," McCord said.
Someone eventually did and McIlroy reached up and retrieved it.
"I've never seen that," Feherty said.
"I haven't," McCord said.
If you're a viewer, you reach for the remote. Here's how CBS filled the time:
-- A recap of the day's play
-- An interview with Kerry Haigh, managing director of tournaments for the PGA of America.
-- A Tiger swing analysis from Peter Kostis, using the Konica Minolta Bizhub Swing Vision Camera.
-- PGA Championship anniversaries.
-- Final-round coverage of the 2009 PGA Championship at Hazeltine (Y.E. Yang beating Woods).
Jim Nantz told this story at the top of the telecast on Saturday: "I'll tell you how intimidating this course is. We had these microphones that are on the tee areas. This morning on the 17th tee, an alligator popped out of the marsh and ate the microphone."
Luke Donald, after rounds of 74, 76 and 74: "Pete Dye 3, Luke Donald 0"
"We're going to hunker down here in the 18th tower. It is grounded. They say it is. We're going to find out." -- Nantz when the weather delay that was to include lightning began