The Loop
Media: Mickelson's British Open victory exalted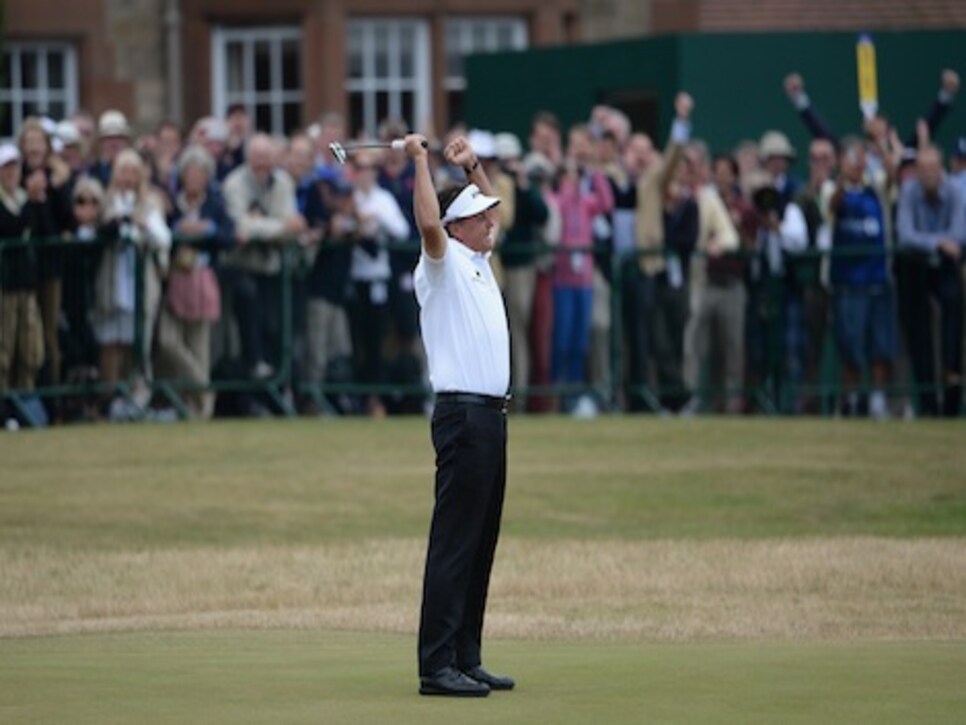 The quality of a golf telecast ultimately depends on the players, and on that note, well, to borrow the words of broadcast legend Al Michaels from a memorable baseball playoff game, "if you're just tuning in, too bad."
The final-round of the British Open was that good, as Twitter demonstrated in the wake of Phil Mickelson's remarkable victory at Muirfield Golf Club. Start with Golf Digest's Dan Jenkins, who would know better than anyone.
"That 66 is one of the greatest final rounds of a major on one of the most baffling courses I've ever seen," Jenkins wrote.
Jack Nicklaus: "Phil's round was incredible. After his bad break on 16 and to then get up and down showed a lot of guts.
"And the two great shots at 17 ended the tournament. I want to offer my sincere congratulations on a championship well played."
Mickelson's brother Tim: "IF YOU BELIEVE, YOU CAN ACHIEVE. From 5 down to winning by 3. So proud of the bounce back victory Brother Phil!! #godevils"
Geoff Ogilvy: "Muirfield produces another Hall of Fame winner. #TheOpen"
David Duval: "Wow. Sport is amazing. #golf #championgolferoftheyear"
Matteo Manassero: "Phil at times is of a different planet !!! A round that everybody dreams for. Great champion"
ESPN's Paul Azinger might be is the best analyst working golf telecasts today. The highlights:
-- "This is not the Tiger Woods we're used to seeing. Maybe it is the Tiger Woods we're getting used to seeing," he said in the midst of Woods' struggles on Sunday.
-- "Lee Westwood's feeling it the most. He's the guy that's got everything to gain. And probably everything to lose. He has been in some battles. I don't believe Westwood is scarred by anything in the past and that bodes well for him."
-- On Mickelson's 3-wood to the green on the par-5 17th hole: "Great players hit great shots when they need them the most. Mickelson is proving himself time and time again. The shot he hit at 13 at Augusta from the pine straw [the 2010 Masters]. This right here will go down in history as one of the greatest 3-woods ever hit. Three-hundred-two yards into a breeze. It's unimaginable, and the target and the trouble around the target is what makes it as spectacular as it is."
Tiger Woods' profanity resurfaced on the telecast again on Sunday, prompting this Tweet from Azinger.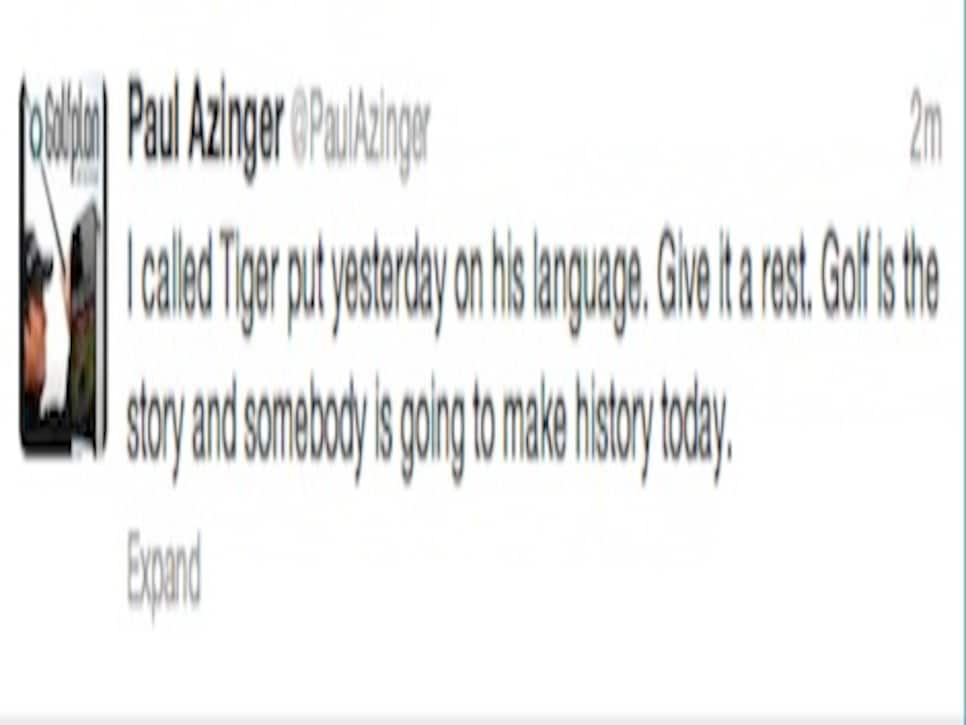 Moments later, the Tweet was deleted from Twitter, which was moments after his broadcast partner, Mike Tirico, fortunately, had not given it a rest.
"Heard that all too often, unfortunately," Tirico said of Woods' expletive.
Then when Mickelson had his own reaction to a misplayed shot -- "I hit that exactly how I wanted to. My fault," he said -- Tirico nicely juxtaposed the two reactions to bad shots.
"It's interesting, Woods and Mickelson back to back, their comments after their shots," he said. "That's the frustration people have with Woods, understandably, and some of the joy they have with Mickelson. Woods is cursing and unhappy after a bad shot and Mickelson is blaming himself."
Steve Flesch: "One thing is irking Tiger right now at Muirfield more than anything the course could throw at him, the name at the top....Philly Mickelson!"
Follow @JohnStrege!function(d,s,id){var js,fjs=d.getElementsByTagName(s)[0];if(!d.getElementById(id))