The Loop
Media: 'I hear Tiger is ballin'
Tiger Woods' climb up the leaderboard in the second round of the PGA Championship surely boosted TNT's ratings on Friday, but its viewers did not include one prominent person: Tiger's niece, Cheyenne Woods.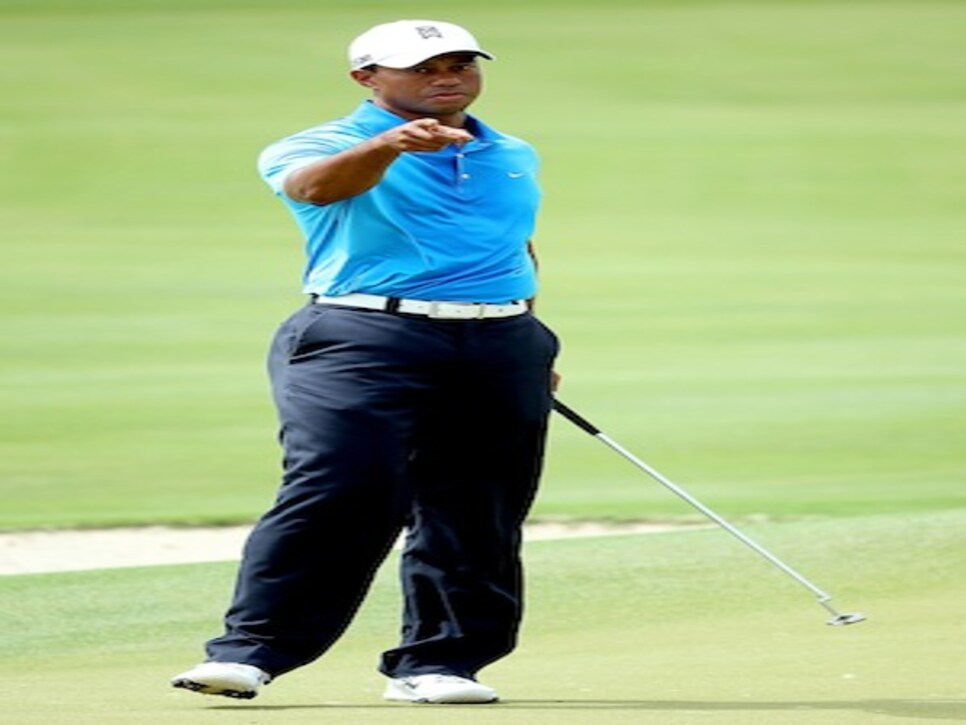 "I hear Tiger is ballin," she wrote on Twitter. "I'd be watching if I had cable smh. Twitter has been my only source for updates."
SMH, for the uninitiated, stands for "Shaking My Head." Those of us who wonder why Tiger's niece, now a professional golfer who shares an agent, Mark Steinberg, with her uncle, does not have cable were also shaking our heads. So be it. Her Twitter followers kept her updated.
Still, she missed watching Tiger's front-nine putting clinic that brought to mind his glory days and helped him secure a share of the 36-hole lead. Woods had one of the few decent scoring rounds on a difficult day in which there were more rounds in the 90s than the 60s (two to one), a one-under par 71.
Early on, Peter Kostis on TNT indicated in this exchange with Bill Macatee that Woods might make a move on the field, given the windy conditions:
"Tiger said he really was hoping for windy conditions," Macatee said. "So what are you looking for from Tiger the rest of the day?"
"Anybody that's hoping for windy conditions, that's code for, 'I'm hitting pretty solidly. And I like the way my short game is working,'" Kostis said. "Without that, you really can't play this game. You have to be able to control your golf ball and the number one thing of controlling it is to hit it solid."
Woods hit it well enough on Friday, but his putting was responsible for his leading.
Rory McIlroy's aversion to wind was cited by Gary McCord on Friday after McIlroy missed the green at the par-3 fifth hole by a wide margin.
"The only thing I worry about Rory is he tells everybody he doesn't like to play in the wind," McCord said. "If you're a world-class player you don't want anybody to know that you really don't like that, because they see wind like this they're going to go, he's going to go bye-bye."
McCord was referring to McIlory's comments at the British Open at Royal St. George's in 2011.
"There's no point in changing your game for one week a year," McIlroy said then. "That's the Open. You either deal with the weather or just wait for a year when it's nice. I'm looking forward to getting back to America and some nice conditions. I'd rather play when it's 80 degrees and sunny and not much wind."
McIlroy shot a 75 in the second round.
Dan Jenkins of Golf Digest has cited this as the best lead ever written on a golf story, from Leonard Crawley of the Daily Telegraph in London: "Despite the abominable handling of the press luggage at the Zurich airport, the Swiss Open managed to get off to a rather decent start yesterday."
We bring this up because of the numerous media complaints, many via Twitter, about long bus rides from Charleston to the Ocean Course. To wit:
-- Steve DiMeglio of USA Today: "Things you can do on shuttle bus ride to Kiawah: Build Rome; read War and Peace three times; run two marathons"
-- Art Spander: "Usain Bolt could have run to Jamaica in the 1 hr 45 mins it took press bus to go from Charleston to Kiawah Island"
An LPGA operative, Mike Scanlan, weighed in (while boasting that the media receives clubhouse valet parking at the LPGA's Kraft Nabisco Championship): "Golf writers covering the PGA Championship putting on a clinic complaining about logistics. Can't overestimate the power of on-site parking."
It's all about us, of course.
On Thursday Ian Baker-Finch called the Ocean Course at Kiawah Island "a bucket-list course." On Friday, he said, "I hope we come back here again soon. I think it's tremendous."
Jenkins might have been the voice of reason on this: "Let me make something clear. Great, photogenic course, but you can't have a major with only one road in and out for 30,000 people," he wrote on Twitter.
Paul Azinger: "If a players wearing white pants and white belt combo, they are one garment away from selling ice cream."