The Loop
Media: '[Furyk] just fell apart, is what it amounts to'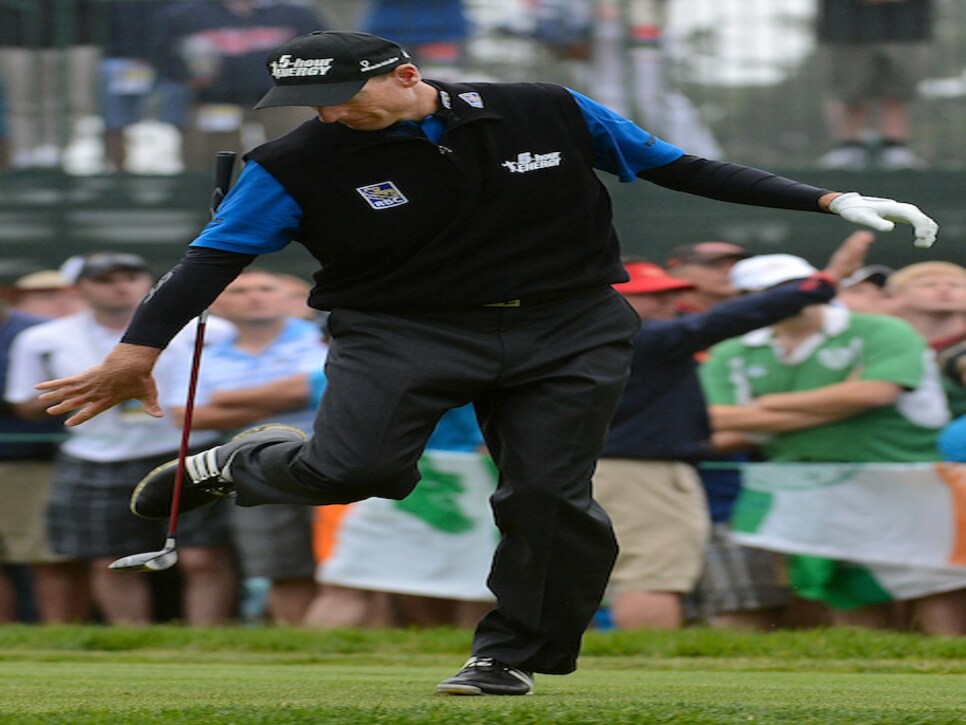 The anti-Johnny Miller brigade was out en force over the weekend (see Twitter), but there is a reason that he occupies the analyst chair for NBC. The final round of the U.S. Open -- at the Olympic Club, a course on which he grew up -- there still is no one better.
His credentials: He has won the U.S. Open, but also is candid about his own inability to handle pressure at times, which from an experience standpoint covers the gamut on an Open Sunday. He, too, is refreshingly renowned for his reluctance to temper his opinions.
Here's a highlight reel from Sunday's telecast:
-- On Jim Furyk's tee shot hooked left at the 16th hole (the photo above shows his reaction), while tied for the lead with the pressure mounting: "That's the Arnold Palmer shot from 1966 right there. That is just a flat duck hook. That was one bad swing right there."
"If he doesn't win this Open he'll remember that tee shot on 16 the rest of his life."
-- On his errant second shot at 18 when he needed a birdie to tie, essentially ending his bid: "He just fell apart, is what it amounts to. Forty-two years old and wanting it so badly."
-- On 17-year-old Beau Hossler, who shot 76 on Sunday and tied for 29th: "The only thing he did wrong I think is say publicly, 'I've changed my goals, I think I've got a chance to win.' He should have kept that to himself. It seems like a kiss of death when you say that."
-- On a misguided Graeme McDowell tee shot: "That's just pressure, that's all it is. As straight as he normally hits it, that's all it is."
It's still missing, Johnny
Miller on Tiger Woods, pre-final round: "One thing we've missed out of Tiger is a great final round, a 63, 64 or 65. Bottom line is he's due for some historic final round."
He's still due. Woods started bogey, bogey and double-bogey, shot 73 and tied for 21st.
Should Tiger be taken at his word?
Interviews with Woods aren't often enlightening and can be misleading, according to his former instructor Hank Haney.
"I would soon learn that what Tiger told the media about his round was way different from what he would later tell me in private or on the phone," Haney wrote in his bestselling book, "The Big Miss." "There were...times he would tell the media he hit it badly and then tell me he'd hit it well."
With that in mind, here's what Woods said in his post-round interview with NBC's Jimmy Roberts:
"I was just a touch off. That's fine. I was still in the ball game, but today I just got off to a horrific start. I just never got it going early and unfortunately put myself out of it.
"There's a lot of positives, a lot of positives to be taken away from this week."
Is this a misdirection play, given his abject failure on the weekend (75-73)? Was his performance a negative as another opportunity passed in his bid to win five more majors?
"The more majors that go buy the tougher it's going to be to beat Jack's record of 18 professional majors," Miller said.
Jim Furyk's swing is as interesting as descriptions of it.
The late Jim Murray of the Los Angeles Times wrote that "he comes into the ball in increments, segments. Kind of like the Tour de France. He also has this massive detour at the top of the swing. Kind of like going from Philadelphia to New York by the way of Pittsburgh. L.A. to San Francisco through Tucson."
David Feherty once described it as "an octopus falling out of a tree."
Here's how San Francisco Chronicle columnist Scott Ostler described it in Saturday's newspaper: "Looks as though it was designed by committee."
Phil Mickelson chunked a chip from thick rough just off the green at 14, similar to what Woods had done at 18 on Saturday.
"Phil and Tiger looking like they're turning back the clock to when they were about five," Miller said.
-- Joe Ogilvie: "I fear that Mike Davis will go from the golden boy to a complete disaster with the back nine set up. Tricked up & could lead to Shinnecock."
Comment: Ogilvie shot 79 and was dead last, 72nd, when he posted this.
-- Paula Creamer: "Beau I will go to prom with you!!!"
Comment: The ball's in your court, Beau Hossler.
-- Total Frat Move: "Beau Hossler making braces cool again."
Comment: He's got another year of high school before he can even join a fraternity.