The Loop
Media: Chamblee lays out the day, Nantz the future (perhaps)
Early on, Golf Channel's Brandel Chamblee laid out how the day would unfold at the Masters on Saturday, and later CBS' Jim Nantz laid out how the future might unfold.
"Psychologically what Bubba Watson is attempting to do today is very difficult," Chamblee said. "He's more likely to come out today and shoot 73 or 74 than he is to shot 69. Historically speaking he's a different player with the lead. More than likely this will get bunched up."
Watson began the day with a three-stroke lead, shot the 74 that Chamblee predicted, and ended it tied with Jordan Spieth.
As for Spieth (shown below), if he seems unflappable, well, consider this, via Nantz, what he dubbed "the Spieth effect": "He played with Tiger the first two days this year at Torrey Pines. He beat him by nine. He played with Rory the first two rounds here. He beat him by seven. Now that he's playing with Adam Scott, he's bettering him by six."
Spieth, only 20, has an opportunity to become the youngest winner in the history of the Masters. He might not win, of course, but it seems unlikely that he'll choke.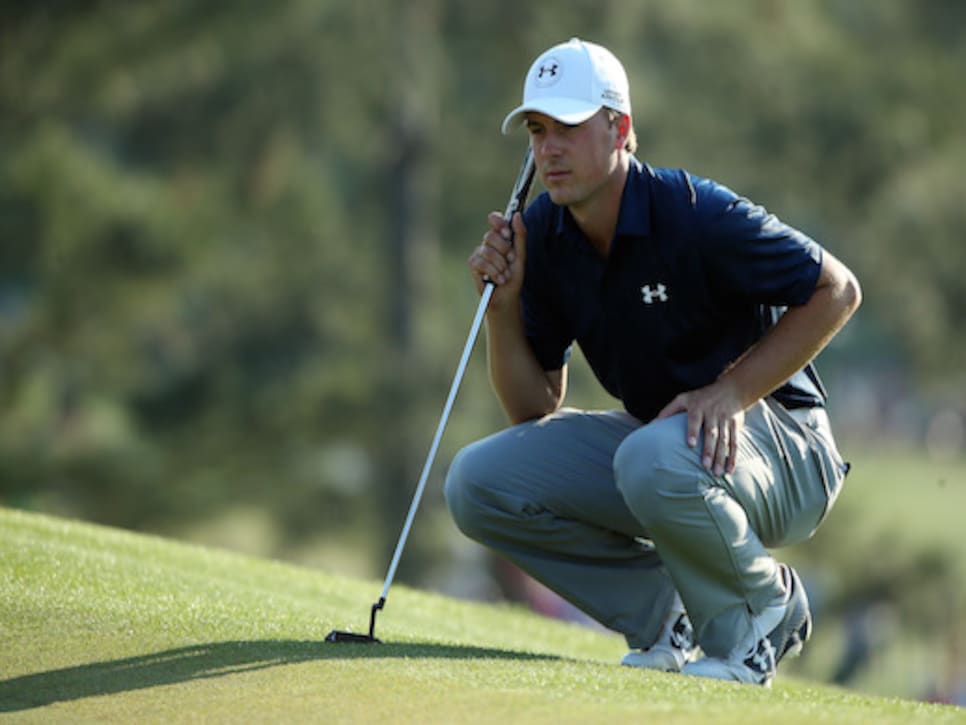 After Watson missed a short par putt at 16 to fall into a tie for the lead, Faldo channeled NBC's Johnny Miller, though without using the word for which Miller is renowned, "choke."
"That's just sheer nerves now," Faldo said. "He's completely lost his touch and then the nerves set in. Nothing feels right. Nothing feels good in your hands now."
Eisenhower Tree vs. Tiger
CBS provided more time to the missing Eisenhower Tree than the missing Tiger Woods. Nick Faldo did a brief feature on the Eisenhower Tree, while Woods, who was unable to play following back surgery, warranted only a mention in passing.
Ben Crenshaw revealed in his segment with Rich Lerner on Golf Channel that the 2015 Masters will be his last.
"I've made a decision that next year is last year," Crenshaw said. "On Amen Corner on the 13th hole on the first day, I hadn't told Carl [Jackson, his caddie] yet, but I said, Carl, I've been thinking about this a long time. Next year I think would be a good year.' A lot of times I thought I could have stepped down earlier. It's hard. I've been so fortunate. I have to look at the good things that have happened. I have to pull over and watch. I'm very resigned to being an encourager for everybody, as much as I can."
Viewers in the New York City area were deprived of watching about 20 minutes of the Masters early in CBS' telecast Saturday. Instead, they got to watch what, well, this should explain it:
Aftermath of a rough masters. Miss cut. Drank a lot to wash away the masters blues.