The Loop
Media: [Bubba's] lost his marbles'
Experience counts at Augusta National, even for the broadcasters, none of whom has the wealth of it that Nick Faldo does.
After Jordan Spieth holed a bunker shot at the par-3 fourth hole to take a two-stroke lead over Bubba Watson in the final round of the Masters, he sounded a word of caution.
"The most important thing is to stay calm and don't get carried away from all this," he said.
Ian Baker-Finch jokingly responded, "Is that him or me, Nick?"
But the fact is that Spieth was amped up and it began to go south on him at the eighth hole and his body language from then on out betrayed a previous observation from Faldo.
"He's shown great ability to jump in and out of being totally relaxed and enjoying the moment and when he gets to his golf ball completely focused," Faldo said. "He's not twitched up at all."
It's a hard game to play. A hard game to broadcast, too.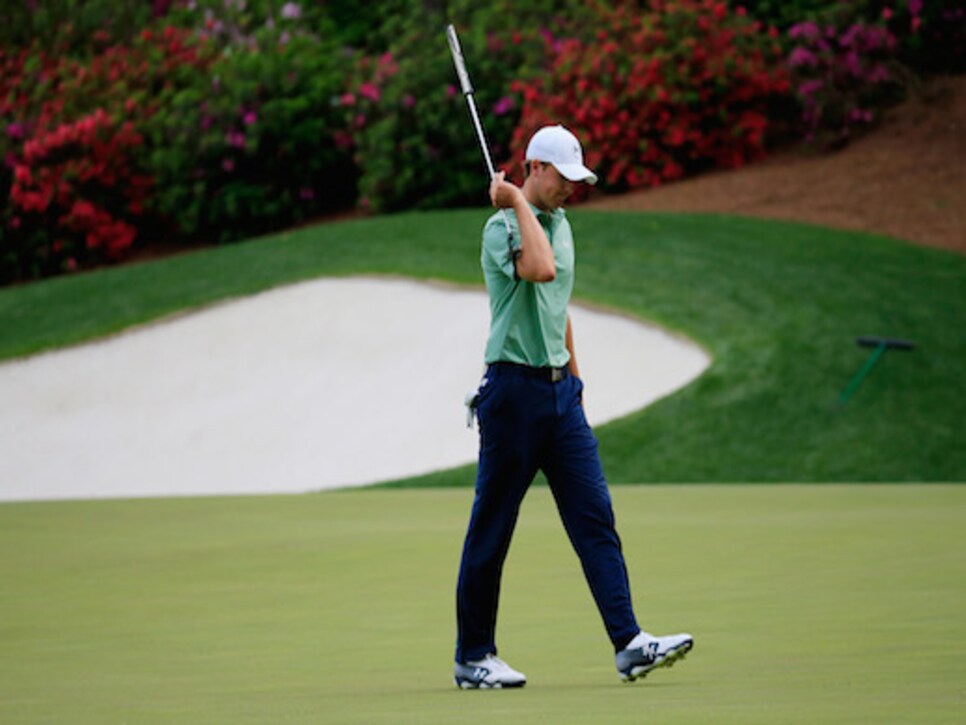 Surely Bubba's just going to punch it out'
Surely not. CBS' David Feherty fully expected Bubba Watson to take the safe route while seemingly stymied by trees left of the fairway at the par-5 15th hole, while holding a three-stroke lead. When he didn't, Feherty responded as only Feherty can.
"He's lost his marbles," he said.
Watson threaded the needle, carried the pond and made a par.
Hard to make the case' for Couples
It was always a long shot for Fred Couples, even with birdies on the opening two holes to pull within two of the lead. Golf Channel's Brandel Chamblee explained why.
"To be honest, it's hard to make the case, other than for nostalgic and feel-good reasons," he said. "He's playing today with younger men with better nerves who can handle the inevitable four and five footers down the hill with lots of curves in them. If he goes on to win, it would be a great feel-good story, it would set a precedent, and I'll be shocked.
"This golf course is like the good samaritan that helps the little old lady across the street. It makes these older players feel good. It gives them a lift because they can come here, and what they lack in vitality they make up for with experience. Freddie has that, but he doesn't have the touch of these young kids."
Couples shot 75 and tied for 21st.
Brad Faxon, with a tip from sports psychologist Bob Rotella, discovered that Spieth hit his short putts while looking not at the ball, but at the hole.
"I talked to Bob Rotella last night," Faxon said. "He said, hey, yo've got to look at something. Jordan might be looking at the hole while he's putting his shorter putts.
"If this sport were invented with golfers looking at the hole we'd all do it. Most sports you look at your target. Only in golf do we look at the ball and not the target. This is a huge golf tip here."
When the colorfully-attired Jonas Blixt hit his ball left of the fairway at the second hole and up against a woman's handbag, Feherty expertly noted, as Blixt moved the handbag, "that does not go with his outfit."
I love @The_Masters more than any other event. I will win a green jacket one day. Never say never. And give 100%. No regrets.