The Loop
Media: '67 for Phil...father-of-the-year award'
The travels, sans travails, of Phil Mickelson was the story of the day in the first round of the U.S. Open at Merion Golf Club on Thursday, and it was succinctly summarized by NBC's Peter Jacobsen.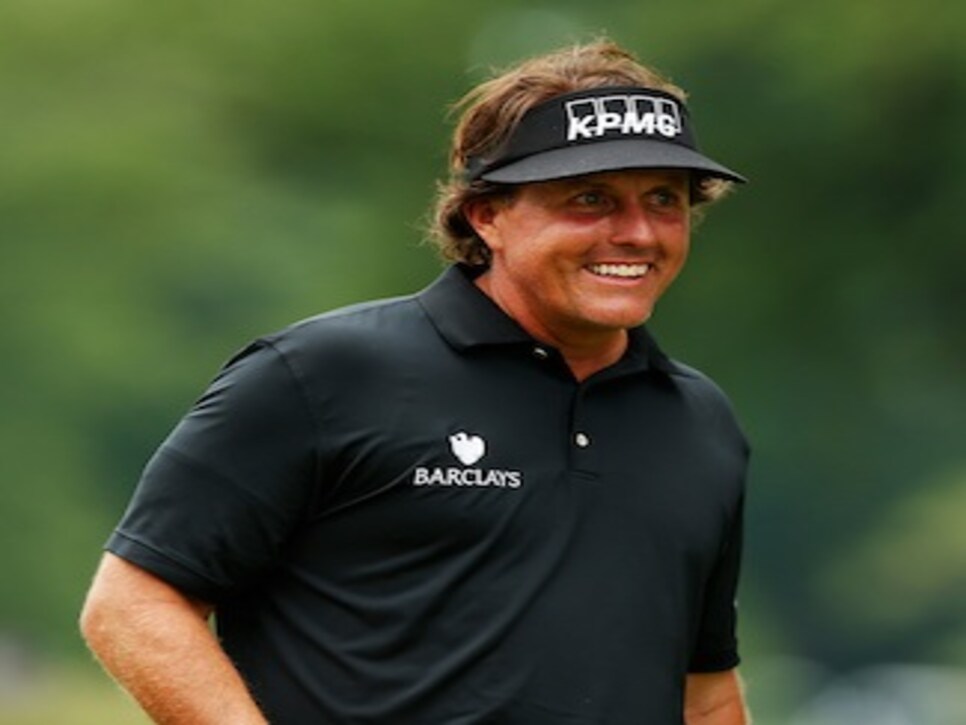 "Sixty-seven for Phil, as well as a father-of-the-year award," he said.
The three-under par 67 gave Mickelson the lead, and the father-of-the-year reference was in homage to his having left Philadelphia to return home to Rancho Santa Fe, Calif., to attend daughter Amanda's eighth-grade graduation ceremonies on Wednesday evening.
He flew back to Philadelphia afterward, arriving at 4 a.m. or so, and was on the practice tee at 5:40, in time for his 7:11 tee time. Then came a 3 1/2-hour weather delay
"If there's one player who really enjoyed the three-and-a-half hours it was Phil Mickelson," ESPN's Andy North said. "He went upstairs in the library and took a nap. Using his time very wisely."
On Mickelson possessing the wherewithal to fly via private jet coast to coast to coast in a matter of days, ESPN's Mike Tirico said, "When you're good, you can do things like that."
"Rock-star lifestyle," Paul Azinger said.
The round of 67 in the wake of this wearying schedule was impressive, with or without sleep. But it need not have been surprising.
"It kind of adds to Mickelson's legacy," Azinger said. "That's kind of who he is. He doesn't do things like most guys do."
Said Roger Maltbie: "I'm really proud of him for going home, even though it's the national championship. If karma means anything, come on. I like it."
When NBC's Dan Hicks was introducing Johnny Miller, he resurrected quotes from Miller from the '81 Open at Merion. "You were just one of many who thought, 'boy, we could tear this thing up,'" Hicks said. "In fact, you said somebody might shoot 59 or 60."
"The quote that you hear all the time from the insiders is that everyone underestimates the difficulty of Merion," Miller replied. "Obviously, I was way out there when I said 59 or 60. But for Phil Mickelson to be all by himself to be two under on a soft golf course with not much wind on a Thursday is a super shocker, folks."
Miller was in fine form on day one of the Open, to wit:
-- When NBC showed the plaque commemorating Ben Hogan's "famous" 1-iron shot to the 18th green in the 1950 Open at Merion, Miller said, "I almost believe the photograph [by Hy Peskin] made it famous. It was such a great photograph. He hit it 40 feet from the hole. We've seen that all day long. I didn't get any plaques for 40-footers."
-- After Hicks reported that Sergio Garcia had been heckled, Miller replied, "Well, he sort of earned it."
Worst part of the morning delay
"Big Break" on Golf Channel or Stephen A. Smith on ESPN? #WhatWasTheThirdChoice?