News
Meanwhile, on the other coast, Creamer is back
GALLOWAY, N.J. -- While most of the golf world's eyes are on Pebble Beach and the men's U.S. Open, the LPGA Tour has descended on southern Jersey for the Shoprite LPGA Classic, a longstanding tour event that's back in the fold after essentially being kicked to the curb by the former administration (i.e., since-ousted LPGA commissioner Carolyn Bivens) in 2007. The people of the greater Atlantic City area couldn't be happier to have the popular tourney back, and you'd never know there was a men's major going at the same time judging by the packed galleries. "There's more drama here than at Pebble," said one spectator on Saturday.
Whether you agree with that assessment or not, there's no doubt fans are getting their money's worth this week. A convergence of story lines have created the most enticing competition of the year so far on the LPGA Tour, with a stacked leaderboard promising more of the same for Sunday's third and final round. For starters, fan favorite Paula Creamer is back with a vengeance after being sidelined for four months following thumb surgery. Playing in obvious pain and with an ice pack permanently attached to her hand after each round, Creamer admitted early in the week that she's lost 25 yards off the tee and can't hit knock-down or hold-off shots into the wind (sort of crucial on a seaside, links-type course like this week's venue, the Seaview Golf Club). But judging from her results -- she sits one stroke back of leader M.J. Hur at -10 after shooting 67-65 on the par-71, 6,150-yard course -- playing injured is doing wonders for Creamer's game. If she wins here, it would be her first title in 20 months.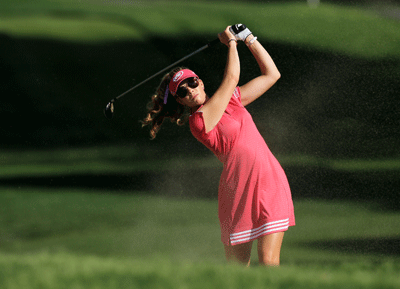 Four strokes back after two rounds is 47-year-old Sherri Steinhauer, who seems rust-free despite recently having taken 16 months off for back-to-back hip surgeries (that's right, double hip surgeries). Steinhauer fired a seven-under 64 Friday to take the first-round lead and followed that up with an even-par 71 in Saturday's second round. A slight limp hints at lingering pain for Steinhauer as well, but she has no complaints. "I'm just happy to be back," she said Friday.
This was also the week that 15-year-old Florida prodigy Alexis Thompson made her professional debut, complete with big sponsorship announcements (Cobra/Puma and Red Bull), an early-week entrance fit for a tween Disney star (she pulled up to the clubhouse in the passenger seat of an official Red Bull Nascar race car) and bold talk about how her game is "ready for the next level." Unfortunately, when push came to shove, teenage nerves got the better of the young player and she missed the cut after posting two doubles and a triple on her way to a 76 on Saturday.
For the locals, the coolest story of all is Monday qualifier Joanna Coe. Currently a junior at division-2 Rollins College in Florida, Coe hails from Mays Landing and grew up volunteering at the Shoprite as a young golf fan. She shot 68 in the qualifier to become lone amateur in this week's event. A slight meltdown Saturday that involved a comical shot into the Port-a-Potties on the 9th fairway (her 18th) resulted in a 75-81 finish and missed cut, but she can still be proud of drawing bigger crowd support than any of the world's top players that are here this week.
Besides Creamer and Steinhauer, Sunday's leaderboard also includes dream names such as Pressel, Gulbis, Miyazato and Pettersen.
The U.S. Open at Pebble may have a hot Phil Mickelson and Tiger Woods, but the Shoprite Classic on the Jersey Shore has plenty of suspense of its own. Not to mention a limitless supply of saltwater taffy.