The Loop
McIlroy, Tiger and fasten your seatbelt
There was a time not so long ago that those with designs on No. 1 would have had to go through Tiger Woods. That not so long ago amounted to a few hours instead of a few years shockingly made this a Sunday to remember and one that suggests that April and Augusta can't get here soon enough.
Rory McIlroy, precocious and 22, stands today as the best player in the world, a goal he achieved by withstanding a furious final-round rally by a man who served notice -- for one day, at least -- that in his view McIlroy is only a placeholder.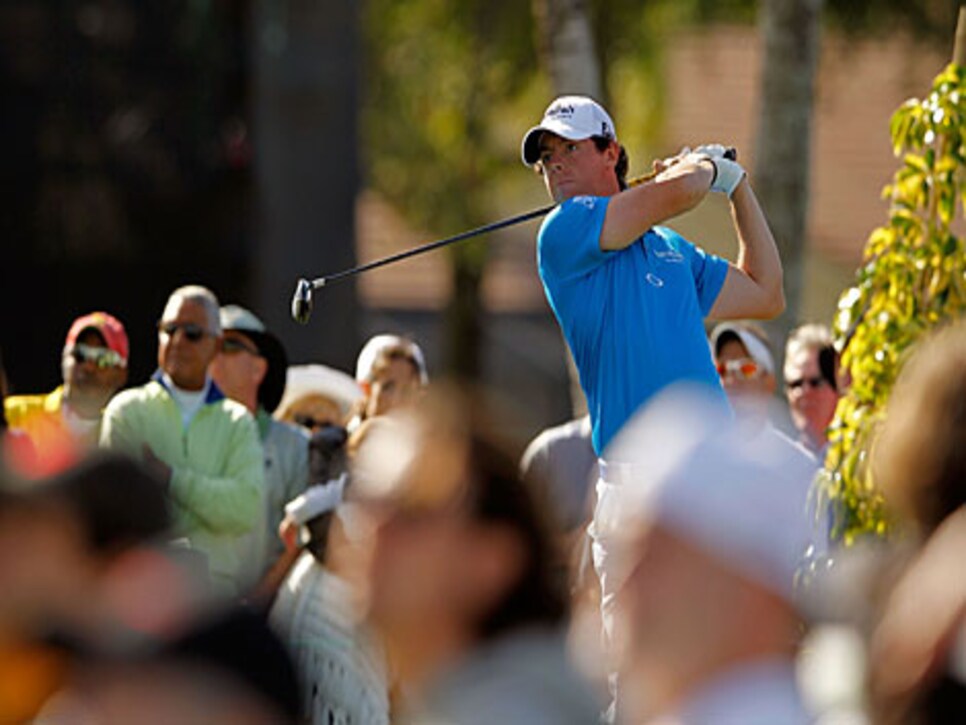 Photo by Mike Ehrmann/Getty Images
Woods began the final round of the Honda Classic nine shots in arrears of McIlroy and finished his round only one back, with McIlroy still to encounter the angry side of the Champion Course at PGA National in Palm Beach Gardens, Fla. Woods closed a near-perfect round with a birdie and eagle for an eight-under par 62 that made him the leader in the clubhouse and an imposing shadow through which McIlroy had to play.
Of course, it should not be easy getting to No. 1, but a challenge by Woods and the mayhem he created with his impersonation of Tiger, circa 2000, substantially increased the difficulty quotient. "It was tough today, especially seeing Tiger making a charge, seeing him post 10 under," McIlroy said.
McIlroy, showing the moxie that won't make Woods' quest to recover his standing in golf a gimme (assuming his play on Sunday was a portent), made a birdie and five straight pars, three of them after missing greens, to close out a two-stroke victory.
When McIlroy was a moppet, 10 or 11 years old, he said, he was asked what he wanted to do in life. "I want to be the best golfer in the world and I want to win majors," he replied.
Here he is, little more than a decade later, and he is both -- the reigning U.S. Open champion, who supplanted Luke Donald as No. 1 in the World Ranking.
Woods, meanwhile, played his best PGA Tour round since a third-round 62 in the BMW Championship in 2009, his last tour victory. "I've been hitting it like this, that's the thing," Woods said on Sunday, citing his putting for his scores not reflecting it. "I hit it really good in Oz (Australia, at the Presidents Cup) late last year in the same kind of conditions. There was no reason I couldn't do that again today."
Or tomorrow. And next week and next month. Yet Woods becoming dominant again no longer simply depends on his recovering his old form. McIlroy represents a formidable barrier, his skills bringing to mind the last player of a similar age to ascend to No. 1, Tiger Woods.
McIlroy has fallen into the habit of contending every week. In his last 12 tournaments, since a tie for 64th in the PGA Championship, he has finished in the top five or better in 11 of them, winning twice and finishing second in four of them. This is Tiger territory.
So how will it play out in the weeks ahead? This is the question that Sunday's play posed, piquing interest first in the WGC-Cadillac Championship that begins Thursday at Doral down the road in Miami and later in Augusta. Toss Phil Mickelson into the mix and the game at its highest level is as appealing as it has been perhaps since Woods was bidding for the Tiger Slam at Augusta in 2001.
Sunday set the tone. The affable Charlie Rymer of the Golf Channel summed it up best, via Twitter: "It's my day off," he wrote. "I don't have to watch. I don't need to watch. I don't want to watch. But I'm watching."