Equipment
Players 2023: Rory McIlroy switched to new driver because old one may have been too hot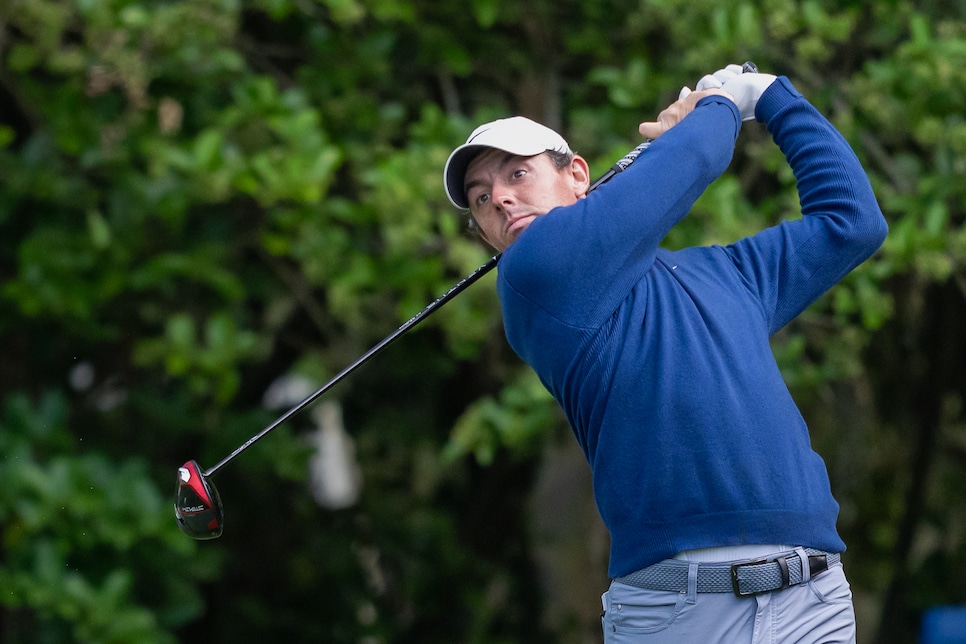 Rory McIlroy hits his drive from the 11th tee during the first round the Players Championship.
Jason Allen/ISI Photos
Rory McIlroy may be third in driving distance this week and mayeeven have recorded the longest drive so far during Thursday's play, but after a four-over 76 and a driving accuracy percentage of only 42.9 percent, he seems less than thrilled with where his game off the tee is going.
He said the problem may have been a driver that was too hot and one he hasn't figured out yet. And of course, he said, "there's quite a lot of user error in there, as well."
While McIlroy came into the week ranked 10th in strokes gained/off-the-tee, and though he's rarely been known as the most accurate driver on tour, he is tied 183rd in driving accuracy early in the Players, which would be his worst-ever performance in that statistical category.
All that said, McIlroy lost nearly six strokes to the field on Thursday based on his play around the green and putting, things his driver had nothing do with.
McIlroy talked after Thursday's round about switching out of TaylorMade's Stealth Plus driver during the week of the Genesis Invitational because he was afraid it might not pass golf's test for spring-like effect. The problem with the club, which he used during his FedEx Cup championship season all last year and early this year during his win at the Dubai Desert Classic in January on the DP World Tour, was it may have been worn into a state of the face being too hot. He switched to TaylorMade's latest Stealth 2 Plus, the second version of the company's drivers that feature a carbon composite face.
"I wish I could use my driver from last year, but I can't just because you use a driver for so long, and it starts to get a little too ... basically it just wouldn't pass the test," he told reporters Thursday. "These driver heads are so finicky, it's hard to get one exactly the same."
He said drivers were being tested for conformance at Riviera, and he wasn't comfortable having his old driver in the bag. "The more a club is used, the more it's hit, the more springy the face becomes," he said. "I just didn't even want to take the chance. I just was not comfortable [at the driver potentially failing] ... doesn't look good on me, doesn't look good on TaylorMade."
The unique design of the TaylorMade Stealth drivers, the only drivers used on the PGA Tour that utilize a carbon-composite face, poses a different challenge for the way drivers are tested by the ruling bodies. The portable spring-like effect test, which is known as the CT test (for characteristic time), was developed originally for titanium drivers.
Contacted by Golf Digest, a TaylorMade spokesman confirmed that the company periodically monitors its players' drivers to make sure they are not in danger of testing over the USGA limit for spring-like effect: "We work with our athletes on the best timeline to consider any optimal changes. This is a normal and regular process."
It has been long known that drivers used by elite, high swing-speed players tend to get worn into a higher reading on the CT test, including a reading that would be non-conforming. McIlroy and TaylorMade likely were being prudent in switching out of the older version, even though it might have been especially difficult when he was playing well. Under a recently revised interpretation of the rules, if a driver that was conforming is worn into a non-conformiong state, "the damage will be deemed to have occurred after the start of the previous round [i.e., prior to the field test], so that no retrospective penalties would be applied, unless the player had knowledge, prior to the field test, that the club did not conform."
McIlroy said he's been struggling with his tee ball the last few weeks. He hasn't hit more than 50 percent of the fairways the last two weeks, although he did hit nearly 70 percent of the fairways in winning the CJ Cup last fall. He said he likes how the new driver has controlled his miss.
"There's not a lot of left in it, which I like," he said. "Historically, my miss off the tee has been left, so it's nice to know that you're sort of taking, I guess, that side out of play." For the year, McIlroy ranks 162nd in right rough tendency, but 62nd in left rough tendency.