The Loop
McIlroy puts Masters meltdown in the past
BETHESDA, Md. -- There is something about Rory McIlroy that just makes you want good things to happen to him. Maybe it is all that talent or those unruly curls. Maybe it is the classy way he handled matters after he melted down at the Masters in the final round this April. Maybe it is the charity trip to earthquake-ravaged Haiti the week before he arrived here for the U.S. Open.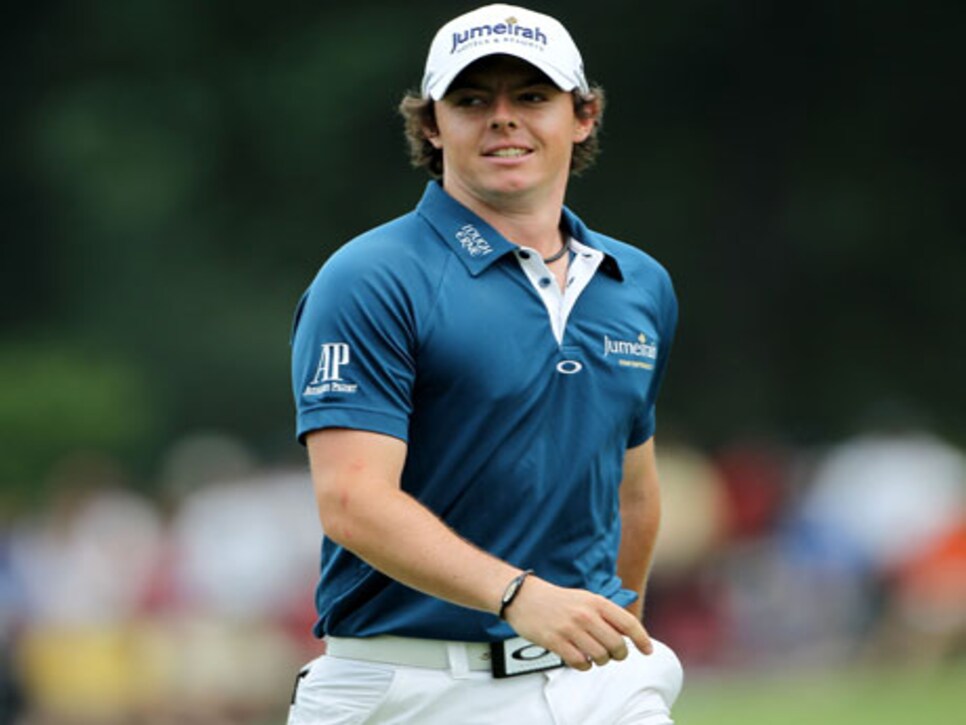 (Photo by Jamie Squire/Getty Images)
Maybe it is all of that and the fact that in this age of self-entitled, overpaid underachievers in sports he holds out the promise of being the real deal with the added value of being a nice guy in the process. Here is a young man who may not only live up to the hype, but also not allow his genuine goodness to be altered by his success.
His considerable talent was on full display Thursday at Congressional CC as his six-under-par 65 was three strokes better than anyone else. "I feel very comfortable out there," McIlroy said after a near-flawless round. "This doesn't feel like a typical U.S. Open. The golf course is going to get harder and it is going to get firmer, but I like the way it is set up." Those sound like the words of someone who thinks he can win here this week.
Just 67 days ago, McIlroy painfully put up 80 strokes on Sunday at Augusta National while playing with the lead in the last group of the Masters. There was nowhere to hide as he was chopping his ball down the tenth fairway. His pain was on public display as he sagged in despair, covering his eyes, following four putts on the 12th green.
As his game collapsed, Rory looked much younger than his 21 years (he has since turned 22) and much more vulnerable than a guy who won the Dubai Desert Classic in 2009 and the Quail Hollow Championship last year with a Sunday 62. He looked like a lost teen jilted by his first love. But one of the joys of youth is that your tomorrows seem endless, your wounds heal quickly and you're buoyed by the sweet belief that anything is possible.
Still, McIlroy's performance Thursday was an impressive display of resiliency, no matter what one's age. In his first round in a major championship since that 80 at Augusta National, he showed no evidence of scar tissue but rather of emotional muscle developed in his tussle with major championship pressure. He made no bogeys and, playing the back nine first, took the lead with three consecutive birdies on Nos. 17, 18 and 1, as he hit 17 of 18 greens.
"I didn't make any mistakes and that is huge in the U.S. Open," McIlroy said as he downplayed his bounce back from the Masters. "I drove the ball well, my iron play was good, I feel comfortable with my swing and with the golf course. If I make some putts, good things will happen. I need to follow it up tomorrow and put myself in good position going into the weekend."
When McIlroy looks back at the Masters, he sees the fun-filled days that led up to Sunday, not the wounds inflicted that afternoon. "I took the positives from that week," McIlroy said about his T-15 finish. "There weren't many positives to take from the Sunday. It's hard; it's the first time in that situation. You're going to be feeling the pressure a little bit, and I certainly did. I felt a little differently on the Sunday than I had done the previous few days, but that's natural."
The Masters meltdown is just part of the unusual road McIlroy took to Congressional. He is an ambassador for the United Nations Children's Fund (UNICEF), which works for children's rights and protection. Last week, Rory traveled to Haiti, a trip that only deepened his already impressive maturity for someone so young -- and so wealthy.
"I thought I had perspective before going to Haiti, and then actually seeing it, it just gives you a completely different view on the world and the game that you play," McIlroy said. "It just makes you feel so lucky that I'm able just to sit here and drink a bottle of water, just the normal things that everyone does that you take for granted."
The impoverished Caribbean nation, the poorest in the Western Hemisphere, was in no way prepared to deal with the aftermath of the earthquake. In addition to those who died at the time of the quake, thousands more have been victims of cholera, malaria and tuberculosis. The island nation also has one of the highest HIV/AIDS rates in the Caribbean.
"Haiti was a great experience for me and it was great to go down with UNICEF and see all the work that they're doing with funding and helping build schools and maternity clinics and providing food and water for people down there," McIlroy said. "It gives you a huge sense of just being so fortunate and just doing normal things every day."
The wisdom with which McIlroy analyzes that day at the Masters seems to indicate his thinking process is as fine-tuned as his golf swing. "You just move on; that's all you can do," McIlroys says. "It's not the end of the world. You analyze it; you pick things from it what you think you could have done better. And when you get yourself into that position again you try and put those things that you want to do better into practice. I just felt a little tentative throughout the whole day. I wasn't quite as free-flowing as I was the first few days."
It could very well be that McIlroy will get the opportunity to put into practice the lessons learned that day sooner than anyone, except maybe he, expected. It could be here, at Congressional, in the U.S. Open. But if there is one undeniable truth McIlroy learned that day at Augusta National it is this: Winning a major involves 72 holes of complete focus. We still have a long way to go before we find out if this time Rory can make it all the way to the finish line.
Follow on Twitter: [@ronsirak
](http://twitter.com/ronsirak)