The Loop
McIlroy on his collapse: 'I'll get over it'
AUGUSTA, Ga. -- It was, long before the card was signed and the inevitable tears were shed, all but unwatchable. On and on it went, this round from hell, at every turn getting worse and worse as one of the most naturally talented players in the world game eventually took Amen Corner at a speed that could only result in a crash of spectacular proportions.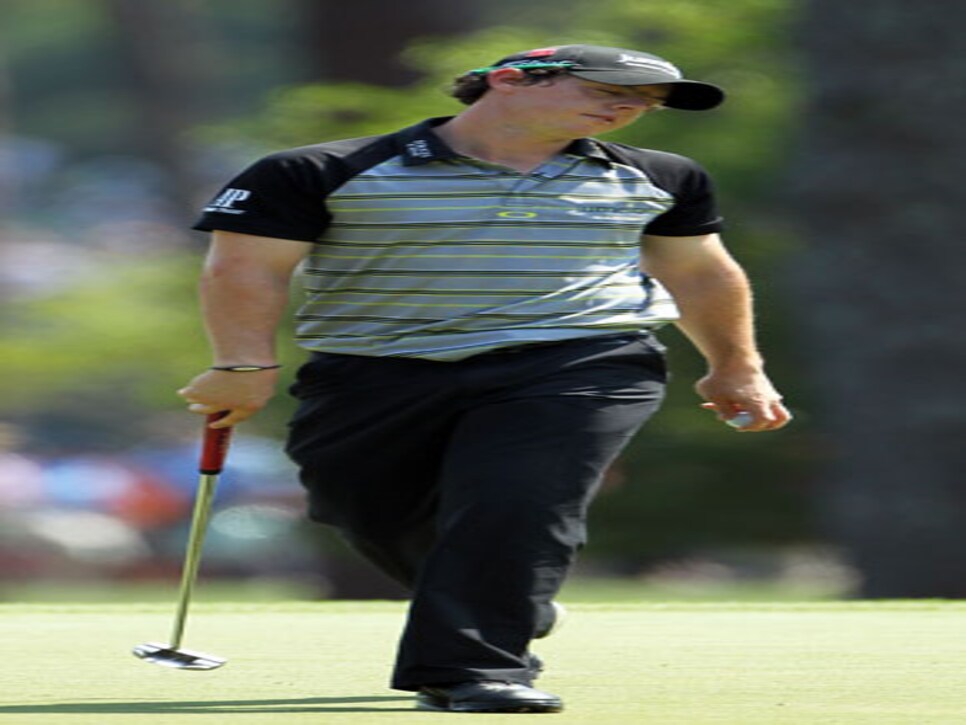 But that was only the end of it; the front nine had been bad enough, a struggling 37 that left Rory McIlroy still in the lead by one, but looking more than a little punch-drunk.
"This was my first experience of being in the lead going into the last day of a major and I felt I did OK on the front nine," he reflected after waking from the nightmare that saw him fall from 12-under par to four under. "I was still ahead going into the 10th and then things went all pear-shaped after that."
For surely the first time in Masters history, a housing development was suddenly in play at Augusta National. When the 21-year old Irishman's tee shot from the 10th tee clipped a tree and ricocheted way left, he found himself in what amounted to the backyard of one of the club's famous cabins. Six shots later his ball was finally in the hole and the first place McIlroy had so jealously protected for three-and-a-half rounds had gone. In fact, he dropped from first to seventh, so tightly packed had the leaders been to that point.
Such a calamity was obviously bad enough. But, unbelievably, things got even worse. Two fine shots to maybe 15 feet at the fearsome 11th were followed by three putts. Then, after a brave tee shot at the notorious 12th found the green about 20 feet from the cup, McIlroy needed four more putts to hole out.
"I hit a poor tee shot at the 10th and just unraveled from there," he said, bravely facing the world's media. "I lost it and couldn't get it back. It's one of those things. I lost a lot of confidence in my putting around the turn. I was sort of second-guessing lines and my speed. On these greens you can't do that.
"I'm very disappointed at the minute and I'm sure I will be for a few days. But I'll get over it. I've got to take the positives and the positives were that I led this tournament for 63 holes."
To their enormous credit, the watching galleries cheered the youngster home, over what had to have been the most difficult few holes of his young life. In the end, his third Sunday at his third Masters contained as many as 80 shots, coincidentally the same score with which he had followed a record-equaling 63 at St. Andrews in last year's Open Championship.
"I just want to say that the support out there for me today was incredible," an emotional McIlroy continued. "Getting applauded up onto the greens, I was a little embarrassed at some points. But the support I had here was fantastic and I really appreciate it."
The Belfast boy also had a few words of thanks for the thousands of his compatriots who stayed up late to watch his bid to become the Emerald Isle's third major champion in less than three years.
"It will take a bit of time to get over this," he concluded. "But I will. And I'll be stronger because of it."