The Loop
McIlroy has recent lessons to draw on
BETHESDA, MD. -- What seemed like a disappointing close to a near-perfect two days of golf may turn out to be the best thing that could have happened to Rory McIlroy.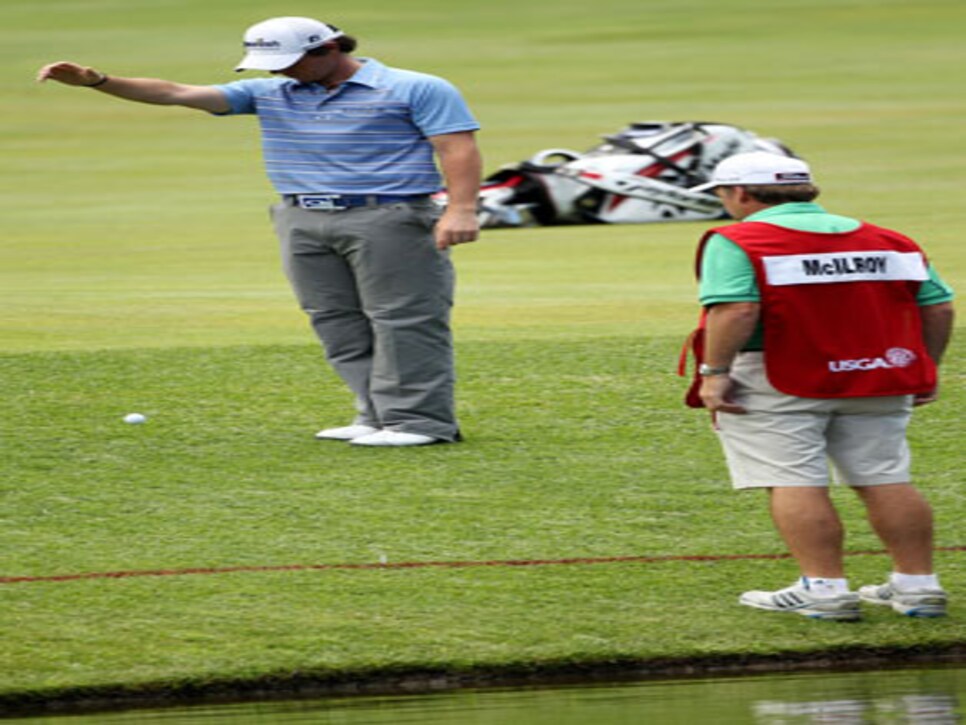 After playing the first 35 holes of the U.S. Open without making a score worse than par, the 22-year-old talent from Northern Ireland got a timely wake-up call Friday when stumbled to a waterlogged double bogey on the final hole at Congressional CC, a reminder -- as if he needed one -- of how quickly things can go wrong in a major championship.
Still, McIlroy shot a 66 and shattered several tournament records. His two-day total of 11-under-par 131 eclipsed the 132 by Rickey Barnes at Bethpage in 2009. When he holed out from the fairway for eagle on No. 8, throwing the ball past the hole and spinning it back down the slope and into the cup, he got to 10-under par through 26 holes. Gil Morgan had been the fastest to get to double-digits under par when he needed 39 holes to do it at Pebble Beach in the 1992 U.S. Open.
And with a birdie on No. 17, McIlroy became the first player to get to 13-under par in the U.S. Open. Morgan and Tiger Woods in 2000, also at Pebble Beach, both reached 12-under par, Woods being the only player to finish 72 holes that low.
"I've played some of the best golf I've ever played," McIlroy said, pretty much at a loss to explain his excellence. "It's been very, very good; near the best I can play." In fact, it was an effortless performance until the final hole, his longest par putt being four feet. Through 36 holes, McIlroy has hit 32 greens. When he missed the green on No. 5 Friday it ended a streak of 17 consecutive greens hit in regulation.
In fact, the golf McIlroy has been playing has almost been too good to be true. And as a guy familiar with how quickly the winds of fortune can change in this game -- he took a four-stroke lead into the final round of the Masters in April and shot an 80 -- it's best he have a realistic grasp on how much golf there is left to play.  That's why that double bogey on No. 18 may be a blessing in disguise -- a reminder to maintain the concentration he lost at Augusta National on Sunday.
"I put myself in a great position going into the weekend," McIlroy said Friday. " But I know more than probably anyone else what can happen.  So I've got to stay really focused and try and finish this thing off." That kind of talk is one of the reasons most observers feel McIlroy is the real deal. He gets it; he understands how difficult it is to win a golf tournament, especially a major championship. He was schooled in that regard painfully at the Masters, and it appears as if he learned the lesson.
"He's learning in the spotlight," says McIlroy's agent, Stuart Cage. "You don't know until he does it. But he's certainly learned from Augusta and he's learning his profession in the spotlight. It's a tough environment to be in. If it doesn't happen, it doesn't happen. I think the only thing is that he's happy to be up there again. He's not shying away from that. He did come here to try and finish 10th and have people say, 'Oh, that's a nice U.S. Open.' He's got himself in front again and he's going after it. I think that says a whole lot about him."
And that's a good thing because the U.S. Open has had a frightening history of final-round collapses over the last decade. In 2007 at Oakmont, Aaron Baddeley took a two-stroke lead into Sunday but began his round with a triple bogey on his way to an 80. Last year at Pebble Beach, Dustin Johnson began the final 18 holes three strokes clear of the field and, after a par on No. 1, went triple bogey, double bogey, bogey and closed with an 82.
Retief Goosen, trying for his second consecutive U.S. Open title, took a three-stroke lead into the final round at Pinehurst in 2005 and collapsed to an 81. Jason Gore, who was tied for second after 54 holes, posted an 84 on Sunday. The severity of a U.S. Open set-up -- thick rough, fast greens and difficult hole locations -- expose any weakness in either technique or discipline. When things start to unravel on an Open course, the snowball can gain enormous momentum very quickly.
"There's no real keys to how I've shot so well or went so low," McIlroy said. "It's just I just keep trying to hit it in the fairway and hit it on the green and try and hole a few putts, and I've been able to do that." Among the things McIlroy has in his favor going into the weekend -- beyond how well he is playing -- is the fact he is the clear sentimental favorite in this suburb of Washington D.C., being greeted at his ball on every hole with shouts of "Go Rory!"
On the final hole, Rory drove into the left rough on the 523-yard par-4 with a green surrounded by water. He tried to go for the green instead of laying up and yanked it left, into the water. After a penalty drop he made a double-bogey six. While his choice for the second shot spoke of his confidence -- justified based on the quality of his play -- it is the kind of decision he might want to reconsider as he tries to protect a lead over the final two rounds. A better play would have been to hit short of the green --and the water -- then pitch up and try to make a one-putt par, as well as take double bogey out of the equation.
"It looked like a decent-enough lie," he said about going for the green. "It was sort of where the spectators had sort of been walking, and I just got a little bit of grass caught in between the club face and the ball and it just turned over a little bit.  Just one of those things. I was aiming at Dustin's [Johnson] ball, front right of the green, just trying to hit it somewhere in the front, right corner and two putt."
Remarkably, almost unbelievably, McIlroy's score could have been lower. There was the double bogey and two missed seven-foot putts on the back nine. When he waited to putt one of those misses, and eagle try on No. 16, McIlroy placed his hand on his hip, crossed his legs at the ankles, leaned on the putter and looked at the leader board. He stared and stared, as if in disbelief. What he saw was that he was eight strokes ahead of his nearest competitor at the time.
"I've played two really good rounds of golf, but I know I have to play another two really good rounds of golf if I want to win this tournament, so that's all I can really think about," McIlroy said. That is knowledge gained the hard way -- by blowing a big lead at the Masters. But those painful lessons are the ones that last the longest. You get the feeling McIlroy might have left the Masters with something more valuable than a green jacket. He may have learned what it takes to win a major championship. We'll find out this weekend at Congressional.
(Photo by Andrew Redington/Getty Images)